Get your custom garage and get our best prices plus Free Shipping and Installation!
Metal Shop Buildings: Cost, Kits, and Prefab Options
Get a metal shop building at factory direct prices.
Customize your shop building online
Get a 20-year warranty
Get free delivery and installation
More Than 12,000 5-Star Reviews
The two installers did a nice job putting up my new carport. It looks great and is made of very sturdy materials.
Customer service was great
At 7:30 am the crew of three arrived and did a fantastic job, working very efficiently. At 12 noon they were done, had the work site cleaned up of all scrap and were heading out of the driveway. Many thanks.
I have not received my carport as yet but was impressed with the order process and pricing for this style of carport.
The website is great, I love the visual aid when selecting the carport and options. The carport itself I am totally satisfied with as well as the installation. A large crew was in and out in under 3 hours, cleaned up all their mess and just operated like a well oiled machine.
Easy to order. Hadn't actually got the carport yet, but so excited for it to get here. Best price around!!
This is exactly what I was wanting, the price was less than I expected and delivery was prompt and FAST!!! They weren't playing around when they went to work on it!! Thanks for the great shopping experience!!!
Popular Metal Shop Building Sizes
We sell metal shop buildings of all sizes. Use our Building Configuration Tool to select the exact size you need and see how much it costs.
Metal Shop Buildings by Type and Use
Metal shop buildings can be used for many different commercial and personal purposes. Here are a few ways our customers have used our buildings.
Farm Shop Buildings
Whether you have a large or small farm, you probably have vehicles and equipment that needs to be maintained and repaired. A shop building for your farm is a great place to work on these projects when the other farm work slows down.
Woodshop Buildings
Woodworkers need a lot of space for saws, drills, workbenches, lumber, and finished products. A large custom woodshop building is the perfect place to work on your projects and store your equipment and supplies.
Metal Workshop
Metalworkers also need space for tools and space to work on their projects. As a metalworker, you may be tempted to build your own metal workshop. But why not let us erect your building in hours rather than weeks, so you can focus on the projects that are important to you? You can always customize your metal workshop after it is installed.
Garage/Shop Building
Many shop buildings double up as a garage. You can use your shop as a place to park your cars and trucks, and you can also use it as a place to work on repairing or restoring vehicles.
Why Buy a Metal Shop Building from Alan's?
With lots of options, what makes a metal shop building from Alan's a better deal than the rest?
Lowest Possible Price
Our shop buildings and prices come straight from the factory to you. That means we can give you the best possible price. We also have a super-efficient way of delivering and installing your building, allowing us to offer free delivery and installation.
Easy Online Customization
Customize your shop building to meet your exact needs with our 3D Building Configuration Tool. Then place your order online with a small deposit. No need to wait on the phone to order a building that you can't even see.
Reasonable Lead Times
Most of our large shop buildings are delivered within one to two months after the building permit is approved and the foundation is ready. For current lead times in your area, see our estimated lead times.
100% Satisfaction Guarantee
When you order your metal shop building from Alan's, you won't get locked into a purchase you regret. You can cancel for any reason and get a full refund of your deposit any time before the building is delivered.
Cost to Build a Shop
The cost to build a shop depends on whether you build it yourself or have it done for you, the company you choose, and the materials you use. Here are some of your options:
Hire a Local Builder
One option is to work with a local builder to design and build your shop building. This is usually the most expensive option, but it allows you to work face-to-face with the architects and builders.
Prefab Shop Kits
A prefab shop kit is one of the most cost-effective ways to get a metal shop building. With this option, the components needed to build your metal shop will be prefabricated in a factory and delivered to your building site. Then it is up to you to assemble the building kit. For most metal shop buildings, this is a big project that will require several people and take several days. So you will need to budget several thousand dollars to pay your helpers and for equipment rental.
Shop Kit Delivered and Installed
This option is similar to a DIY shop kit, except that the crew that delivers the building components also installs the shop building for you. Since these installers erect metal buildings for a living, they are extremely efficient and can complete most buildings in one or two days. This saves you a lot of time and effort and often costs less than erecting the shop by yourself.
At Alan's Factory Outlet, we offer free delivery and installation for all of our prefab metal shop buildings, and we keep our prices as low as possible. For example, a 20×30 shop building starts at about $6,500.
Building a Shop with Pipe and Other DIY Options
If you're feeling adventurous, you can watch some YouTube videos and learn how to build a shop with steel pipe. You'll need experience with construction and welding, lots of tools, lots of time, and a high tolerance for risk. In most locations, this may not even be allowed by local building regulations, and if you have limited experience with construction you may end up with a dangerous building that will collapse in a windstorm. This option is definitely not recommended for most people.
The Cheapest Way to Build a Shop
For most people, the cheapest way to build a shop is to order a prefab shop building online that comes with free delivery and installation. At Alan's Factory Outlet you get factory-direct prices, free installation, and a money-back guarantee on your deposit. All of our prices are on our website, so you can design, price, and order your shop building online with our 3D Building Tool.
Customize, Preview, and Order Your Metal Building Online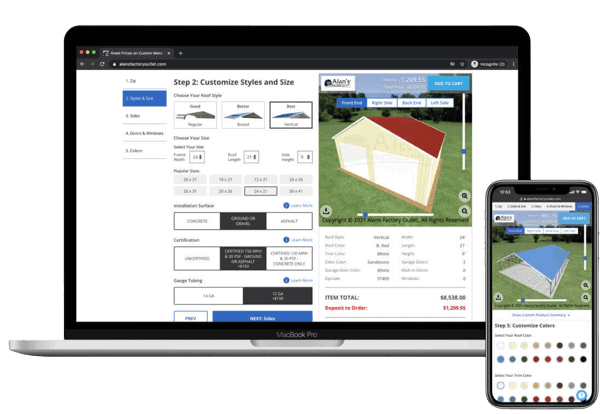 Price and Buy Online with Our 3D Builder Plus Free Shipping and Installation!
Select a size to meet your needs
Choose roof, side, and trim colors
Add garage doors, windows, and walk-in doors
Customize additional options
How to Prepare for the Installation of Your Metal Shop Building
After you order your building online, here is what you need to do to prepare for installation:
Contact your local building code department to get a building permit (we can provide building plans after you place your order)
Get free delivery and installation
Metal Building Shop Ideas
Pour Your Own Slab
Hiring someone to pour your slab for you adds a lot to the total cost of your building. In most areas it costs at least $8 per square foot to have a slab poured for you, and depending on the local cost of labor, the cost could be a lot more. If you pour the slab yourself, you can keep the cost down to about $3 per square foot. For a large shop building, pouring the slab yourself will save you thousands of dollars.
Choose Light Colors for Energy Efficiency
Light colors like white reflect a lot of heat from the sun, helping keep your building cooler and more energy efficient. Consider choosing light colors for your shop, especially for the roof.
Add Insulation
If you're going to be working in your shop building, adding insulation is a must. A thin layer of insulation can prevent condensation inside your building, but thicker insulation is better for keeping your building warm or cool. We offer two types of insulation for our metal shop buildings.
Frequently Asked Questions
If you want to know if you can build a shop in your backyard or residential property, you need to call your local zoning or building code department and ask about the rules and regulations for your address.
The main problem people have when building a shop is making it too small, and running out of space once everything has been moved into the shop. It is best to sketch a floor plan with different areas for workspace and storage. Then add about 20 percent or more to your size estimate to take care of unexpected storage needs that will come up in the future.
Building a shop on your property will almost always increase the value of your property if it is painted with attractive colors and well-maintained. However, if you live in an area where most people don't have (or want) a shop building, it may also narrow the number of people who are interested in buying your property. So it could take a longer time to sell if you want to get back the full value of your property.
The professional installers who set up the building we sell usually complete a whole shop building in one to two days. The whole process, from designing and ordering your building to installation usually takes a few months. The exact time required depends in part on how quickly you get a permit and prepare the foundation for your shop.
The cost to build a shop depends on the size and features of the shop, and the builder you chose. Some of the sizes of metal shops we sell are 20×20, 20×30, 20×40, 30×30, 30×40, 30×50, 40×40, 40×50, 40×60, 40×80, 50×60, 60×40, 60×60, and 60×80. Use our 3D Building Tool to get the exact price for the size and configuration you need.
More Questions?
If you need more information about our metal buildings, visit our metal building information page, search our frequently asked questions, or contact us. I have a friendly team of building specialists who are always willing to help you out with your metal shop needs.
I wish you the best in your search for the perfect shop building!
– Alan, Owner of Alan's Factory Outlet
Customize, Preview, and Order Your Metal Building Online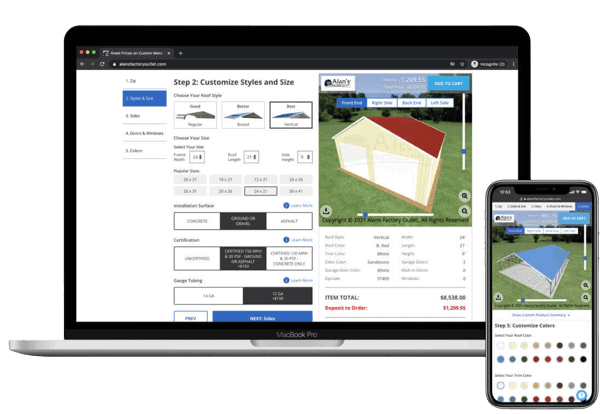 Price and Buy Online with Our 3D Builder Plus Free Shipping and Installation!
Select a size to meet your needs
Choose roof, side, and trim colors
Add garage doors, windows, and walk-in doors
Customize additional options