Get your custom garage and get our best prices plus Free Shipping and Installation!
Custom Metal Garages for Sale
Factory-direct prices
Custom made in the USA
Free delivery and installation
100% refundable deposit
How Do We Save You Money?
Instead of sending a mostly empty truck to deliver your metal garage, it will be delivered and installed on an efficient, cost-saving delivery route. We also give you the best price available in your area instead of a single nationwide price. That means you can get your dream garage and have it set up for less than the price of a kit.
4.8 Stars from Over 17,800+ Customers
Based on more than 17,865 unfiltered reviews on Shopper Approved, an independent website.
The website is fantastic for allowing you to choose what you want and model the product. No pressure from a salesperson and plenty of upgrade options.
The 3D builder makes the shopping experience so easy.
very easy to use web site and extremely helpful. I could not believe how helpful the staff is as well.
The website works good very easy to build and order and Alan always has the best price, everyone loves free delivery and installation so what's not to like.
Karen and Rachel answered all the questions I had before I placed my order, they helped make the process so much easier and I really appreciate that!
well designed site. very easy to customize and order
Easy to navigate and add the options that you want.
Thank you for your business, this is by far the best experience I have had on ordering a building, thanks again!!
So easy to design and order what I needed. Great quality and nice buildings.
I had a question about height. I called and the lady answered almost immediately. great customer service.
Protect Your Valuables for Years to Come with a Custom Metal Garage
Wondering, "Where can I find a good-quality metal garage near me?" We have the ultimate storage solution for your vehicle, lawnmower, bicycles, or other valuable items: Just customize one of our residential metal garage buildings to get exactly what you need at an affordable price! These durable structures can protect your valuables from thieves and pests as well as harsh weather, and you can also take advantage of free delivery and installation from our skilled garage-builders near you. Order a prefab garage or one of our custom metal garages today!
Prefab Metal Garage Options
When you shop with us, there's no need to call in garage contractors near you: We make it simple to get the exact outdoor garage you're looking for, and we'll even install it for you. You can customize a prefabricated garage in lots of different ways, from changing the size or roof style to adding windows or deluxe two-tone siding.
Here are some of the options you'll have when you order our steel garage buildings:
Size: We can make metal garages as small as 12 by 20 feet or as big as 60 by 100 feet! We can also extend the legs up to 16 feet high if you need an extra-tall modular garage.
Roof Style: Pick a regular, boxed-eave, or vertical-style roof.
Building Colors: Coordinate your siding, roof, and trim with your house or other buildings on your property, or choose something entirely different; it's up to you.
Tubing: Our premade garage buildings come with 14-gauge tubing, but you can upgrade to 12-gauge tubing if you prefer.
Add-Ons: Choose the size, number, and positions of garage doors, walk-in doors, and windows for your custom metal garage.
If you're not looking for a fully enclosed portable metal garage, you can also opt for one of our metal carports, which can be left open-sided or partially enclosed.
Make a Great Decision with Our Garage Buyer's Guide
Get our free Garage Buyer's Guide and find out everything you need to know before you buy a metal garage.
Thank You!
Your guide should arrive in your inbox in about 5 minutes.

Alan Bernau Jr., Owner
Metal Garage Prices
This price list is for metal garages in AL, AR, GA, KY, KS, LA, MO, MS, NC, OK, SC, TN, TX, VA, and WV with 9-foot legs. Garage doors, walk-in doors, and windows for these fully enclosed structures are extra.
Limited Time 5% Discount on orders over $5,000 and 10% Discount and Free Colored Screws on orders over $10,000 in select states. Restrictions apply.
Price List: Metal Garages AL, AR, GA, KY, KS, LA, MO, MS, NC, OK, SC, TN, TX, VA and WV Priced fully enclosed with 9′ legs. Garage doors, walk in doors and windows are additional.
Regular Style
Boxed Eave Style
Vertical Roof Style
| | 12' wide | 18' wide | 20' wide | 22' wide | 24' wide |
| --- | --- | --- | --- | --- | --- |
| 20' long | $3,540 | $3,900 | $4,450 | $4,920 | $5,270 |
| 25' long | $4,050 | $4,410 | $4,960 | $5,530 | $5,980 |
| 30' long | $4,480 | $4,840 | $5,590 | $6,160 | $6,710 |
| 35' long | $4,875 | $5,335 | $6,185 | $6,755 | $7,305 |
| 40' long | — | — | — | — | — |
| | 12' wide | 18' wide | 20' wide | 22' wide | 24' wide |
| --- | --- | --- | --- | --- | --- |
| 20' long | $3,640 | $4,100 | $4,550 | $5,020 | $5,570 |
| 25' long | $4,250 | $4,610 | $5,160 | $5,730 | $6,280 |
| 30' long | $4,880 | $5,240 | $5,890 | $6,560 | $7,110 |
| 35' long | $5,375 | $5,835 | $6,485 | $7,255 | $7,905 |
| 40' long | — | — | — | — | — |
| | 12' wide | 18' wide | 20' wide | 22' wide | 24' wide |
| --- | --- | --- | --- | --- | --- |
| 20' long | $3,940 | $4,300 | $4,750 | $5,420 | $5,770 |
| 25' long | $4,550 | $4,910 | $5,460 | $6,230 | $6,580 |
| 30' long | $5,180 | $5,640 | $6,290 | $7,060 | $7,510 |
| 35' long | $5,775 | $6,235 | $6,985 | $7,855 | $8,305 |
| 40' long | $6,595 | $7,055 | $7,805 | $8,775 | $9,225 |

Please see a complete list of options, accessories and pricing in the attached PDF
Frequently Asked Questions and Answers About Our Metal Garages
How Much Does a Metal Garage Cost?
The price of an outdoor garage can vary widely depending on the options you choose, but just to give you an idea, a 12-by-20 regular-roof garage with an 8-by-8 garage door, a walk-in door, and two windows is $5,210. This is a common package for those looking for a one-car garage or small storage building. If you're interested in purchasing a custom garage, check out our metal garage price chart to determine which option fits your budget.
Does the Price for a Metal Garage Include Delivery and Setup?
Yes! The prices of our steel garages for sale near you include delivery and installation on your level land in Alabama, Arkansas, Florida, Georgia, Illinois, Indiana, Kansas, Kentucky, Louisiana, Maryland, Mississippi, Missouri, North Carolina, Ohio, Oklahoma, Pennsylvania, South Carolina, Tennessee, Texas, Virginia and West Virginia. Our expert garage-builders will deliver and set up your sturdy metal garage on-site so you can start enjoying it right away!
How Long After I Order a Custom Garage Will it Be Delivered?
Usually, our metal garage buildings are delivered within four to eight weeks, but delivery times can vary based on the state, the complexity of your order, the weather in your area, and other factors.
How Do I Order My Metal Garage?
Orders can be placed online or by calling 1-800-488-6903. There's no need to visit a garage store near you when you can buy the perfect outdoor garage without leaving the house!
What Are the Payment Options for Metal Garages?
We accept personal checks, Visa, Discover, and MasterCard for all of our metal garages for sale.
How Much Is the Deposit When Ordering a Prefabricated Garage?
The deposit is 12% to 17% depending on the price. The remaining balance is due after the garage is installed.
3 Different Styles of Metal Garages
Regular Roof
The regular roof style has a bow that gives it a unique shape while still allowing it to be the most economical roofing option.
Boxed Eave Roof
Boxed-eave roofs have an A-frame style with panels that run horizontally from front to back.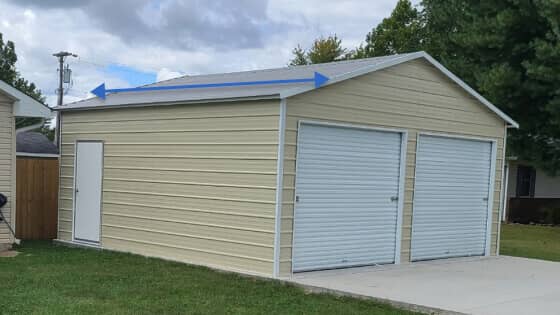 Vertical Roof
A vertical-style roof uses panels in a vertical orientation in order to add a layer of strength.
Customize, Preview, and Order Your Metal Building Online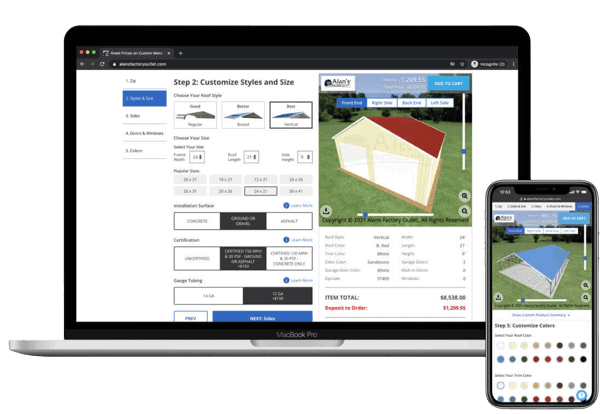 Price and Buy Online with Our 3D Builder, Plus Get Free Shipping and Installation!
Select a size to meet your needs
Choose roof, side, and trim colors
Add garage doors, windows, and walk-in doors
Customize additional options