Get your custom garage and get our best prices plus Free Shipping and Installation!
Affordable Metal Buildings – Southern Illinois
Use our 3D Building Designer to get instant pricing for your custom metal building or garage.
Sizes
We sell buildings up to 60 feet wide and 300 feet long. Here are some popular sizes of steel buildings we sell (click for details and pricing):
If you plan to get a metal garage, our Ultimate Garage Buyer's Guide will show you how to calculate the perfect size of garage for your needs.
Make a Great Decision with Our Garage Buyer's Guide
Get our free Garage Buyer's Guide and find out everything you need to know before you buy a metal garage.
Thank You!
Your guide should arrive in your inbox in about 5 minutes.

Alan Bernau Jr., Owner
More than 75,000 Satisfied Customers
"The pictures on line don't do justice to what you buy i was very surprised and over happy with what they built"

Shawn M., Illinois, September 2020, 12×20 Regular Style Metal Garage
"I looked at and spoke to dozens of manufacturers before I found Alan's. He had the fairest price by far,the building I was looking for, and made it easy buy. Thanks"

Alan B., Georgia
"I would order from you again in the future. I already have (3) of your buildings."

Bud, Texas
Do You Install Metal Buildings Near Me?
We install metal carports in the southern half of Illinois.
Alan's Factory Outlet
Free delivery and setup on all metal garages in southern Illinois. Alan's Factory Outlet metal buildings IL are built in many different sizes and styles. Shoppers are sure to find what they want in this unique selection of steel buildings. Illinois residents can keep their possessions secure in one of these sturdy, attractive buildings.
Metal Garage Illinois vertical style 24x41x10 with three 9×8 garage doors on the side and a single door with 3 windows. This metal building has optional vertical sheeting on the sides and ends which is an option on the metal garages in IL. This steel garage has a pewter gray roof and sides with white trim.
Metal Garage Illinois 12×26 boxed eave metal garage with a 9×8 garage door, 36″ x 80″ walk in door and two 30″ x 30″ windows.
The roof color on this metal garage is burgundy, clay sides and white trim.
The metal structures in IL come in your choice of 13 different colors. Alan's Factory Outlet is proud to offer a wide variety of color options for its steel buildings. Illinois residents have the opportunity to select a color that coordinates with the other buildings on their property. Alternatively, some customers prefer to select a steel building in a color that stands out from other structures on their property. In short, there are plenty of appealing choices when it comes to this inventory of metal garages.
Another reason why people shop the selection at Alan's Factory Outlet is the durability of the steel buildings. Illinois residents expect the best. They expect their garages, carports, and portable storage buildings to endure all types of harsh weather conditions. All of the structures available at Alan's Factory Outlet are made to withstand the elements. Regardless of whether an individual is looking for a place to store a car, lawn tools, farm equipment or other sorts of valuables, this incredible inventory of reliable, attractive portable storage buildings has something for everyone.
Here are the colors available.
Customize, Preview, and Order Your Metal Building Online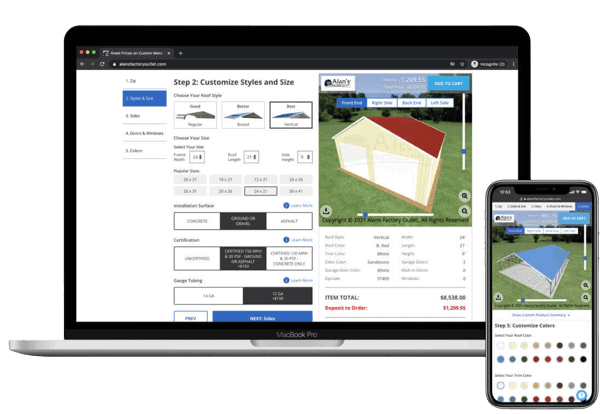 Price and Buy Online with Our 3D Builder, Plus Get Free Shipping and Installation!
Select a size to meet your needs
Choose roof, side, and trim colors
Add garage doors, windows, and walk-in doors
Customize additional options