When you need space for storage, a metal building can come in handy. While one owner may use their building to store an RV alongside a couple of compact cars, another may use it to store tractors, ATVs and other types of farm equipment.
Regardless of why you're looking to buy a 40×40 metal building, Alan's Factory Outlet has options to fulfill all of your needs. To help you see if one of our buildings is right for you, we've outlined their customizable features, pricing, and various uses.
Start With a Popular Configuration
Select one of our featured configurations to preload doors, window, and other options shown in the images below.
When you invest in one of our 40×40 metal buildings, your price could range anywhere from $15,000 to $50,000. Your cost will depend on the type of building and any additional add-ons you're looking for.
For example, if you're getting an open-walled carport without any extra add-ons, then your price would fall on the lower end of the price range. However, if you're looking for a 20-feet-high 40×40 garage with multiple walk-in doors, garage doors, and windows, it's going to be more expensive.
Metal Building Uses
Our steel buildings are a great solution for both storage and business purposes.
For example, you might choose to use your building as a:
Repair shop
Car garage
Hay shed
Office space
Restaurant
Equipment storage space
Retail building
People often overlook the commercial potential of metal buildings. In fact, numerous businesses, including Amazon and Apple, got their start in a garage. That said, regardless of how you decide to use your structure, we've got customizable options to fit your needs.
Why Choose A 40×40 Steel Building?
Steel buildings are a durable, eco-friendly option to protect your vehicles or farm equipment. Below are some of the most important benefits that distinguish our buildings from other companies.
Quality Construction
When you purchase a 40×40 steel building from our selection, you're buying a structure made of quality materials. Our buildings are made to endure all types of weather conditions, including:
Extreme rain
High winds
Thunderstorms
Snow
Our customers can rely on the solid construction of their 40×40 garage to protect all of the possessions under its roof. All you have to do is clean the concrete floor and organize the space when necessary to keep the garage looking its absolute best.
Variety of Roof Styles
One of the most important aspects of a metal building is the roof style you choose. The roof types we offer are:
Regular roofs: Our most affordable roof option, this is great for carports to provide general shelter to your vehicle.
Boxed-Eave roofs: This type of roof has an A-frame style with panels that run front to back. The aesthetic of these roofs will typically match your home better than a regular roof.
Vertical roofs: These roofs feature vertical panels that allow snow to slide off of the roof instead of freezing. While vertical roofs are the most expensive of our roof types, they're also the most durable.
Regardless of your choice, we are proud to offer our customers a number of options so they can find the most suitable one for their property.
Numerous Color Options
From barn red to pebble beige, you can choose from over 16 different colors to customize your building's roof, trim, and sides, resulting in hundreds of possible color combinations.
This offers you the freedom to create a building that matches your home and vehicles' aesthetics perfectly.
Customizable Add-Ons
Finally, our metal buildings are completely customizable. Whether you want a garage door, a walk-in door, windows, an insulated roof, or a carport with no side panels at all, there are options for every specification.
When built right, a prefab metal building is much more than a practical structure. It can also be a colorful addition to an impressive piece of property.
Price and Design Your 40×40 Metal Building Today
When you buy a metal garage or carport, you're investing in a durable structure that could last the rest of your life. Whether you need a space to shelter vehicles, store equipment, or for commercial purposes, our prefab metal buildings have you covered. Use our 3D customizer below to start designing your building now.
Get an instant price for your new carport or metal garage.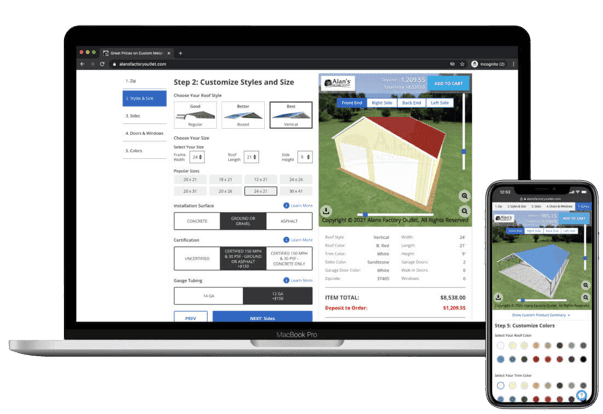 Price and Buy Online with Our 3D Builder Plus Free Shipping and Installation!
Select a size to meet your needs
Choose roof, side, and trim colors
Add garage doors, windows, and walk-in doors
Customize additional options
Customize Now