Alan's Factory Outlet is a leading seller of custom, prefabricated metal buildings. We help customers in North Carolina and beyond design and install commercial and residential metal buildings, large and small.
How Much Does a Metal Building Cost in NC with a Concrete Slab?
A metal building in NC costs anywhere from $5,000 to over $100,000, depending on size and options. The cost of a concrete slab is extra, and can cost anywhere from $4 per square foot to over $10 per square foot.
Approximate Base Cost of Common Building Sizes
| Dimensions (ft) | Cost | Concrete Slab | Area |
| --- | --- | --- | --- |
| 20×20 metal building | $5,000+ | $3,500+ | 400 sq. ft. |
| 20×30 metal building | $6,500+ | $5,000+ | 600 sq. ft. |
| 20×40 metal building | $8,000+ | $7,000+ | 800 sq. ft. |
| 24×28 metal building | $7,500+ | $6,000+ | 672 sq. ft. |
| 30×30 metal building | $10,500+ | $7,500+ | 900 sq. ft. |
| 30×40 metal building | $13,000+ | $9,000+ | 1200 sq. ft. |
| 30×50 metal building | $15,000+ | $11,000+ | 1500 sq. ft. |
| 30×60 metal building | $17,000+ | $13,000+ | 1800 sq. ft. |
| 40×40 metal building | $24,000+ | $12,000+ | 1600 sq. ft. |
| 40×45 metal building | $25,000+ | $13,000+ | 1800 sq. ft. |
| 40×50 metal building | $28,000+ | $13,000+ | 2000 sq. ft. |
| 40×60 metal building | $33,500+ | $15,000+ | 2400 sq. ft. |
| 40×80 metal building | $41,000+ | $20,000+ | 3200 sq. ft. |
| 50×50 metal building | $32,500+ | $16,000+ | 2500 sq. ft. |
| 50×100 metal building | $61,000+ | $30,000+ | 5000 sq. ft. |
| 60×60 metal building | $49,000+ | $22,000+ | 3600 sq. ft. |
| 60×80 metal building | $56,000+ | $25,000+ | 4800 sq. ft. |
| 60×100 metal building | $66,000+ | $32,000+ | 6000 sq. ft. |
Alan's Factory Outlet can deliver and install a metal building after your concrete slab has been poured. We don't pour concrete slabs, so you will need to hire a local concrete contractor or do it yourself.
Who Builds Metal Buildings Near Me in North Carolina?
Alan's Factory Outlet sells metal buildings in all parts of North Carolina. Our installers deliver metal buildings near you all over Western, Central, and Eastern North Carolina, including:
Albemarle
Asheboro
Asheville
Boone
Burlington
Dobson
Dunn
Charlotte
Clayton
Clinton
Eden
Elizabeth City
Fayetteville
Franklin
Gastonia
Greensboro
Hendersonville
Hickory
High Point
Jacksonville
Kernersville
Lenoir
Lexington
Lillington
Lincolnton
Lumberton
Monroe
Mooresville
Morganton
Mount Airy
Murphy
Newport
Raleigh
Reidsville
Roxboro
Rutherfordton
Salisbury
Sanford
Shelby
Smithfield
Statesville
Washington
Waynesville
Wilkesboro
Wilmington
Winston-Salem
Youngsville
How Much Does It Cost to Insulate a Metal Building?
Use our cost calculator and select the insulation option to get a price for your building.
Are Metal Buildings Cheaper than Wood?
Yes. Prefabricated metal buildings often cost half or less than a wood building of the same size.
What Are Standard Metal Building Sizes?
The most popular sizes for metal buildings (in order of popularity) are: 40×60, 30×40, 40×40, 30×50, 30×30, 20×30, 60×40, 20×20, 50×100, 40×80, 30×60, 60×100, 40×50, 20×40,40×30, 24×30 60×60, 60×80, 50×50, 24×24, 50×60, 80×100.
Are Metal Building Prices Going Up?
The price of steel hit an all-time high in 2021 as demand outpaced supply while the world began to recover from the pandemic. Demand is still very high and prices are expected to remain strong for the foreseeable future. If you need a metal building, it is best to lock in a price early to guard against potential price increases.
Do You Have Storage Buildings for Sale in NC?
Yes. Our metal buildings make great storage buildings and are available everywhere in North Carolina.
Local Considerations
If you want a metal building near the outer banks or the North Carolina coast (such as Jacksonville or Wilmington), then you should get the highest wind certification available for maximum protection from hurricanes. Our models designed for Florida come with even higher wind ratings than our standard North Carolina models. If you want to find out more about getting a Florida model, give us a call for details.
Delivering Metal Buildings Everywhere in North Carolina
Whether you're interested in purchasing metal buildings in Charlotte, Whiteville, Murphy, Hendersonville, Hickory, Raleigh, Greensboro, Winston-Salem, Durham, Fayetteville, Cary, Wilmington, or anywhere else in North Carolina, you've come to the right place. At Alan's Factory Outlet, we offer the best custom metal buildings NC residents can buy at some of the lowest prices.
Call now or order online to get the best metal buildings in NC to meet all of your storage needs. With Alan's Factory Outlet's low prices on prefab steel buildings and in other custom metal buildings, North Carolina residents are sure to be satisfied and save money, too.
Do You Deliver Metal Buildings in My County?
Yes. Here is a complete list of counties we deliver to: Alamance County, Alexander County, Alleghany County, Anson County, Ashe County, Avery County, Beaufort County, Bertie County, Bladen County, Brunswick County, Buncombe County, Burke County, Cabarrus County, Caldwell County, Camden County, Carteret County, Caswell County, Catawba County, Chatham County, Cherokee County, Chowan County, Clay County, Cleveland County, Columbus County, Craven County, Cumberland County, Currituck County, Dare County, Davidson County, Davie County, Duplin County, Durham County, Edgecombe County, Forsyth County, Franklin County, Gaston County, Gates County, Graham County, Granville County, Greene County, Guilford County, Halifax County, Harnett County, Haywood County, Henderson County, Hertford County, Hoke County, Hyde County, Iredell County, Jackson County, Johnston County, Jones County, Lee County, Lenoir County, Lincoln County, Macon County, Madison County, Martin County, McDowell County, Mecklenburg County, Mitchell County, Montgomery County, Moore County, Nash County, New Hanover County, Northampton County, Onslow County, Orange County, Pamlico County, Pasquotank County, Pender County, Perquimans County, Person County, Pitt County, Polk County, Randolph County, Richmond County, Robeson County, Rockingham County, Rowan County, Rutherford County, Sampson County, Scotland County, Stanly County, Stokes County, Surry County, Swain County, Transylvania County, Tyrrell County, Union County, Vance County, Wake County, Warren County, Washington County, Watauga County, Wayne County, Wilkes County, Wilson County, Yadkin County, and Yancey County.
What Do People in North Carolina Search for When Looking for a Metal Building?
According to SEMRush, the most common search queries including "metal buildings" and "nc" are:
metal buildings nc
metal building with concrete slab in nc
metal buildings in nc
nc metal building
nc metal buildings
metal buildings with concrete nc
metal buildings for sale nc
metal building kits nc
metal building homes nc
metal building nc
metal building prices nc
metal buildings eastern nc
used metal buildings for sale nc
We left out search queries for specific cities, but top cities included Fayetteville, Lexington, Mt Airy, Asheboro, and Charlotte.
Find Sturdy Metal Buildings for Sale in NC
If you're looking for new metal buildings for sale in NC, look no further. Customers searching for metal buildings in Eastern NC, the Piedmont region, or Western NC can design the exact steel building they need and have it delivered and installed for free.
With our steel buildings, NC business owners and homeowners can have the versatility, affordability, and structural strength they need to protect their valuables. Each of our metal buildings in NC is built with 14-gauge tubing and 29-gauge sheeting. Thicker 12-gauge tubing is also available, and it has a 20-year rust-through warranty. As an additional safety measure, our steel buildings in NC come with center braces.
About Alan's Factory Outlet
Alan's Factory Outlet is one of the nation's top sellers of durable and affordable metal buildings. Our family-run business is owned and operated by Alan Bernau Jr and his wife Julie, who've been pairing customers with their perfect metal carports and storage buildings for over 20 years. Whether you're looking for a metal carport, garage, or other storage building for sale, we're here to help you find the perfect solution.
Customer care is our top priority. Most customers find it quick and easy to use our online 3D Builder to customize and order their metal carport, garage, or building. However, if at any point you need assistance, our friendly customer service team is standing by to help you. Feel free to call us at 1-800-488-6903 (Monday-Friday, 9 am to 5 pm Eastern).
We look forward to serving you!
Price and Design Your Metal Building or Garage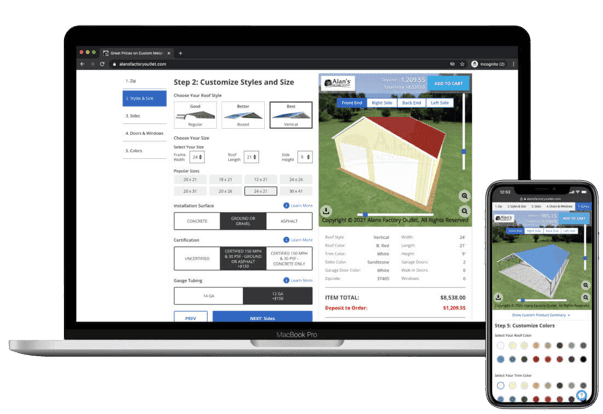 Customize Now