This model is available in Alabama, Arkansas, Georgia, southern Illinois, Indiana, eastern Kansas, Kentucky, Louisiana, Mississippi, Missouri, North Carolina, Oklahoma, South Carolina, Tennessee, Texas, Virginia, and West Virginia. If you need a building in Florida, Maryland, Ohio, or Pennsylvania, use our 3D Builder to customize and order your metal building or garage.
More than 51,783 Satisfied Customers
"This was the best deal and installed in no time at all. Everything is as I hoped it would be. How rare is that? Everyone says the garage looks great."
– T. F. from Missouri
"Loved the easy system you have for ordering, liked all the options with pricing showing. I am very happy with my garage. All my friends love it."
– Robert P.
"Amazed at the quality of the building and service we received. We would definitely buy from this store again and again. Have been suggesting to a lot of people that this is the way to go if you need a metal garage. Very satisfied customers!! Thank you."
– Deanna B.
Overview
Get a 24×30 steel building to use as a garage, storage building, shop, or shed. This 24×30 Vertical Roof Metal Garage comes with premium vertical-style roof panels. These panels allow rain, snow, leaves, and other debris to easy slide off your roof, which helps keep your roof clean and rust-free.
Common Uses
2-Car Garage
This 24-foot-wide garage is big enough to comfortably park two cars side by side without worrying about denting your vehicles when you open the doors. You will also have extra space in the back of the garage that you can use as a work area or for storage.
3-Car Garage
If you put three garage doors on the side, this garage is large enough to park three cars. However, you will need to use 8×8 doors for most of the bays, instead of the standard 9×8 doors.
24×30 Storage Building
Get almost 720 square feet of storage space to store equipment, tools, or inventory for your business.
24×30 Shop
Make your dream workshop a reality. Our metal garages make a great place for fixing cars, woodworking, and other businesses and hobbies, especially if you add windows and insulation.
How We Save You Money
Some manufacturers send a whole truck just to deliver a single garage building kit. That is a great way to deliver your building fast–but it adds a lot to your total price. Some competitors also add extra charges, like a $300 unloading fee if you don't have a forklift! Our buildings are delivered and installed on cost-effective local delivery routes. This allows us to pass on big savings to you and offer free delivery and installation. As a trade-off, you may need to wait a few extra weeks until there are enough orders in your general area to schedule a delivery route. Most customers find the wait is well worth the extra savings.
Lead Times
Our lead times vary depending on the size of your order and the area you live in. To get a current estimate of lead times in your area, see our estimated delivery times.
Getting a Permit
After you order your building, you will need to call your local planning department to find out what documents are required to get a building permit. If you need to submit plans with your application for a building permit, let us know. Generic engineered building plans can be emailed to you within a few days after you place your order. For more information about building plans and getting a permit, see chapter four of our Garage Buyer's Guide. If for any reason you aren't able to get a permit we will promptly refund your deposit.
Foundation and Site Prep
After you order your building and get a permit, you will need to hire a local contractor to prepare the foundation for your building.
Size: In most areas we recommend that the concrete pad for your metal building is one foot wider and one foot longer than your building. You can use our concrete pad size calculator to confirm the correct pad size for your building.
Specifications: Many of our customers have their building installed on a 4" slab with footers, but you should check with your local building department to confirm local requirements.
Site Requirements: Our installers need at least three feet of space on every side of your building to place their ladders while installing your building.
Recommended Contractors: For tips on how to find a reliable concrete contractor in your area, see chapter six of our Garage Buyer's Guide.
Free Delivery and Installation
When your site is ready for your building you will contact us so your order can be scheduled. As soon as there are enough orders to schedule a delivery route in your area, you will be contacted about a week in advance to notify you of your expected delivery date. Most metal garages take 1-2 days to install. You will need to pay the balance of your order when your installation is complete.
Garage Doors, Windows, and Frame-Outs
All of our garage doors are roll-up doors. We do not sell garage door openers, but you can have an automatic garage door opener installed after your garage is built. If you prefer to install your own garage doors, walk-in doors, or windows, we can help you design custom frame-outs to meet your specific requirements.
Custom Options
Insulation
We are able to insulate the roof or the whole building. Use the building configuration tool to select your insulation options.
Colors
We have 16 different metal building colors available. Lighter colors are more energy efficient and will help keep your building cooler.
Custom Placement
If you aren't able to place doors and windows where you want them with our 3D design tool, you can let us know where you want them placed after you submit your order.
Lean-To
If you need to add a lean-to to your building, see our lean-to page for more information.
Electrical
If you need electricity in your building, you can add wiring after your building is installed. You may want to run a tube with wires through the bottom of your building before your foundation is poured. The frame of the building is about 2 ½ inches thick, so any wiring coming in through the floor should be placed further inside the building.
Frame and Panel Upgrades
Consider upgrading to 12-gauge steel framing to get a 20-year rust-through warranty. The 26-gauge metal sheeting upgrade will also help ensure your metal building or garage lasts for a very long time. A well-maintained metal building can last more than 50 years, so these upgrades are a good investment if you need to maximize your building's lifespan.
Customer Support
I'm Alan, the owner of Alan's Factory Outlet. My goal is to help you get the building you need at a great price, without any worries or headaches. If you need any assistance at all, I have a wonderful team of building specialists that are happy to answer any questions you have. There are two easy ways to get in touch. You can use our contact form to send us a message, and we will reply by email or phone as soon as we can. Or you can call us Monday to Friday, 9 Am to 5 PM Eastern at 1-800-488-6903.
Specifications
| | |
| --- | --- |
| Width (including frame) | 24' |
| Length (including frame) | 30' (roof overhangs an additional 6" in front and back) |
| Height | Custom, up to 16' |
| Floor Space | 720 square feet (including frame) |
| Frame | 14 or 12 gauge steel studs |
| Frame Width | 2.5" (14 gauge), 2.25" (12 gauge) |
| Roofing and Siding | 29 or 26 gauge steel sheeting |
| Roof Pitch | 3:12 |
| Center Brace Clearance (approx.) | 2' 7" above side height |
| Peak Height (approx.) | 3' 8" above side height |
Certifications
Wind: 140 miles per hour
Snow: 35 pounds per square foot
Warranties
1-year craftsmanship warranty
20-year rust-through warranty on 12-gauge frames
20-year rust-through warranty on roof panels
Satisfaction Guarantee
100% satisfaction guaranteed. Cancel any time before delivery for a full refund of your deposit.
More Information
If you're looking for a 24×28 metal building or a 24×32 metal garage, this 24×30 garage is our closest model. If you need a building that is exactly 24×28 or 24×32 we can match your custom size after you order if you order the next largest size. A 24×30 garage is typically used as a spacious 2-car garage with plenty of room for storage in the back. But you can also turn this model into a 3-car garage by putting three 8×8 garage doors on the size of the garage. If you have an oversized truck, you can actually fit one 9×8 door and two 8×8 doors on the side of this garage. With three bays that are 24 feet deep, you will still have some extra space on the other side of the garage for storage and a small work area. The 24×30 vertical-style metal garage comes standard with 9′ legs fully enclosed. The cost of the garage door, walk-in door, or window is not included in the price. Select the garage door size that works best for you and the price with the garage door will automatically be updated. Other options, such as a walk-in door, windows, and a taller side height, can be added for an additional cost. Alan's Factory Outlet's 24 x 30 vertical roof metal garage is 24′ wide by 30′ long and has 720 square feet of fully enclosed storage space.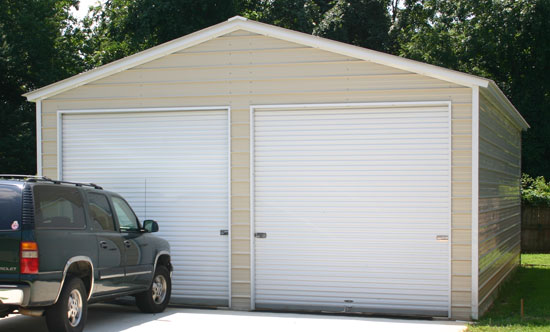 The metal garages come certified for 140 mph and 35 psf thanks to the use of a tighter screw pattern and an anchored support that is able to withstand 140 mph wind. If you need blueprints to secure a building permit, they can be sent to your email upon request within approximately 3 to 4 business days after ordering. The metal garage for sale comes with 14-gauge tubing, which is 2 1/2″ by 2 1/2″ square tubing, or you can upgrade to the 12-gauge tubing, which is 2 1/4″ by 2 1/4″ tubing. The framing on the optional thicker 12-gauge tubing comes with a 20-year rust-through warranty. The steel buildings are custom-built in the size and style and with the options you want. You get to choose between 16 different colors for the roof, trim, sides, and ends to create the fully customized steel garage of your dreams.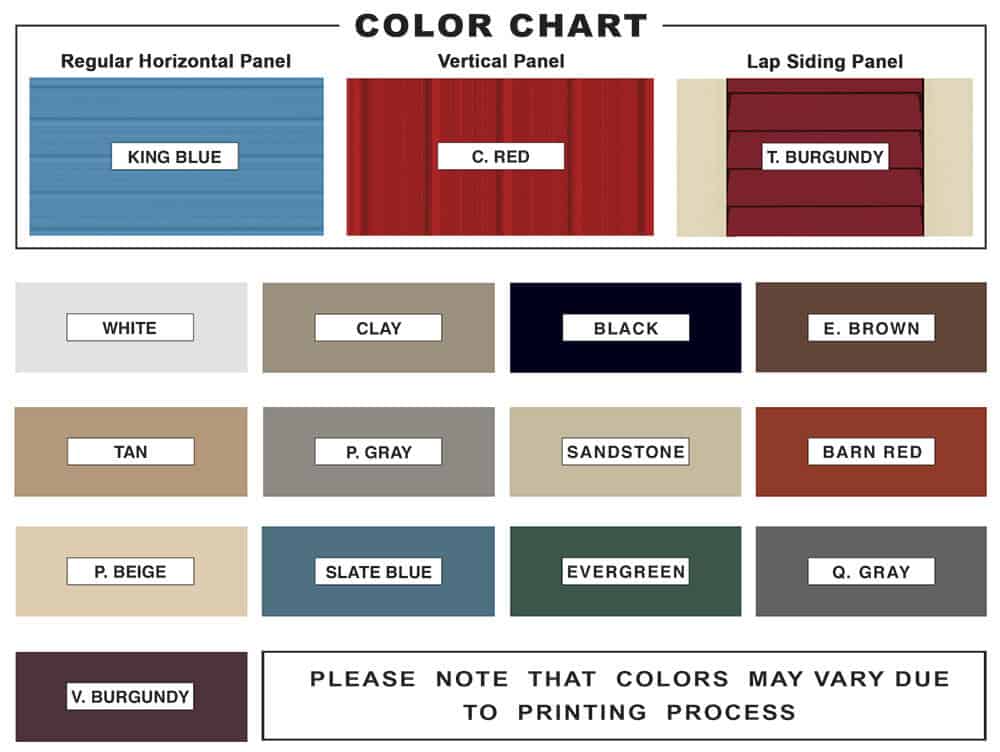 The metal colors on the metal buildings are approximate.
What makes the vertical-roof metal garages unique is that the metal sheeting on the roof goes up and down to help the snow and rain slide off of it.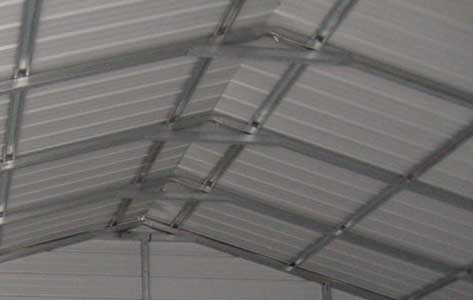 The vertical metal garage is the strongest style of metal garage available now because, in order to attach the metal sheeting to the roof, we have to put cross bracing to attach it, which strengthens our metal buildings. You can buy your 24 by 30 garage online, or you can call now and order it over the toll-free line at 1-800-488-6903.
More Questions?
If you have any questions we didn't answer on this page, please visit our FAQ page to get answers or to contact us for help.