A 30×40 metal building is the perfect size for a large garage, workshop, storage shed, and more. Since steel is a durable and weather-resistant material, these structures require very little upkeep. Our 30×40 metal building prices are the lowest you'll find and include installation.

Start With a Popular Configuration
Select one of our featured configurations to preload doors, window, and other options shown in the images below.
Customizable Features
Design your 30×40 metal building to fit your needs. The following are available features:
Roof style
Color of roof, trim, siding, and doors
Garage doors
Walk-in doors
Windows
Insulation
How Much Is a 30×40 Metal Building?
The average 30×40 metal building cost starts around $11,000, though prices will vary depending on the roof style and height.
For example, a 30×40 steel building with a vertical roof, 9-foot legs, and a 9×8 garage door starts at $11,005, while a structure with 12-foot legs and two 10×10 garage doors would start at $13,325. Additional garage doors will increase the price, as well as taller sides.
We also offer a wide range of add-on features and accessories, such as windows and walk-in doors, for our metal buildings that will add to the total price.
Concrete Slab Cost
The average cost of concrete slab is $8 per square feet. For a 30×40 concrete slab, which is 1,200 square feet, the approximate cost will be $9,600. Local prices of concrete vary depending on the cost of labor in your area. You can use our concrete pad size calculator to determine the best size for your needs.
*Please note that we do not provide concrete work with our metal building kits. You will need to hire a local contractor for your foundation.
Color Options
While traditional metal buildings were generally one gray color, modern versions have more options. Ours come in a variety of colors, where you can change the look of the roof, trim, siding, and garage door.
Uses for 30×40 Metal Buildings
The greatest thing about a metal building is its versatile use. New metal buildings can function as a garage and easily add value to your home. They also make great workshops, storage buildings, and barns. Our metal 30×40 garage kits are custom-made to fit your specifications and available in 16 different colors.
Installation
After ordering a metal building kit from us, we'll deliver it to your home and install it for free. Installation can take anywhere from a half-day to two days, depending on the size of the building.
It's important to prepare and level the ground beforehand to ensure proper installation. There should also be at least 3 feet of space around the desired area for workers to have room to install the building.
Frequently Asked Questions
Is a metal building better than wood?
When comparing metal to wood, you'll find that metal is a much more durable material. Unlike wood, metal does not crack or chip under extreme temperatures. It is also fire-resistant and less likely to dent or become otherwise damaged. Best of all, metal is low-maintenance, and its siding can last up to 40 years before needing a repaint.
Is it cheaper to buy a metal garage or build one?
It depends. The average cost to build a garage is $28,000, though you can buy a metal garage kit for half the price. The total costs of both, however, will vary by size, style, customizations, and other factors.
Are metal buildings cheaper than stick-built?
Yes. More often than not, metal buildings are half the cost of those made of wood. Since metal is more affordable than lumber, the material is a great investment for a large-scale, permanent building. 
Design Your 30×40 Metal Building Today
Our 30×40 metal building costs include delivery and installation, ensuring the most affordable prices for our customers. All of our products are also backed by a one-year workmanship warranty from the date of installation.
Order and customize the perfect metal building within your budget using our tool below.
Get an instant price for your new carport or metal garage.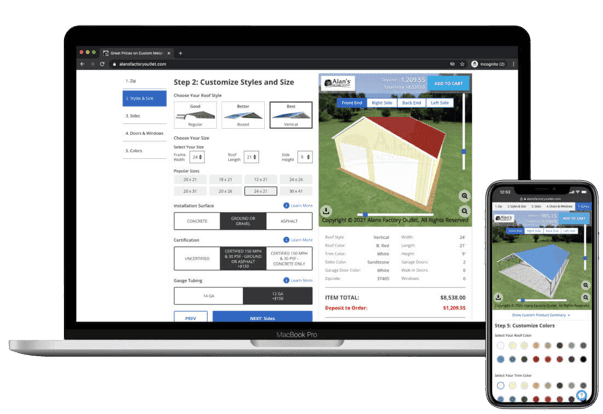 Price and Buy Online with Our 3D Builder Plus Free Shipping and Installation!
Select a size to meet your needs
Choose roof, side, and trim colors
Add garage doors, windows, and walk-in doors
Customize additional options
Customize Now