Our 30×40 metal building kits are delivered and installed for free. These custom buildings make great garages, shops, sheds, and barns. Design your own custom building to get an instant price.
A 30-by-40 steel building is damage-resistant and needs very little upkeep. We stand behind our products and are proud to offer durable building that will last a lifetime, and our 30×40 metal building price is the lowest you'll find.
How Much Is a 30×40 Metal Building?
The average 30×40 metal building cost starts around $11,000, though prices will vary depending on the roof style and height.
For instance, the 30×40 steel building cost with a vertical roof, 9-foot legs, and a 9×8 garage door starts at $11,005, while your 30×40 metal building price for a structure with 12-foot legs and two 10×10 garage doors would start at $13,325. Shorter sides cost less, and taller sides, like in a 30x40x12 or even 30x40x16 metal building, cost more, as do additional garage doors.
We also offer a wide range of add-ons and accessories that can add to the total 30×40 metal building price. For example, many people want to add windows to their garage for a less industrial look, which brings the price up by $170 to $200 per window.
How Many Square Feet Is a 30×40 Building?
The square footage of a 30×40 metal building is 1,200 feet.
Concrete Slab Cost
A 30×40 concrete slab is 1,200 square feet. Local prices vary a lot depending on the local cost of labor. Using an average cost of $8 per square feet gives an approximate cost of $9,600. Unfortunately we don't do concrete work ourselves, so you'll need to hire a local contractor for your foundation. You can use our concrete pad size calculator to determine the right size of concrete slab for a metal building ordered from Alan's Factory outlet.
Why Choose a 30×40 Steel Building?
Steel is a great material for oversized buildings like a 30×40 metal building kit in part because it's very durable, with most siding lasting up to 40 years before it needs to be repainted. After repainting, it usually lasts another 30 to 40 years. This is a phenomenal investment for a large-scale, permanent building.
Steel is also much more damage-resistant than vinyl or wood. It does not crack or chip under extreme temperatures, and it is less likely to dent or become otherwise damaged. External damage to a 30×40 shop building would usually be cosmetic and will not need to be repaired right away. With other materials, any damage should immediately be repaired or else water damage can occur.
Uses for Metal Buildings
The great thing about a 30×40 steel building is that it can be used for so many different things. A large building could easily add value to your home if you turn it into a garage. Metal buildings are also great as workshops, storage buildings, or barns. Each 30×40 building kit is certified and comes with a blueprint, so you'll have a firm foundation for any use you can imagine.
Because each metal 30×40 garage kit is custom-made to fit your specifications, you can adapt these backyard buildings for just about any use. When you purchase one of our prefab steel buildings, you have several options from which to choose, including the roof style, dimensions, number and configuration of doors and windows, and color scheme. Each 30×40 pole barn kit is available in 16 different colors.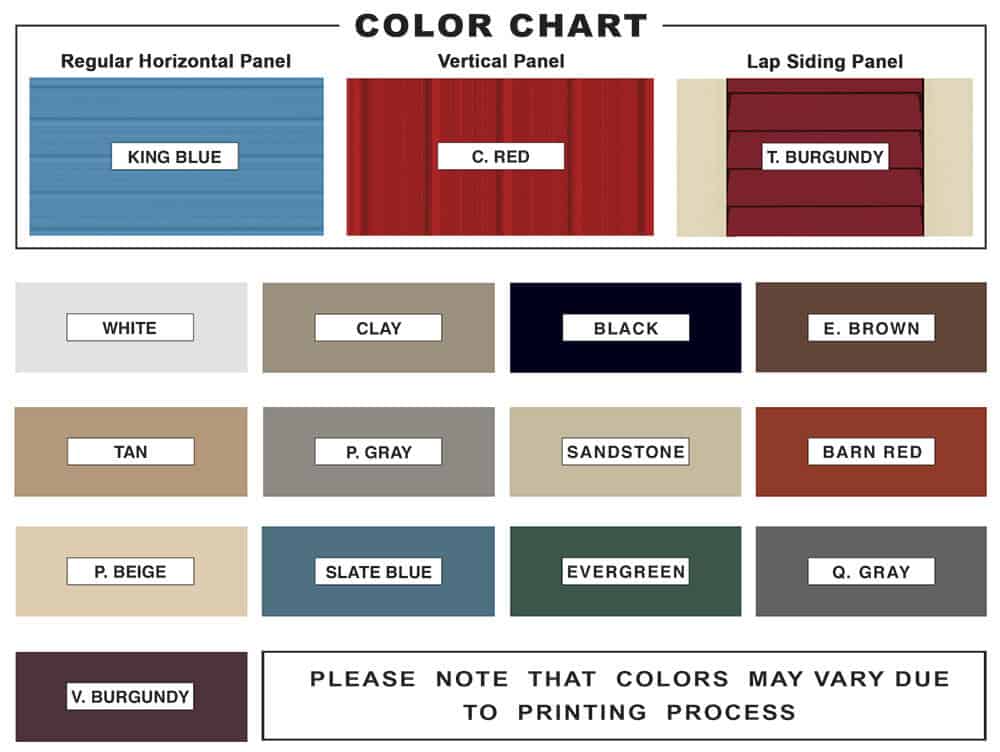 30×40 Metal Building Installation
Your building kit will be delivered to your home via truck or trailer, and installation can take anywhere from a half-day to a full day, depending on the size of the building. It's very important that the ground you have chosen for the building is level. There should also be at least three feet around the desired area for workers to have room to install the building. When choosing to buy a 30-by-40 steel building kit from us, please make sure to indicate if you have a power source available within 100 feet of the building. This lets us know whether or not we should bring our generator for installation.