If you're thinking about buying a new shed, there are a few things to consider. Depending on your property and storage needs, you'll have to decide on the ideal location, size, and most importantly, the material. For instance, between a wooden or metal shed, which is better?
Since each type of shed has its own pros and cons, there is no right or wrong answer. The decision all comes down to your personal preference. In this post, we'll compare metal vs. wood sheds, examining more closely the perks and drawbacks of each.
Metal Sheds
Durability is one of the greatest advantages of owning a metal shed. It can last over 10 years without maintenance and withstand harsh weather conditions. Also, since metal is a fire-resistant material, it can protect your equipment and tools from fire damage.
Metal sheds are available in a variety of sizes to fit on any property. You can even opt for one with a garage door, creating easy access to larger items like a motorcycle.
While metal sheds used to generally be gray, unattractive structures, they've come a long way. Nowadays, modern metal sheds are now available in a variety of different colors, so you can choose one that complements your home and property.
One drawback, however, is the limit on customization. This doesn't mean you can't decorate it to your liking, but that it's harder to change a metal shed design after it's built. Additionally, you'll need to inspect it annually for rust.
Pros:
Low-maintenance
Insect- and rot-resistant
Durable and long-lasting
Fireproof and weatherproof
Cons:
Harder to customize than wooden shed
Doesn't always match home aesthetic
Can rust if not maintained
Wood Sheds
One benefit of owning a wood shed is its appearance. These sheds generally come with shutters and windows, making the structure look like an extension of the home. Another advantage of wood sheds is that they're easier to customize. For example, you can add a second story to this type of shed to create more storage space.
Unfortunately, wood sheds can attract termites, carpenter ants, and other wood-eating pests. This material can also warp and deteriorate from water damage, so you'll most likely need to winterproof your shed if it's wooden. This includes waterproof staining and maintenance throughout the year.
Pros:
Easy to customize
Aesthetically appealing
Cons:
Prone to rotting and insects
Requires continual maintenance
Susceptible to weather and fire damage
Key Differences Between Metal and Wood Sheds
Now that you have an overview of each shed type individually, let's take a closer look at metal and wood shed differences, side by side.
Costs
Generally, metal sheds are more affordable than wooden sheds—the cost of wood starts around $7 per square foot, and steel starts around $5 per square foot. Also, wood requires more material to build, so metal sheds typically cost less than a wooden shed of the same size.
Aesthetics
If budget isn't an issue and visual appearance is your preference, a wood shed may suit you. Wooden sheds come in a larger variety of styles than metal. They are also easier to paint, whereas metal requires a special type of paint primer and coating.
Maintenance
You'll want to consider how much upkeep your shed will need over time. Aside from adding a rust-resistant coating, metal doesn't require much. Wood, on the other hand, needs to be treated periodically to prevent moisture and weather damage.
If you want a wood shed that is insect-resistant, cedar is the best option, as its oil is a natural insect repellent. You'll also need a good shed foundation to help protect the base of a wood shed from rot.
How to Choose the Best Shed Type
In the end, when deciding between metal and wood sheds, it all comes down to your preferences. Aside from costs and upkeep, it's important to choose the style that best fits your storage needs.
If a durable and long-lasting shed is what you're looking for, you're in the right place. Check out our variety of metal sheds and customize the color and style of your choice. Once you're set, we'll deliver and install your custom metal shed for free.
Get an instant price for your new carport or metal garage.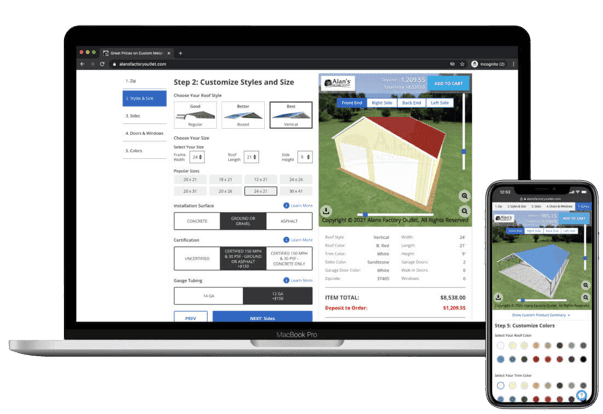 Price and Buy Online with Our 3D Builder Plus Free Shipping and Installation!
Select a size to meet your needs
Choose roof, side, and trim colors
Add garage doors, windows, and walk-in doors
Customize additional options
Customize Now