When you need extra storage space, sheds are a great garage alternative. One major perk of a shed is that it's a detached storage unit, which can fit in your yard and even function as a workshop or lounge.
Yet when it comes to buying a shed, finding the right one can be a challenge. There are many styles and designs to choose from, as well as extra steps to plan ahead.
In this comprehensive guide, we cover all the ins and outs of the shed buying process. From questions to ask yourself to costs and building factors, read on to learn how to choose the best shed for your needs.
Considerations: What to Know Before Buying a Shed
A shed can be a good investment and addition to your property. The key is to do your research beforehand. Here are several factors to consider when choosing a shed.
Intended Use
How do you plan to use your shed? What will you store inside of it? This will help determine the size and style you'll need. For example, a storage shed for yard and garden equipment will be much smaller than one used as a home office.
Building Laws and Permits
Before you purchase or install a shed on your property, it's important to know the zoning laws and HOA rules in your area. Depending on the size or customizations, you may need a permit to build the shed.
Foundation and Flooring
Not all shed structures come with flooring. Even for those that do, you'll have to place the shed on a good foundation, such as gravel or concrete blocks, that keeps it well drained.
Before adding the foundation, you must first decide where you want to put your shed. A good rule of thumb is to place it in an area of your yard where there will be enough space to walk around it, like when mowing the lawn. Setting the shed beside a fence or home can make it difficult to cut weeds and keep the area tidy.
Installation
If you're handy with home projects and want to save money, it may be easier to assemble and install the shed yourself. However, for larger or more complex shed structures, you may want to have a professional install it. Some installation services may also remove your old shed for an extra fee before installing the new one.
Budget
Lastly, know how much you're willing to pay. While cheaper options can save money, a more expensive shed will most likely be higher quality.
Types of Sheds
There are several different types of sheds to choose from. If you're looking for storage-only sheds, you can find small and simple styles suited for items like firewood, tools, and gardening supplies.
Larger, sturdier sheds are more suitable for storing bigger items such as lawnmowers, bikes, and motorcycles. Many of these large sheds also include a ramp for easy entry and exit.
For spacious and multifunctional sheds, which can double as a workspace or place to relax, you can find studio-style sheds. These types of sheds usually have windows for airflow, as well as modern, attractive designs to elevate your yard.
Materials: Which Type Is Best?
After deciding on a shed style, you'll want to consider the quality of material. Most sheds are made of plastic, wood, or metal. Every material comes with its own pros and cons, so it's best to compare the different types based on your desired size, style, and intended use of the shed.
Below is a quick overview of the advantages and disadvantages of the most common shed materials.
Wood
Wood is the most popular shed material since it's easy to customize the design and can blend with other natural materials in the yard. It is, however, the most susceptible material to insects and water damage if not well maintained.
Advantages:
Looks great
Easier to redesign
Drawbacks:
Susceptible to insects and rotting
Prone to fire and weather damage
Requires frequent maintenance
Metal
Metal sheds are generally the most durable option and much easier to maintain compared to wood sheds. Since metal is recyclable, these types of sheds are also environmentally friendly. Although many metal sheds are advertised in gray or neutral colors, modern versions are available in a variety of colors and shades.
Advantages:
Sturdy, long-lasting
Weather- and fireproof
Rot- and insect-resistant
Low maintenance
Environmentally friendly
Drawbacks:
Less customization options
May rust if not coated properly
Plastic
Plastic (vinyl) sheds are quick and simple storage options. While plastic is the most available material, it's not environmentally friendly and is harder to customize once purchased. Plastic is also not as strong as other materials and can lose quality over time.
Advantages:
Readily available
Easy to install and move
Rust- and insect-resistant
Drawbacks:
Can become flimsy
Hard to customize
Requires maintenance
Not eco-friendly
Shed Roof Styles
You'll also need to consider the best style of roof for your shed. Vertical roof styles are the most ideal choice for heavy rain and snow, since their slope prevents snow and rainwater buildup. Single sloped or "lean-to" style roofs are also common for sheds. You can place lean-to sheds on the side of a house or barn to look like an extension of the building.
When comparing shed roof materials, you'll want to look for those that last the longest. While shingles are the most popular, metal roofs are the most durable and resistant to weather damage.
Sizes
While there are a variety of shed sizes available, a good rule of thumb is to choose one size larger than you think you need. Doing so allows you to have extra space to grow and reorganize as needed.
Steps to determine an ideal shed size:
List all items you plan to store inside the shed and their approximate sizes.
Draw a floor plan to scale with those items including space to walk in and around them.
Add about two feet of length to the shed size to make sure you have enough space.
Cost
The cost of a shed depends on its size, style, and material. For instance, a simple garden shed can cost as little as $100, while a large storage shed can cost up to $15,000 or more. When shopping for a shed, think of it as a long-term investment that can also add value to your property.
With this in mind, be careful not to sacrifice quality for a cheaper option. For example, metal storage sheds typically cost between $400 and $2,000, depending on the size and additional customizations, but are more durable and sturdy than other shed types.
Additional Features
Last but not least are the shed features. Your shed's appearance can be just as important as its use, since shed additions affect the way your yard looks.
Think about which features will make your shed more useful. For example, you can add a ramp if you plan to store bikes or lawn mowers.
Below are a few ideas:
How to Choose a Shed + FAQs
After considering all of the factors above—price, size, style, and budget—choosing and buying a shed all comes down to personal preference. Think about how the shed will look in your backyard, what price you're comfortable with, and how it will help you with your storage needs down the road.
Is it cheaper to buy or build a shed?
You'll always have the option of hiring a professional to install your shed or build one yourself. The fastest and easiest option all comes down to your budget and DIY skills. A shed kit may be easy to assemble if you are handy and already have the proper tools. However, if you don't like building things, you may find it quicker and easier to pay for professional installation.
What features are important to have in a shed?
To get the most out of your shed, you'll want one that is easy to use and organize. For example, a shed with wall hooks and shelving can help you keep tools and items organized.
What else should I know before buying a shed?
To best protect your investment, it's a good idea to have a set of questions ready to ask the seller or builder, often regarding a warranty, delivery fee, and any down payment requirements.
When you order our durable steel sheds, we'll deliver and install them for free. Additionally, you can take advantage of our 3D customizer below to browse and choose any features you need. Are you ready to design your dream shed? Click the tool below to get started.
Get an instant price for your new shed or metal garage.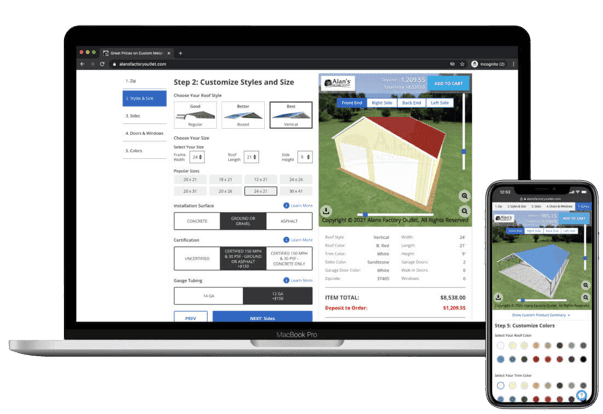 Price and Buy Online with Our 3D Builder Plus Free Shipping and Installation!
Select a size to meet your needs
Choose roof, side, and trim colors
Add garage doors, windows, and walk-in doors
Customize additional options
Customize Now