Is your old backyard shed an eyesore? With a bit of creativity and planning, you can transform that unused storage space into an office, gym, or even a studio.
Since sheds come in a variety of shapes and sizes, there are many creative ways to use them for leisure, work, and living space.
If you're up for a fun DIY project, we've compiled a list of shed conversion ideas to spark inspiration.
Sheds as Extra Living Space
Home upgrades to a shed, like windows, good insulation, and cozy interiors, can make it function as an additional living area.* Check out a few different ways you can use the extra space.
1. Detached Garage
Metal sheds can serve as budget-friendly detached garages. These prefabricated buildings are typically designed with garage doors, so they're great for parking other vehicles that can't fit in your attached garage.
2. Guest Room
If you need an extra room for the in-laws or other visitors to sleep, look no further than your shed. With a comfy bed and a few simple additions, you'll have a cozy, private space available for hosting guests.
3. Accessory Dwelling Unit (ADU)
Kick the guest room idea up a notch by making the shed an ADU—adding a bathroom, kitchenette, and den area. ADUs are great extended-stay options for grandparents, college-age children, and even rental tenants.
4. Luxury Doghouse
Do you have an old backyard shed you want removed? If it still has some years left in it, transform it into an epic doghouse for your favorite furry friend. A medium-sized shed can be a spacious crate alternative for dogs, allowing them to walk and stretch freely while staying safe from the elements.
5. Tiny House
Though they're quite an investment, large storage sheds are increasingly popular options for tiny houses. This is because it's easier to get building permits for them, and converting a shed is quicker and cheaper than building a tiny house from scratch.
6. Outdoor Washroom
Having an outdoor restroom and changing area can come in handy for pool owners. Just hire a plumber to run water supply and sewage to your shed. With a few more installations—shower, toilet, etc.—your shed will be a convenient freshening-up area after a day of pool fun.
7. Classroom
Need a separate space to study and learn without household distractions? Upgrade to a bigger shed that offers more room for activities. You can use it as a space to homeschool the kids, including virtual learning and tutoring sessions.
Recreational Shed Ideas
Having a separate building for entertainment and activities can help keep the house and garage tidy. Check out these next few ideas for fun and leisure.
8. Backyard Retreat
Need to disconnect? Escape the daily grind of work and routine by creating an "off-the-grid" shed retreat. You can set it up in your backyard, within nature and greenery, and even set up a campfire pit area next to the shed.
9. Pool House
When installed poolside, prefab storage sheds can easily become a cool pool house. With a few customization features, it can be a nice lounge area, snack shack, and changing room. During the winter season, use it as storage space for pool supplies and patio furniture.
10. Kids' Playhouse
Turn an unused shed into a fun and creative playhouse for your children. You can paint the exterior and decorate the interior with colorful rugs, chairs, books, games, and more.
11. Outdoor Library
Want a cozy reading nook in your garden? Look no further than your shed. Simply add outdoor furniture and a few wall shelves to store your collection of books.
12. Concession Stand
For backyard entertainment, consider converting your shed into your own concession stand. From birthday parties to family cookouts, a food-service bar can be the perfect backyard addition.
Shed Renovations for Personal Space
If your garage is too cramped to use as a place of leisure, sheds are a great alternative.
13. Hobby Shop
Need a quiet space for creativity? You can repurpose a shed into a modern studio. From crafts to recording sessions, a backyard studio is an artist's dream.
14. Home Gym
Ditch the expensive gym membership and turn your shed into an at-home version. With simple interior additions like rubber mats, weights, and mirrors, you'll have a personal gym steps away from home.
15. She Shed/Man Cave
Parents who want quiet time away from the kids can turn their shed into a cozy haven. Decorate it with comfy furniture, potted plants, and other personal accessories. You can also make it a cool sports den by adding a TV, mini fridge, and snack bar.
Shed Conversions for Business
If you're a new or aspiring business owner, a shed can come in handy when you need a separate yet convenient space to get things done.
16. Workshop
A storage shed can easily become a workshop studio for woodworking, gadget repairs, and other at-home business services. Maximize space by adding workbenches, a pegboard for tools, and mounted shelves for other supplies.
17. Self-Storage Unit
Did you know that self-storage is a billion-dollar industry? From moving to lack of garage space, self-storage units are always in demand. You can easily add a second stream of income by renting out your shed as storage space.
18. Home Office
Who says work has to be done in a stuffy office building? Now that remote work is the norm, many people use spare rooms and home additions as extra office space. Consider renovating your backyard shed into a distraction-free workspace separate from the house.
Tips and Tricks for Shed Conversion Projects
A shed makeover can be a fun DIY project with great ROI if you ever sell or rent out your home. No matter what type of transformation you make, here are a few hacks to ensure you get your money's worth.
Make It Durable
You'll want your shed made of a strong, long-lasting material. Metal sheds are more durable than wood versions, as they're weather-resistant, rot-resistant, and low-maintenance.
Make It Welcoming
Think about your guests' or future home buyers' reactions when they see the shed style. Having an attractive exterior design will convince people it's a valuable home addition. A new door, fresh coat of paint, outdoor lighting, and even plant decor can do wonders for the entrance look.
Make It Comfortable
Unless you're an experienced contractor, you'll need to hire a professional for interior upgrades to make it comfortable. If you plan to spend a lot of time in the shed, this will most likely involve window installation, wall insulation, electrical wiring, and plumbing.
Make Your Dream Shed a Reality
The cost of building a shed from scratch can be hefty. Thankfully, you can buy a prefab shed for a fraction of the price. Made of high-quality steel, our prefab sheds are easy to assemble and will last for years to come.
Easily customize and order your next shed using our 3D building tool below. Once purchased, we'll ship and install it for free.
*Note: Sheds and other structures sold by Alan's Factory Outlet are not designed or intended for living purposes.
Get an instant price for your new shed or metal garage.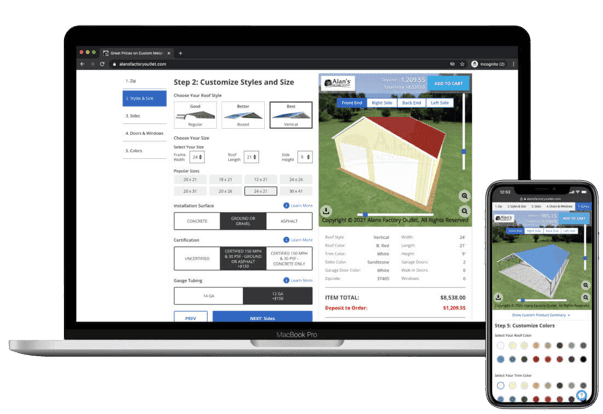 Price and Buy Online with Our 3D Builder Plus Free Shipping and Installation!
Select a size to meet your needs
Choose roof, side, and trim colors
Add garage doors, windows, and walk-in doors
Customize additional options
Customize Now