Are you looking to downsize? If you're up for an advanced DIY project, you could save money by turning your shed into a tiny house. Using a backyard shed is a great way to test out the tiny house lifestyle without the commitment. You can make it a guest house, extra living space, and more.
Like most tiny homes, it's important for your shed conversion to meet building codes and have all of the right permits to legally dwell in it. From costs to ideas, this step-by-step guide covers everything you need to know about shed-to-house conversions.
How to Turn a Shed into a Tiny Home
Buying the right shed is the most essential step if you don't already own one. You'll want one made of quality material and large enough to fit furniture and appliances after the conversion. Once you receive a permit from your local building authority, you're ready to start the process.
1. Choose a Location
Unless you're going to live off the grid, you will need utility connections for your tiny home. If the tiny home will be on a new property and not at your current residence, it's best to first check with local utility service providers to find out if all the utilities you need are available at the new location.
2. Lay a Shed Foundation
While gravel is the most recommended foundation for sheds, a shed-to-tiny-house conversion will likely weigh more with furniture and appliances. In this case, concrete slab may be best. If you're skilled in home improvement projects, you can choose to pour the concrete slab yourself to cut costs.
After the foundation is set, you can install the shed and begin the conversion.
3. Seal Up Cracks
Be sure to seal any and all visible cracks, gaps, and corners of the shed where air can escape. This will help prevent drafts, pests, and water from entering your tiny house. Silicone caulk and expanding foam spray are both common sealant options for sheds.
4. Connect the Utilities
You should be able to set up all of the necessary utilities—water, power, and sewer—in the tiny house shed after it passes inspections and obtains permits. There are also affordable alternatives to sewage that are popular among tiny houses, such as installing a septic tank and compostable toilets.
5. Add Insulation
Insulating your converted shed is another important step to ensure comfort. Adding insulation will control moisture levels and help regulate the temperature inside. The ideal type of insulation will depend on the material of your shed. For example, woven fiberglass rolls and spray-foam are commonly used to insulate metal sheds.
6. Perform Interior Finishes
Once you install insulation, you can start the interior finishes. This may include adding drywall if needed, cabinets, counters, and your flooring of choice.
7. Complete External Finishes
If you have a simplistic shed, customizing the exterior can help it look more like a house. This may include adding siding, painting the door, installing outdoor lighting, and other decor.
8. Furnish and Enjoy
This final step is what makes your shed a home. With limited spacing, you can choose multifunctional furniture such as futons and fold-down tables. Smaller appliances are also ideal, like a mini-fridge or portable electric burner.
Cost Breakdown
The average cost for a shed to tiny house conversion is $50,000. However, customizations such as installing windows and accessories will add to the total cost. Let's take a deeper look at each cost factor:
Shed cost: Excluding customizations, you can expect to pay $3,600–$36,000 for a large 12×20 shed (240 sq. ft.). This price varies by size, material, and labor.
Foundation: Poured concrete is the most ideal, but there are different types of shed foundation to choose from. Gravel, for example, is cheaper.
Utilities: There are also budget-friendly alternatives, such as installing solar panels and a septic tank to avoid service charges of the local utility system.
Insulation: The cost will vary by the shed size and insulation type.
Interior Finishes: The price of any final interior additions also varies depending on your custom design and preferences.
Appliances: Many appliances come in smaller sizes for studio apartments and tiny homes and are generally cheaper than their full-sized cousins.
Furniture: You'll most likely avoid furniture sets due to limited space. It will cost less to furnish your tiny home than a general sized home.
DIY vs. Hired Pro: Performing the labor yourself can help save money, but some parts of the conversion will require an expert. Tiny houses are still fairly new forms of construction, so a professional contractor would most likely have more insight on building codes for safety.
Shed House Ideas
Tiny house sheds aren't limited to just one style. Check out these other unique ways you can turn your shed into a living space.
Guest House
For in-laws and other guests who come to visit, your tiny home shed can serve as a backyard guest house. This way, they'll have their own private bedroom, restroom, and dining area.
Loft-Style
Having a loft in your tiny home lets you take advantage of the vertical space and lets you use the second level as a storage room or bedroom. The loft level is directly under the roof of the shed, maximizing space on the ground floor and creating privacy for sleeping or relaxing.
Backyard Studio
A modern studio shed can make for a great home addition and create a separate space you can escape to and enjoy in your backyard. This shed style usually has the customizations needed for active use, such as windows and interior finishes. From home offices to man caves and she-shed spaces for leisure, studio sheds can be used for work, hobbies, and many other purposes.
Frequently Asked Questions
Is it legal to live in a shed?
Yes, but you must first obtain permits. This confirms the shed meets local zoning and building codes to consider it safe for living. Some construction rules, such as the dwelling size requirements, vary state to state. Without a permit, you cannot use a shed as a residential structure.
How long does a tiny house last?
With strong building materials and proper maintenance, tiny houses can last as long as regular-sized homes. Remember that the design and quality of the materials will also play a role in your tiny house's lifespan. 
Does insulation keep heat out of a shed?
Yes, installing insulation in the walls and ceiling of a shed can help regulate the temperature, keeping it cool during hot seasons and warm during cold seasons.
Order Your Next Customizable Metal Shed
Not all shed designs come with windows and "home-like" features. Thankfully, you can save time and money on custom additions with our 3D designing tool. From roof styles to color and size options, our tool lets you customize and order a durable metal shed in a few simple clicks.
Note: Sheds and other structures sold by Alan's Factory Outlet are not designed or intended for living purposes. Any alterations performed after installation are not covered by warranty.
Get an instant price for your new carport or metal garage.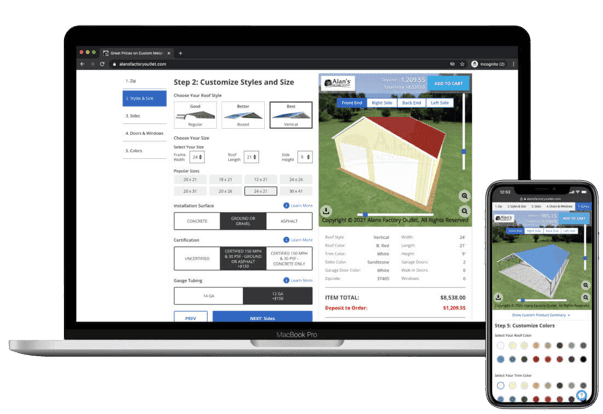 Price and Buy Online with Our 3D Builder Plus Free Shipping and Installation!
Select a size to meet your needs
Choose roof, side, and trim colors
Add garage doors, windows, and walk-in doors
Customize additional options
Customize Now
Sources: