The average shed costs about $2,500 to build, but prices can range anywhere from $200 to $30,000.1 This is because sheds come in a variety of sizes, styles, and materials. Other factors, such as whether you purchase a prefab shed or custom build one, also influence the total cost.
From storing tools to sheltering lawn mowers, sheds can serve as a garage alternative for extra storage space. A shed can also potentially increase the value of your property, making them worthwhile investments for many homeowners.
Use this guide for a complete breakdown of costs to build a shed, as well as factors to consider when choosing the best one for your property.
Shed Costs per Square Foot
The cost to build a shed per square foot can range from $15 to $150 depending on the style and customizations. Larger custom sheds will cost more for labor, around $40 to $75 per square foot. Below are general ranges for common shed sizes:
Small
To store garden tools, fertilizer, and firewood
7×7 (49 sq. ft.): $735–$7,350
8×10 (80 sq. ft.): $1,200–$12,000
Medium
To store larger items such as wheelbarrows or furniture
10×12 (120 sq. ft.): $1,800–$18,000
10×16 (160 sq. ft.): $2,400–$24,000
Large
To shelter vehicles or renovate as extra living space
12×16 (192 sq. ft.): $2,880–$28,800
12×24 (288 sq. ft.): $4,320–$43,200
Cost by Type of Shed
There are also many types of sheds that fit almost every style, size, and preference. Certain styles and designs may require costly features, so it's good to have an idea of the type you need beforehand. For example, some modern shed styles have more architectural designs to resemble a home.
Additional Cost Factors
From requesting building permits to preparing the space, there are a few more factors to consider before buying a shed. The following aspects can impact the overall shed cost:
Purpose
How you plan to use your shed will ultimately influence the desired style, size, and final price. For example, a simple storage shed for tools doesn't require much space or additional features. On the other hand, if you want to use a shed as a home office, it'll most likely need windows, insulation, lighting options, and other additions for comfort.
Materials
Most sheds are built of wood, vinyl (plastic), or metal. More modern sheds, however, also use brick to match their home style. The type of material makes a difference in the price per square foot. Brick and wood sheds generally take a lot of time and effort to build, so they are more expensive than metal and vinyl sheds which are usually prefabricated in a factory.
When comparing sheds, you'll find that sheds made from more expensive materials aren't always better. For example, metal sheds are much more durable than wooden sheds, because they offer insect and fire resistance. Keep these characteristics in mind during your planning.
Foundation
Most sheds need to have a foundation for proper installation, and costs will vary by the type of foundation you use. You can expect a gravel pad to cost around $1–$2 per square foot,2 a more affordable option than poured concrete, which costs around $10–$12 per square foot3.
Depending on the slope of your land, you may also need to pay for site preparation to support a stable foundation. This can include clearing and grading the land, which costs about $1 per square foot4.
Customizations
Account for any and all types of enhancements or unique additions to your shed. Features such as extra windows and doors can range from $100–$1,000 each depending on the size and type. As for the interior, sheds with recreational space typically need the following:
Electricity: $254–$307 per wiring4
Plumbing: $588–$716 per drain line installation5
Insulation: $1.50–$7.20 per square foot (varies by type)
Labor
After you have an idea of everything you'll need to build and customize your shed, you can estimate the labor costs. A general contractor could charge a rate anywhere between $50 and $100 per hour. This may or may not include the cost of a building permit, which is often required to add a new structure on residential property.
DIY vs. Hiring a Professional
If you're pretty handy with basic tools, a do-it-yourself shed can help save on labor costs. This does depend, however, on your skill level with home projects and type of shed you want to build. More complex sheds with customizations may require the help of a professional, such as those with electrical wiring.
Prefab vs. Original Construction
Prefabricated (prefab) kits like metal sheds are usually much more affordable than custom-built sheds since they can be manufactured in a cost-effective way without wasting any materials. You can find a 12-foot-by-20-foot (12×20) prefab shed that costs around $4,000–$6,000, whereas a custom shed would cost $14,400–$36,000 for the same size.
Frequently Asked Questions
How long does it take to build a shed?
The time it takes to build a shed depends on the type of shed and your skill level. An experienced builder may be able to complete a simple DIY shed project over the course of a weekend, or even less with assistance. A more custom designed shed may take two weeks or longer to complete.
Do I need a permit to build a shed?
In many areas a permit is not required for a shed if it is smaller than a certain size. For a large shed, a building permit will probably be required. It's best to check your local laws, building codes, and HOA requirements before starting your project.
How much do shed repairs cost?
Shed repair and maintenance costs vary by material. For example, sheds made of wood may require siding repair from weather damage, which starts around $15 per square foot. Sheds made of metal or brick are more resistant to damage and can save you money on repair costs.
How can I save money on a shed?
Choosing sheds made of more durable material such as metal can help save on repair costs in the long run. Opting for a prefab shed instead of building one from scratch will also reduce the cost of labor and materials.
Custom Shed Cost Estimator
For affordability without sacrificing quality, look no further than steel sheds. Our durable galvanized steel sheds, which are fire- and rot-resistant, can be customized to fit your needs. Easily design a strong, long-lasting shed within your budget using our 3D tool below.
Get an instant price for your new metal shed or garage.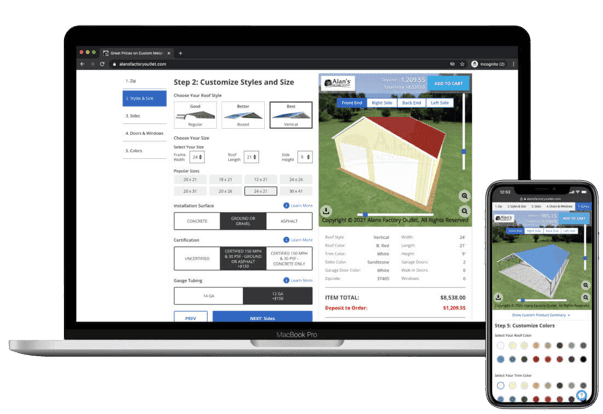 Price and Buy Online with Our 3D Builder Plus Free Shipping and Installation!
Select a size to meet your needs
Choose roof, side, and trim colors
Add garage doors, windows, and walk-in doors
Customize additional options
Customize Now
SOURCES: