From lawn mowers to holiday decorations, having extra storage space becomes less of a desire and more of a necessity. Instead of adding clutter to your garage or basement, a shed can serve as an excellent backyard addition.
Not only are sheds an additional storage area, but they're also increasingly popular spaces to use for recreation, work, growing plants, and more. For this reason, there are many different types of sheds with versatile designs that can suit your needs and preferences.
In this guide, you'll learn a variety of shed types and the distinct benefits of each. We'll also highlight key factors to consider when choosing a shed—such as size and intended use—to help you find the best option.
Material-Based Sheds
Standard storage sheds are named for their type of material. Below are the most commonly used types.
1. Metal
Metal sheds made of steel or aluminum are the most durable and are generally low-cost. These are great options if you prefer an industrial look to your shed or if you live somewhere prone to insects and lots of rain.
Metal sheds can endure some of the roughest weather conditions, keeping your valuables safe inside. Best of all, they're easy to clean and usually recyclable—making it sustainable and environmentally-friendly.
Major advantages include:
Generally low cost
Sturdy
Fire-, rot-, pest-resistant
Low-maintenance
2. Vinyl (Plastic)
Also known as PVC or "plastic" sheds, these are most often used for small storage needs. Since vinyl is an artificial material, vinyl sheds are the most versatile and affordable option. They're easy to customize and come in many different colors and textures. Vinyl sheds are also moisture-, insect-, and rot-resistant.
A few drawbacks of vinyl sheds are that they're not ideal for heavy equipment and they don't do well in areas with harsh weather. Vinyl is also vulnerable to scratches and damage if not properly handled.
3. Wood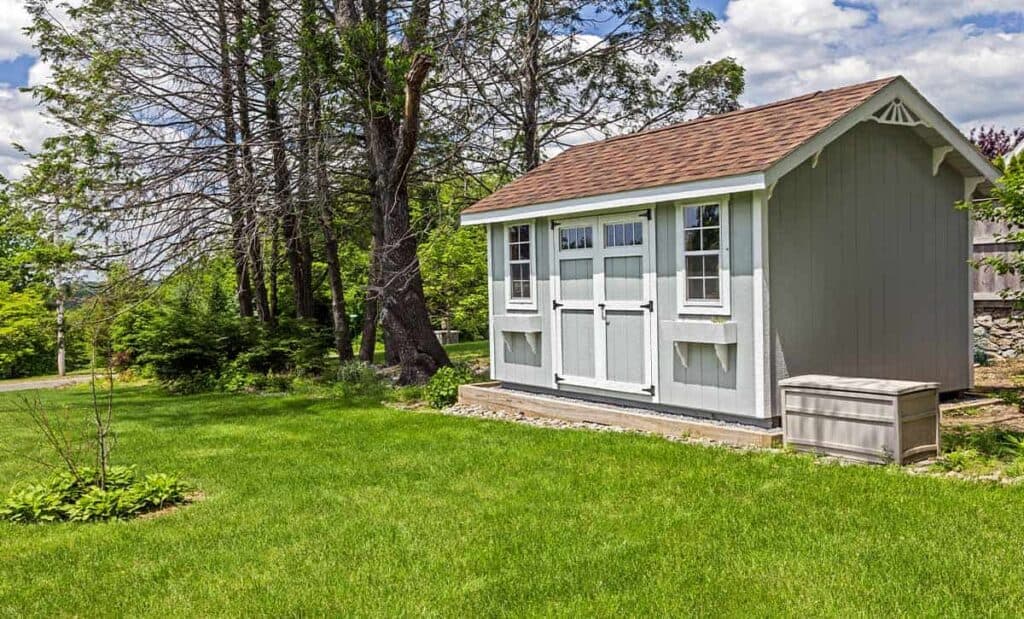 As one of the most popular and common materials for backyard sheds, wood is usually the first choice. This is because it blends well in yards with other natural elements. Wood sheds also have the largest variety of designs, sizes, and roof styles. They're easy to customize, since you can paint and add decorations.
Unlike metal sheds, wood sheds require a lot of maintenance. As a natural material, wood is susceptible to termites, mold, and rot if not treated.
Sheds by Roof Style
Next, you can choose sheds, especially metal sheds, by their different roof styles. Below is a helpful breakdown of each type:
4. Lean-to
Metal barn lean-to styles are carport-shed hybrids with slanted roofs, great for covering large vehicles like tractors and RVs. This type of shed also works as a multipurpose farm building where you can shelter livestock and use the side to store hay, feed, and other equipment.
Carports with a built-in shed are much cheaper storage options than garages, providing both covered parking area and a secure place for storing items.
5. Gable (A-Frame)
Gable—or "A-frame" sheds—are the most popular shed types and readily available in many shapes, sizes, and materials. This roof style has a gentle slope and has a more simplistic look that complements almost every home design.
A-frame roof styles provide excellent weather protection, because the roof slope helps prevent rain and heavy snow from accumulating.
6. Gambrel (Barn)
Gambrel sheds have a roof style that resembles an old-fashioned barn, thus the nickname "barn" sheds. This type of shed is a popular option for those who like a country-style look and makes a great addition to farmhouses.
Gambrel shed roofs have a steep slope, creating extra head space to install vertical shelving or build another storage level.
7. Flat Roof
Just as its name implies, flat roof sheds have horizontal roofs with no slope. These are simplistic, cheap, and fairly easy to build yourself. One major drawback is that flat roofs aren't usually good for areas with heavy snow or rain. Since it lacks a slope, it doesn't let the rain and snow drain.
Architectural Shed Designs
Some shed types are named after architectural home designs. These became popular over recent years as working from home was normalized and home renovation trends increased.
8. Victorian
This type of shed carries the same elegant design. You can think of it as an upgrade of the gable shed, where it has the same A-frame roof style but with more features and customizations.
Victorian sheds are a good option if you'd prefer one with a high-end style to be an attractive feature on your landscape. This style is, however, much more expensive than other designs.
9. New England
The New England shed is another style that is a miniature version of the traditional home design. This shed also is an upgrade of a gable shed, offering plenty of storage space and visual appeal.
10. Modern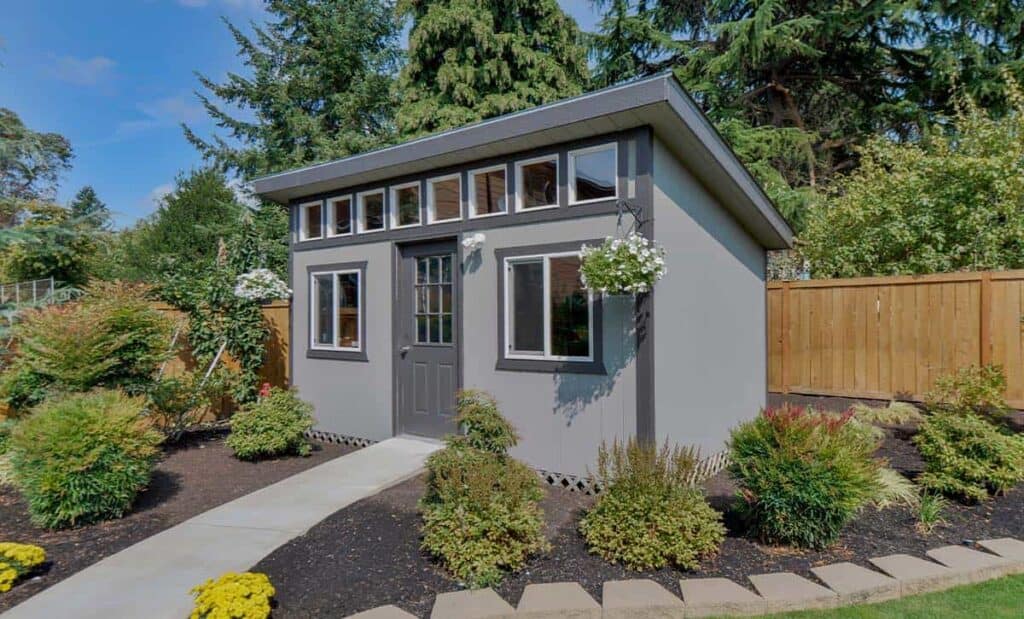 Modern design sheds are a popular "HGTV-inspired" style for minimalists. This type always has a rectangular shape with a clean, minimalist design. It usually is designed with large windows or window doors that let in natural light and includes custom interior designs.
Modern sheds are usually wood or metal and are popular options for art studios, home offices, and workshops.
11. Craftsman
The craftsman shed pulls its name and design from the classic, Old-England home style. It has an elegant exterior consisting of smooth roof lines and trim accents.
Windows are an important part of this design, allowing natural light into the structure. Craftsman sheds are ideal for personal backyard workshops.
12. Saltbox
The Saltbox shed design dates back to the sixteenth century, where, like the house style, its shape resembles the popular salt containers during the colonial period. This type of shed has a uniquely shaped roof, where one slope side is shorter than the other and makes the entryway taller than the rear. It also has windows that make it functional and versatile to use.
13. Quaker
Sometimes called "Amish sheds," the Quaker design is a much larger shed than the others. It has double doors and is the most ideal option if you need a shed with ample storage space. Since quaker sheds are usually large, they're fairly expensive to build.
Shed Styles by Use
The versatility of shed designs lets you use them for hobbies, leisure, and other activities. Here are several popular types of sheds named for their use and functionality.
14. Greenhouse Shed
If you're looking for a way to nurture your plants year around, the greenhouse shed is a popular choice for gardeners. It comes in handy if you live somewhere with harsh winters because the shed retains moisture and heat for plants. It's important that greenhouse sheds have large windows that allow for sunlight and good ventilation.
15. Firewood Storage
Small and simple, the firewood shed is intended to store and protect your firewood from rain and snow. This is a popular choice if you have a fireplace in the home. Firewood storage sheds are commonly styled with a lean-to roof to build against the house for quick access.
16. Garage-Shed Hybrid
Did you know a single-car garage can serve as a garage-shed hybrid? This shed is an excellent option if you already have an attached garage but want a separate storage or parking area for smaller vehicles—like motorcycles and scooters.
17. Tool Shed
Another small and simplistic style, tool sheds provide a safe place to keep and organize all of your yard and maintenance tools. These help free up space in your garage and basement. Tool sheds are also an ideal place to store bikes, seasonal decorations, and recreation equipment to help declutter the lawn.
18. Studio
A high-quality and multifunctional addition, studio sheds in the backyard typically serve as a place of leisure or workplace. They almost always have open floor space, windows, and interior upgrades for active use. This includes electricity, plumbing, insulation, and other decorative customizations.
While generally the most expensive type of shed, studios are popular ideas for backyard retreats, pool houses, home offices, and even spare bedrooms.
19. Garden Shed
Last but not least is the garden shed. Not to be confused with a greenhouse shed that holds growing plants, garden sheds create a designated space to store your pots, seeds, fertilizer, and gardening supplies.
How to Choose a Shed Type
Now that you've learned the different types of sheds, how do you choose the right one? The answer: It depends.
Start by asking yourself the following questions:
Will you store small tools and household items or larger equipment?
Do you plan to spend time in the shed?
Is the shed your primary source of storage space or is it secondary storage, after a basement or garage?
Once you're set on the intended use, you'll have a better idea of the ideal material and shed size you need. The next important step is to check your local building regulations, as certain sizes and customizations may require a permit.
After that, everything else is up to your personal preferences and tastes. Maybe you'd like a simple shed that helps keep the yard clutter-free, or a shed that adds curb appeal to your property.
Your Dream Shed Is a Few Clicks Away
No matter the location or weather conditions, steel buildings will always have the upper hand. The durability of metal is unmatched compared to other shed materials, which is why it's highly recommended to secure any storage items.
If you're set on a strong, long-lasting shed for your backyard, our metal sheds will get the job done. Use our 3D Customizing Tool below to easily design and purchase your dream shed in just a few clicks.
Get an instant price for your new shed or metal garage.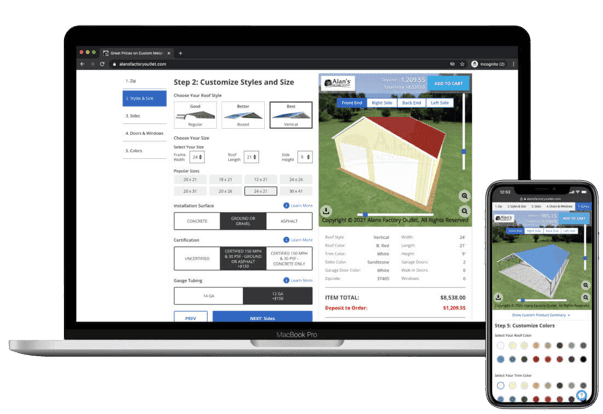 Price and Buy Online with Our 3D Builder Plus Free Shipping and Installation!
Select a size to meet your needs
Choose roof, side, and trim colors
Add garage doors, windows, and walk-in doors
Customize additional options
Customize Now