The lighting you choose for your shed can be the difference between a warm, creative space for DIY projects and a cold, shadowy room that gives off true crime documentary vibes. In fact, lighting can affect your mood, productivity, and even mental health. That's why it's important to consider exterior and interior shed lighting ideas before simply picking up a gas-powered lantern and calling it a day.
To make the right lighting choice for your shed, consider these two options: natural lighting and artificial lighting.
Natural lighting uses the sun as a light source.
Artificial lighting uses man-made or harnessed energy sources, like electricity or batteries.
Whether you're crafting a fun place to hang out for hours, like a man cave or she shed, or a custom aluminum storage shed to store your landscaping tools, it's important to pick the right lighting. Our guide to shed lighting ideas can help you get the most from your outdoor spaces.
Artificial Lighting Ideas
Artificial light—like battery-powered, solar, or LED lighting—helps you enjoy life after the sun goes down. It's a convenient, on-demand light source that brightens a room with the flip of a switch.
It can help keep you safe when traveling at night or navigating dark places without natural light. However, artificial lighting can negatively impact your sleep patterns and quality of sleep, is less environmentally friendly, and can be more expensive than natural lighting.
When used effectively, artificial lighting can be a great option to brighten your outdoor spaces. Here are a few artificial lighting ideas to consider for your shed.
Solar
Pros:
Low cost
Easy to install
Environmentally friendly
Cons:
Brightness can fluctuate
Charge is limited (only a few hours on average)
Reliant on weather conditions
Harnessing solar energy can be easier and more cost-effective than you think. You can buy solar-powered lights for under $40 that provide effective and efficient light for sheds without power.
Many solar-powered lighting options include a small solar panel that can easily be mounted on the outside wall of your shed. The panel soaks up the sunlight and delivers power to the lights you've installed inside—no need to install permanent solar panels on the roof. The amount of solar lights you need to adequately light your space depends on your shed size.
Battery-powered
Pros:
Operates without electricity
Can be used anywhere
Rechargeable
Cons:
Creates waste and contains toxic chemicals (disposable batteries)
Requires frequent battery replacement
Requires electricity to recharge
Battery-powered lights for sheds without power come in a variety of shapes and sizes to match any style or budget. They don't require an external source of electricity to run—only to charge any rechargeable batteries. Some examples include but aren't limited to:
String lights
Cabinet puck lighting
Wall or table lamps
Canopy lights
The best part? Most battery-powered lights don't require professional installation—so you can set up, add to, or replace these shed lighting options at your convenience.
Fluorescent
Pros:
Uses 75 percent less energy than traditional bulbs
Saves money
Lasts between 10,000 and 15,000 hours
Cons:
Contains the toxic chemical mercury
High upfront costs
Can flicker or emit buzzing sounds
Fluorescent lighting works through chemical reactions and ultraviolet (UV) light conversions occurring within a glass tube. It's popular in office buildings due to its low cost, energy efficiency, and long life span. Traditional fluorescent strip lights can be installed on the ceiling, while fluorescent lanterns offer a lightweight, portable option that you can set on your workbench or hang from a hook on the wall.
Plug-in
Pros:
Easy to use
Convenient and portable
Reliable
Cons:
Expensive
Short life span
Not energy efficient
If you have electrical wiring installed in your shed (or an extension cord from a power source), the plug-in lighting route is the way to go. With plug-in lighting, you won't need to recharge or swap out dead batteries or cross your fingers for a sunny day to keep your solar-powered bulbs burning.
As long as the electricity is running, you can simply plug in any electric-powered light to the outlet for instant illumination. Plug-in lighting options include floor and desk lamps, ceiling lights, string lights, or anything you would use in your home.
LED String Lights
Pros:
Use 75 percent less energy than incandescent lighting
Last up to 25 times longer than incandescent lighting
Fast, easy installation
Cons:
Expensive
Entire strip needs to be replaced if a single bulb burns out
Emits low light
LED string lights present an energy-efficient and inexpensive lighting option. Made for both indoor and outdoor use, LED string lights are a great light source for your shed, gazebo, or patio. They provide a soft glow and are available in a variety of colors, allowing you to customize the lighting of your outdoor spaces. LED lights produce light without much heat, so they don't present a fire hazard.
LED Chandelier
Pros:
Energy efficient
Long life span
Upscale appearance
Cons:
Expensive
Not all LED bulbs are compatible
Emits low light
Give an extra touch of elegance to your shed or gazebo by installing a chandelier powered by LEDs. Chandeliers offer a luxurious look, and with a special dimmer switch, you can tailor your lighting to create a unique atmosphere. LED lighting is energy efficient and can last for up to 60,000 hours.
Generators
Pros:
Portable
Reliable
Emergency backup
Cons:
Fire hazard
Noisy
Require ventilation
When looking for lights for sheds without power, portable generators can provide a reliable power source for your artificial lighting. However, generators can produce a loud hum and toxic fumes that can cause death, so it's essential to keep them outside while in use. For this reason, generators are best used as a short-term solution or as an emergency backup.
Generators can also be expensive, ranging from $500 to $20,000. Most generators are gas-powered, but solar-powered, wind, and water turbine generators are also available as environmentally friendly options.
Natural Lighting Ideas
It's hard to beat the pros of natural light. It's clean energy, packed with vitamin D, boosts your mood, and best of all—it's free. With the right amount of natural light, even cheap sheds can have an amazing atmosphere.
You can count on the sun to rise each day—but how much lighting you get in your shed can be extremely inconsistent. Weather, time of day, and season all impact the amount and quality of natural light you receive. Here are a few ideas to help you maximize the natural lighting in your outdoor buildings.
Windows
Pros:
Look great
Let natural light in
Countless options
Cons:
Weaken security
Must be cleaned often to maximize effectiveness
Drafts and pest access from incorrect installation
Windows let natural light in and offer a wealth of options to pick from, so you can make your shed your own. Single- or double-paned windows add a layer of insulation to help you with temperature control. You can also add shutters, blinds, or curtains for added privacy and to customize the look and feel of your shed. Adding screens can increase airflow while keeping bugs out.
Skylights
Pros:
Look great
Extra light during winter months
Save energy
Cons:
Water leaks if installed incorrectly
Difficulty controlling temperature
Hard to clean
Skylights are the puppies of natural lighting: Everybody loves them, and once you have one you can't imagine your life without it. Their position on the roof maximizes the amount of sunlight coming in, helping you save energy by reducing your electricity usage and adding natural heat in the winter. Open skylights also allow moonlight to come in during the twilight hours.
However, if skylights aren't sealed correctly, moisture can leak in and cause water damage. If there are no climate control protections, they can also let in too much sunlight, resulting in overheating.
Solar Tubes
Pros:
More subtle than skylights
Low installation costs
Easy installation
Cons:
Less natural light than skylights
Results vary depending on the roof angle
Condensation may build up inside the tube
Solar tubes, or sun tunnels, are simple, cost-effective alternatives to skylights. They're small tubes of polished sheet metal installed on your roof that funnel sunlight into your shed. The roof side is covered with a plastic or acrylic weather-proof dome to keep the elements out and let natural light in.
Solar tubes can be installed for as little as $500—which can pay for itself with energy savings. The design makes it challenging to control the light without installing a dimming kit, but the small investment and big impact can be worth the cons.
Cupolas
Pros:
Light access from all sides
Unique, decorative asset
Save wall space
Cons:
Risk of water leaks
The cover creates shadows when the sun is overhead
High risk of wind damage
A cupola is a small, hollow, dome-like structure that can be installed on the ridge of your shed's roof. They're typically square-shaped and often topped with a weather vane. They're primarily used for ventilation purposes and include windows on all four sides to provide more natural lighting.
Dormers
Pros:
Higher curb appeal
Add overhead space
Add value to shed
Cons:
Difficult installation process
Expensive
Hard to maintain
Dormers are tiny rooms that project from a roof and contain a window to increase natural light. They're often stretched across the entire top level of the shed, adding more functional space. In addition to adding sunlight, they allow for more ventilation in your space.
Adding a dormer to the roof of your shed can be pricey, ranging from $2,500 to $20,000, depending on the size and functionality. You may need to get a permit to add a dormer, with costs varying by region. However, upgrading your shed with a dormer can improve your property value making this additional shed cost worth the investment.
Important Lighting Factors to Consider for Your Shed
Now that you have a variety of interior and outdoor shed lighting ideas, it's time to start narrowing down the choices. Are you simply using your shed for extra storage or do you have a few unique shed conversion ideas to level up your property value?
These shed-related considerations can help you shed any doubt about your lighting decision. If you're still on the fence about which shed lighting solutions to pick, these additional shed lighting ideas may help that light bulb come on.
Energy Efficiency
How important is energy efficiency to you? Lighting accounts for 15 percent of electricity usage for an average home. Switching to energy-efficient lighting can light your outdoor spaces with the same amount and quality of light but at a lower cost.
Lighting certified by Energy Star lasts 15 times longer than standard incandescent bulbs and uses 90 percent less energy. That means saving money while helping the environment.
Daylight
If you're located in an area with an average amount of daylight, your shed lighting options are open. However, if natural light is limited where you live, you may want to pick an artificial lighting solution rather than natural light. For example, if you live in a rainy, overcast climate like the Pacific Northwest, solar-powered lighting might not be the best choice.
Life Span
Life span means how long the light source lasts before the power source needs to be renewed or recharged. If you need several hours of uninterrupted lighting, wired lighting may be your best path. LED lighting can last 25 times longer than incandescent bulbs.
Brightness
How bright you need your lighting depends on how you're using your shed or outdoor building. For example, if you're having a relaxing cocktail party on your patio with a few close friends, LED lighting might be the pick, since it provides a softer glow that enhances the relaxed atmosphere.
You can control the brightness inside your shed with window coverings like curtains or blinds during daylight hours. At night, adding dimmers to your interior light sources can help you balance the brightness.
Installation Requirements
How much time, effort, and money do you want to spend installing your shed lighting solutions? For example, if you're going to use natural lighting as your primary light source, you may need to install more windows or a skylight to maximize sunlight.
For artificial lighting, you may need to consider your electricity source, like running an extension cord from a nearby power supply, using battery-powered lighting, or even installing electrical wiring in your shed.
Color Temperature
Color temperature for lighting describes how "warm" the light appears in a given space. The Kelvin color temperature scale is designed to help you determine which kind of light works best for your space. The scale is measured in Kelvins (K), with the higher the temperature, the colder the color.
0-2000K: dim and ambient, like candlelight
2000K-3000K: soft white or yellow glow, best for living areas
3100K-4500K: bright white light, best for workspaces
4600K-6500K: bright blue-white light, similar to daylight
6500K and above: bright bluish hue, best for commercial locations
Safety Considerations
In addition to the functionality and style of your shed lighting, it's important to consider any potential safety issues. Here are some frequently asked safety questions about outdoor lighting.
Proper installation of lights
Whether you're simply hanging battery-powered lights or wiring your entire shed, ensure that the lights are installed properly to avoid safety hazards. Because high-voltage power sources are more dangerous, it's a good idea to hire a professional, licensed electrician to install any electrical wiring. They have the proper training to complete the installation quickly and safely and know which permits you may need.
Be sure to use bulbs with the appropriate wattage for your light sources and avoid plugging too many lights into a single outlet. Using bulbs with higher wattage may cause overheating, and overloading an outlet with more voltage than it can handle can increase fire risks.
Use of outdoor-rated lights
Next, be sure to install lighting that's designed for outdoor use. Outdoor-rated lighting options should state that they are weather resistant (or waterproof) and can withstand both high and low temperatures.
Stay safe by choosing lighting options that includes:
Outdoor-rated fixtures
Outdoor-rated bulbs
Outdoor-rated extension cords
Importance of regular maintenance
Last, performing regular maintenance on your shed lighting keeps it functioning properly and efficiently and protects you from safety hazards. Cleaning built-up dust and repairing broken fixtures maximizes light emission and reduces heat, power surges, and electrical malfunctions.  
Building Your Dream Shed
Lighting is only one factor that helps contribute to building your dream shed. Whether you're buying a shed for storage or building a customized outdoor space to entertain friends, we can help. Build the perfect shed for your needs with our 3D customizer tool.
Get an instant price for your new carport or metal garage.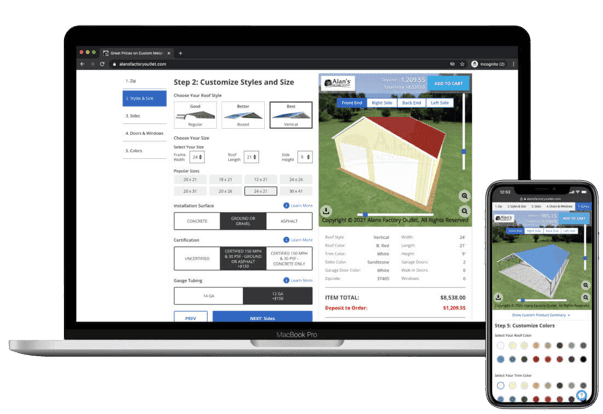 Price and Buy Online with Our 3D Builder Plus Free Shipping and Installation!
Select a size to meet your needs
Choose roof, side, and trim colors
Add garage doors, windows, and walk-in doors
Customize additional options
Customize Now
Sources