Whether you're looking for a place to organize your yard tools or new space for your personal workshop, a shed can be just the solution. But what size would work best for you?
Before you build or order a shed, it's important to understand common shed sizes and what you plan on using the space for. While you don't want to buy a shed that gets filled to the brim in no time, you also don't want a shed with extra space that you never use.
To help you decide on the perfect shed for your yard, we've outlined everything you need to know about shed sizes below.
Standard Shed Sizes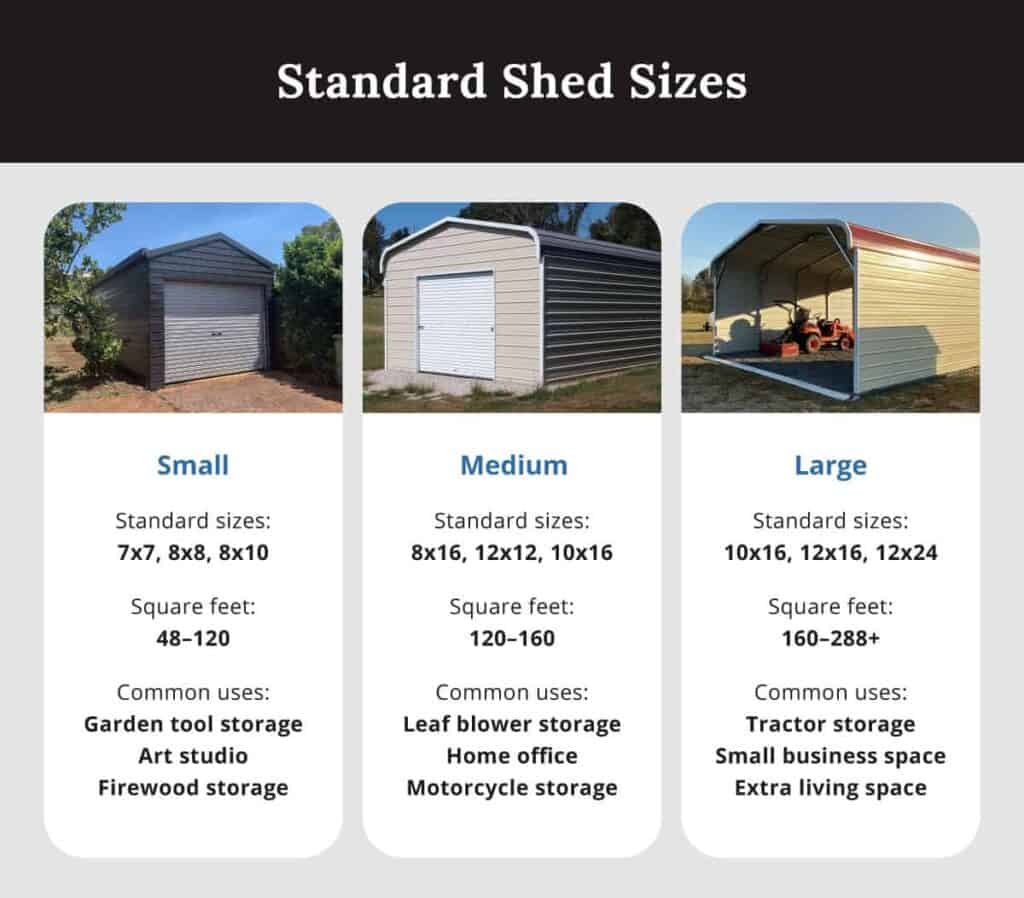 It's generally accepted that anything below 120 square feet is small and anything above 160 square feet is large. We differentiate the standard size parameters and their storage capabilities below.
Small (7×7, 8×8, 8×10)
If you're looking for a place to store gardening or yard work equipment, a small shed can come in handy. While sheds are traditionally used to store tools, there's a lot you can do with a shed 100 square feet or less. For example, you could use a small shed as a luxury playhouse or a firewood storage space.
Standard sizes: 7×7, 8×8, 8×10
Square Feet: 48–100
Common uses:
Garden tool storage
Dog house
Oil/fertilizer storage
Art studio
Firewood storage
Medium (8×16, 12×12, 10×16)
Medium sheds are great for storing larger yard tools such as leaf blowers, snowblowers, and wheelbarrows. They can also double as a home office or a pool house. With 120 to 160 square feet of room, you can start to get creative with your building usage.
Standard sizes: 8×16, 12×12, 10×16
Square feet: 120–160
Common uses:
Leaf blower storage
Home office
Motorcycle storage
Furniture storage
Woodworking shop
Large (10×16, 12×16, 12×24)
Large sheds can be used to store just about anything, and have a wider variety of uses than the smaller sizes. While they can shelter bicycles, ATVs, and anything else, they can also be used as an extra living or small business space.
Since a larger shed is also a bigger investment, make sure to do your research on which materials would best suit your needs before you make a purchase.
Standard sizes: 10×16, 12×16, 12×24
Square footage: 160–288 and larger
Common uses:
Extra living space
Home gym
ATV and water ski storage
Tractor storage
Small business space
Choosing the Right Size
The right shed size is going to vary depending on your individual needs. Are you trying to use your shed to store basic power tools, or do you want a space for a luxury home gym? Some key factors to consider when choosing a shed size include:
Purpose of Use
The purpose of your shed will help determine the size you need. For example, if you're just looking for a space to store your farm tools, a smaller shed would probably work fine. However, if you're wanting a space for a home gym or a location to run your small business, a larger shed could be in order.
Storage Needs
If you need a shed for storage, the size you choose will depend on the items you need to store. While power tools can easily fit in an 8×10 garage, if you're planning to store ATVs or water skis, you're going to need a lot more space.
Budget
The larger the shed, the more it's going to cost. When it comes to prefab sheds, you can find options from $200 for smaller models up to $5,000 for larger, higher-quality buildings.
For custom sheds, you can expect to pay anywhere from $15 to $200 per square foot. This means you could pay as little as $500 for a basic closet-sized shed or $15,000 for a larger custom shed with all the bells and whistles.
Keep in mind that size isn't the only factor that will impact your budget. The design and material of your shed will also affect the final cost.
Local Building Regulations
In certain communities, regulations require you to have a permit to build any buildings larger than a certain size. While most areas allow 6×8 and 8×10 sheds without a problem, once you start building anything above 120 square feet, you can run into issues. If you accidentally violate your local building regulations, it could result in a fine and possibly the removal of your shed.
Closing Takeaways
Choosing the right shed can help revamp your space, organize your tools, and declutter your yard. When you invest in larger sheds, they can even double as extra living spaces or a full-blown home gym. Use our 3D metal building customizer to design and buy your own metal shed or garage today.
Get an instant price for your new shed or metal garage.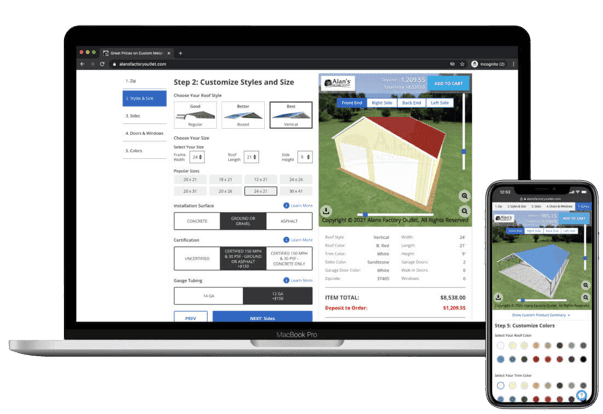 Price and Buy Online with Our 3D Builder Plus Free Shipping and Installation!
Select a size to meet your needs
Choose roof, side, and trim colors
Add garage doors, windows, and walk-in doors
Customize additional options
Customize Now