Bikes are one of the most awkwardly shaped objects when it comes to storage. Leaving your bike outside your home isn't ideal, but pedals and handlebars can make storing bikes inside tough. Thankfully, there are plenty of bike storage solutions that work for different garage designs and spaces.
From traditional floor racks to wall mounts, here are 14 garage bike storage ideas to protect and secure your cycle.
Hanging Bikes: Wheels vs. Frames
When it comes to bike mounts, you can either hang a bike by its wheel or frame. But choosing between wheels vs. frames depends on a few factors.
Floor Storage Ideas
Best for: kids, adults, and everyday bike use
Pros:
Easy access to bikes
Can be used in garages, sheds, carports, or any other available area
Cons:
Takes up floor space
Doesn't fit all bike sizes
Keep your bike planted on the ground with these floor storage ideas.
1. Try Traditional Floor Racks
If you're looking for garage bike storage ideas that don't require too much of a lift to install, try traditional floor racks. Single- or double-sided floor racks are great for storing your bike in a designated spot. The best part about floor racks is that they're easy for kids to use because they don't have to lift up the bike. While these racks may take up some space in your garage, they are helpful for storing several bikes at a time.
2. Buy Adjustable Floor Racks
Adjustable floor racks are a great way to support your bike when not in use. You may benefit from a module floor rack if you have multiple bikes for different seasons, or various sizes for adults and kids.
Certain floor rack models will allow you to adjust the height and width to accommodate your bike tires, which is especially helpful for wide tires on winter bikes.
3. Try Spring-Loaded Freestanding Racks
There's no need to damage your wall or ceiling to protect your bike. Spring-loaded freestanding racks are the perfect storage solution. These racks fit between your floor and ceiling while storing your bike horizontally. Not only do these garage bike racks look great, but they are also easy to install and don't take up too much space.
4. Invest in a Repair Stand
Choose freestanding mounts that secure your bike by its frame or seat post without taking up too much room in your garage. This type of garage bike storage stand is lightweight and easy to relocate.
The best part about these stands is you don't need to purchase a separate stand for regular maintenance and repairs. They can be a bit of an eyesore, but their multipurpose use just might outweigh their appearance.
5. Create Your Own Perfect Stand
Did you know you can create your own bike stand? You can build a simple floor bike rack using pallets, or repurpose an old coat rack to design a wall mount. If you choose to go the DIY-bike-rack route, you'll be able to select your choice of materials, take exact measurements, and ensure it makes sense for your needs.
Bike Wall Mounts
Best for: adults and everyday bike use
Pros:
Saves floor space
Stores multiple bikes
Fits most wheel sizes
Cons:
Sticks out of the wall
Takes up a lot of wall space
Tough for kids to remove and put back by themselves
Check out these garage bike storage ideas that use wall mounts to secure your bike.
6. Use Individual Wall Mounts
Individual wall mounts are a great option for bike storage because they suspend the bicycle off the floor. While these mounts keep your bike off the ground and against the wall, they protrude as far out as the bike's width.
You can store multiple bikes on the same wall, but you will need to add a new mount for each bicycle. Keep in mind that this method isn't the best option for accessibility or for young kids since you will need to lift the bike into place.
7. Organize a Wall Rack
Wall racks are a great option for organizing multiple bikes without taking up every inch of space. Certain wall racks are designed to stack bikes above one another and are parallel to the wall to avoid extending out too far.
While wall racks do save space, they can make it harder to reach bikes for everyday use. However, vertical wall racks lock in bikes by their tires to make them easier to remove and put back. This type of bike storage takes up less wall space, but it does reduce your available floor space.
8. Hang Bike Hooks
If you're looking for easy garage bike storage ideas, consider utilizing hooks. Simply install hooks in your garage or carport walls or ceiling to lift your bike off the ground. Make sure to follow the instructions carefully when installing the hooks, and don't forget to anchor them properly to studs.
9. Make the Most of Wall Brackets
Wall brackets are similar to hooks in the sense that they can help keep your bike off the floor of your garage. These heavy-duty wall brackets can hold the weight of your bike while keeping your garage floor clear. The best part is you don't need to invest in any specialized rack or drill new holes.
10. Stick with Standalone Wall Racks
You don't have to overcomplicate your bike storage ideas—opt for standalone wall racks to keep your garage tidy while ensuring your cycle is secure. Standalone wall racks lean against the wall with support at the base of the floor. You don't need to install a mount or add any additional hooks to the wall for this type of storage. Just make sure your wall racks are the correct size to protect your bicycle.
11. Save Space with Pedal Mounts
If you have a smaller garage, you can save even more space by using pedal mounts to secure your bike. Certain mounts can hold your bike at the pedal instead of the frame—this type of storage can accommodate different types of bikes and frame sizes.
Bikes that are stored using pedal mounts are stored at a 25-degree angle from the garage's wall. This helps make the most of your garage space without taking up all of the available wall space. However, this type of bike storage could be tough for kids and is not ideal for accessibility due to the placement of the mounts.
Ceiling Storage and Mounts
Best for: adults and occasional bike use
Pros:
Saves floor and wall space
Easy to lift and lower
Fits most bike models
Cons:
Not suitable for kids to access
Installation can be time-consuming and difficult
Give your bike a lift with these ceiling storage and mount ideas.
12. Suspend Bikes from the Ceiling
One of the best garage bike storage ideas to save space is suspending bikes from the ceiling. Regardless of the size of your garage, you can almost always use more free floor and wall space.
This method works great if you have a tall garage or plenty of wall space where you can suspend your bike along the edge. Suspending bikes from the ceiling in smaller spaces is still doable, but it can be tough to navigate the garage. It is not recommended to use this type of bike storage if you perform a lot of work in your garage involving tall tools and materials, including lumber.
13. Organize with Pulleys
There's no fuss when it comes to hanging your bike with pulleys—these ceiling storage tools allow you to hang your cycles from the highest spot with ease. Pulleys help you keep your garage floor clean with your bikes out of your way.
Lift and lower the heaviest bicycles without the hassle. All you have to do is attach the seat and handlebars of your bike to the pulley. Keep in mind that the process of setting up this storage system can be time-consuming, and is also difficult for children to use.
14. Use Ceiling Racks
Similar to floor and wall racks, ceiling bike racks secure the frames to keep them out of the way in your garage. You can install a ceiling rack system in your garage to secure a single bike or multiple. This storage system does require time and patience to install, but may be well worth it for the extra space.
Making the Most of Your Garage Space
The size of your garage shouldn't affect how you store your beloved bicycle—there are plenty of garage bike storage ideas that can align with your needs. These storage solutions range from ceiling racks to adjustable floor racks.

If you don't have a place to store your bike in your garage, a shed is a great alternative. You can also customize a new, detached garage using our 3D carport designer below and bring your vision to life before installation.
Get an instant price for your new carport or metal garage.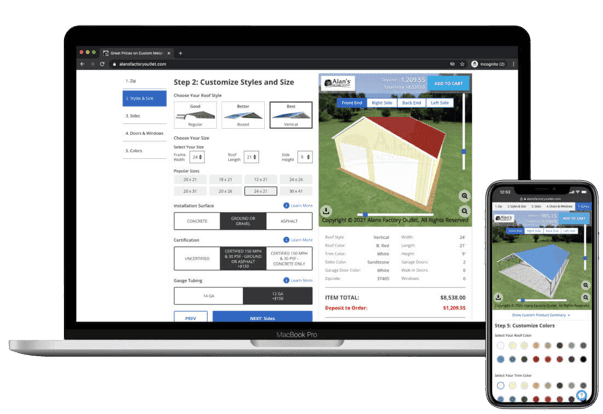 Price and Buy Online with Our 3D Builder Plus Free Shipping and Installation!
Select a size to meet your needs
Choose roof, side, and trim colors
Add garage doors, windows, and walk-in doors
Customize additional options
Customize Now