The garage is one of the most spacious parts of the home, often making it the best place for storage. But it can also be one of the most cluttered parts of the home if you don't put effort into organization. Check out these garage storage ideas below to maximize floor space and functionality.
DIY Garage Storage Ideas
Whether you're a skilled crafter or up for a fun DIY project, the following clever ideas prove you can use almost anything for storage.
1. Wood Pallet Holder
If your brooms and rakes are falling over in one corner of your garage, try attaching an old wooden pallet to one garage wall. You can store brooms, rakes, and shovels inside it to keep them organized and ready for use!
2. Decorative Storage Baskets
Baskets are an easy way to make space in your garage without any installation. Simply buy wire, plastic, or woven baskets and fill them with any accessories you want.
3. PVC Pipe Holders
PVC pipes can be repurposed for storage with almost no effort. You can weave chords through them to organize electronics, use them as knife holsters, or attach three-inch PVC piping to the bottom of a shelf to hold your drills.
4. Wooden Shelf
Install a DIY wooden shelf to allow space for power tools and other small accessories. Create small holes throughout the structure so you can string chords through and use the space as a charging station.
5. Fishing Rod Holders
Cut halfway through a pool noodle about every five inches to make a nice fishing rod organizer. Drill matching holes across a PVC pipe of similar length to hold the base of your rods. The PVC pipe will keep your handles stable while the cuts in the noodle hold the ends of your rods in place.
6. Repurposed Plastic Bottles
Cut off the tops of old plastic bottles for a larger hole to help you store small items like nuts, bolts, and nails. Just make sure to put them in a safe space where you won't accidentally knock them over.
7. Cardboard Paper Tubes
Cardboard paper tubes are inexpensive, easy to install, and great for holding longer tools such as rakes, shovels, or brooms. Simply attach them to your garage wall with plumbing straps for convenient access.
8. Kitchen Cabinets
If you recently remodeled your kitchen, it could be a good idea to transfer your cabinets to the garage. Just make sure to coat them in damp-proof paint to protect them from outdoor conditions.
9. Bungee Cord Ball Organizer
Hook the ends of mounted bungee cords around as a mounted shelf for quick and simple ball storage. The cords' flexibility allows them to easily stretch for any ball size while keeping them up and out of the way.
10. Garbage Bag Roll Dispenser
For an easy DIY storage solution, install a paper towel rack on your garage wall and use it for quick access to garbage bags. When you need a garbage bag, tear the next one off its roll.
11. Repurposed Magazine Holders
Is your garage a home office? Use old magazine holders to store and organize books, pens, mail, and more. You can place magazine holders next to your desk to help keep it clean and decluttered.
12. Upcycled Hose Holder
Use a large metal pail or an old flower pot to wrap your hose for easy storage. This will prevent your hose from being an eyesore in the garage while still allowing you easy access.
13. Reused Coffee Cans
Use old coffee bean containers to store different sizes of rope and twine. Simply make a hole in the center of its plastic lid and weave the end of your string through to create a string dispenser.
14. Color Coding Systems
Keep your garage space clean and organized with color codes. Assign storage bins or labels a color to categorize items by size and function. You can even use garage flooring, such as colored mats, to create designated zones of the space.
15. Clothespin Holders
Simply hang a wooden planter on the wall and attach a few clothespins along the side. This creates a place to hang lightweight accessories such as gloves, handkerchiefs, or hats.
16. DIY Rag Dispenser
You can make a handy dispenser for your rags by cutting a hole in the bottom of an old plastic laundry basket. Nail the basket against the wall or hang it on a hook so you can pull the next clean rag through the hole in the bottom.
17. Repurposed Golf Bag
An old golf bag can be used to store lawn tools and cleaning supplies of all shapes and sizes. Use the side pockets for clippers, gardening shovels, and gloves while storing long-handled items like shovels and rakes in the space where your golf clubs would go.
18. Pool Noodle Stopper
To prevent your car door from banging the wall, use a pool noodle as a door stopper. Stretch the noodle horizontally across the wall and attach it with nails. Next time you open your door too fast, the foam will cushion the blow and prevent damage.
19. Ladder Organizer
You can repurpose your ladder as a shelf for any wooden planks you plan to use for future projects. Just lay planks at 90-degree angles across the steps of your ladder. Make sure to move your ladder to a convenient location before you use it for storage since it will be more difficult to move once it's weighed down.
Tool Storage Solutions
Keep your garage tools and equipment within easy reach with these simple tool storage techniques.
20. Use Pegboards
Pegboards are one of the most useful tools to free up garage space since they lie flat against the wall. Customize yours with hooks, nails, baskets, and bins so you can hang tools, cleaning supplies, and just about anything else from your walls.
21. Wrench Storage
To organize your wrenches, install a belt rack onto your garage wall. Hang wrenches on each prong of the rack so you can see all of your wrenches at a glance.
22. Mason Jar Organizers
Mason jars are perfect for holding small accessories like nails, screws, nuts, and bolts. Rest them atop or inside cabinets, or screw the mason jar lids into the bottom of shelves to leave them hanging.
23. Wooden Screwdriver Racks
Buy a screwdriver rack or build one yourself by drilling holes into an appropriately sized wooden plank. Mount your rack onto the wall closest to your workspace for easy access.
24. Folding Workbench
If your garage workshop is tight on space, a folding workbench can be a lifesaver. There are folding benches you can install on your wall with steel brackets and others that are mobile, standing on their own like a TV tray. Just be conscious about the weight limits of a bench.
25. Spray Paint Holders
If you have lots of spray paint, it's worth investing in a holder. To save some money, you can purchase or reuse a hanging shoe organizer for your cans, fitting two cans per pocket.
26. Extension Cord Organizer
Use wall hooks and chains to hang your extension cords from the walls and prevent them from tangling.
27. Paint Supply Shelving Unit
For a simple way to store your paint buckets, search for appropriately sized bookshelves to place against your garage walls. You can also install plumber straps along your wall to hold your paint brushes and rollers.
28. Tool Storage Drawers
If you want to organize your nails, screws, and other small tools, install drawers in your cabinets. That way, you can see what you have at a glance and access each drawer in seconds.
29. Towel Rod Clamps
Install towel rods into your garage as an easy place to store tools like woodworking clamps or C-clamp pliers.
30. Magnet Strips
Install kitchen magnet strips across your wall to hang drill bits, screwdrivers, wrenches, and other small metal tools.
31. Garage Door Brackets
The garage door is the most underused storage space in a garage. Install brackets and hooks along its surface to hold lawn tools, cleaning tools, and fishing rods.
If you're still pressed for storage space after this hack, consider a garage alternative to store your vehicles.
32. Extension Ladder Hooks
Extension ladders are difficult to store because of their heavy weight and large size. To keep them out of the way, install some L-shaped ladder hooks on your wall or U-shaped ladder hooks on your ceiling.
Garage Shelving
Going for a minimalist garage design? Maximize floor space and prevent tripping hazards with these creative garage shelving ideas.
33. Wall Tracks
Installing wall tracks allows you to store heavier items such as shovels, clippers, lawn chairs, and folding ladders. Tracks are customizable and typically work with J-hooks in any material and style.
34. Garage Lockers
Check Craigslist or Facebook Marketplace for inexpensive lockers. Place multiple side by side and label each one according to its storage use.
35. Sports Equipment Racks
Declutter your sports equipment using laundry baskets to store hockey sticks, baseball bats, or any sports balls. Use wall-mounted ball claws to decorate your wall with your sports equipment and add some personality to your garage.
36. Tire Mounts
Tires are hard to maneuver and take up a lot of space. To keep them out of the way, use peg-shaped mounts to hang them from the wall. This helps with accessibility and declutters your floor.
37. Mudroom Shoe Storage
As one of the most-trafficked entrances to your home, garages can easily get covered in mud. Place a cubby bench by the entry door to store muddy shoes and wet clothes on hangers before you enter.
38. Snowboard Wall Rack
Invest in a snowboard and ski rack to keep your gear tidy. A rack is a quick vertical storage solution, preventing snowboards from getting damaged or lost in garage clutter.
39. Corner Shelves
Install corner shelves to take advantage of that often-overlooked space. Use them to store small items such as compressed air, cleaning sprays, and glues. Alternatively, you could use this space for decor, such as candles and framed photos.
40. Open Metal Shelving
Use an open metal shelving system to hold storage bins, paint buckets, crates, and anything else. When investing in metal shelving, be conscious about its weight capacity and dimensions to ensure it's a good fit for your purposes.
Small Garage Storage Ideas
Smaller garages can be challenging to keep well-ventilated and clutter-free. Thankfully, these storage solutions work for the tiniest of spaces.
41. Bike Mounts
Use wall-attached bike racks to keep your bikes out of your walking space. Hang your bikes on heavy-duty hooks, or invest in a metal bike stand for something more reliable.
42. Overhead Garage Racks
Overhead garage racks are a great way to utilize the space near your ceiling. Add hooks and clamps to your racks to hang bikes, duffel bags, or lawn chairs. Just make sure not to store items you need readily accessible.
43. Recessed Lighting
Dark and stuffy garages are uninviting and make it harder to find items. With recessed light fixtures, you'll have a brighter garage without taking up space. This type of lighting is particularly helpful when using your garage as a gym or for recreation.
44. Sports Ball Storage Cart
For a sports ball storage system, attach one end of a bungee cord to a low wooden shelf or ledge in your garage. Clip the other end to a high shelf, ensuring the cord is taut. Repeat this process with about three other cords, leaving several inches of space between them. Once your cords are connected, drop your sports balls in the middle, and you're set.
45. Plant Hangers
Hanging planters come in various designs and colors, and most can double as a garage storage solution. While you don't want to hang items that are too heavy, you can use planters to store small objects in a visually appealing way.
46. Storage Cubbies
Use cubbies in the garage to store shoes, toys, sports equipment, and more. Categorize each cubby for more accessible storage.
47. Sticky Tab Labels
Use small, colored stickers to label switches for lights and garage breaker boxes. On the inside of the panel, you can write out and attach a key explaining what each sticker color means.
48. Storage Bins
Storage bins are a universal storage tool but can lead to lost items and confusion if they're not organized properly. Label, color coordinate, and place your storage bins on shelves for extra organization.
49. Overhead Plastic Tubs
Plastic tubs with rope handles can be hung easily on hooks for storing light objects. Label the outside of each container to remind yourself what you stored inside.
50. Joist Space Storage
Take advantage of the space between your garage's joists. To improve storage capabilities, you can install wire shelving underneath the joists.
51. Canvas Bag Hooks
Protect important items from dirt, dust, pests, and moisture by covering them with zip-up canvas bags. You can then hang the canvas bags from the wall or door hooks for easy access.
52. Dry-Erase Labels
Organize and categorize storage bins and items with dry-erase labels. Instead of replacing a label, you can easily wash off markers with a damp cloth and reuse them as necessary.
53. Seasonal Bins
If you have seasonal decorations or tools that go into storage for long periods of time, use colored labels to categorize bins by season. For example, put a blue sticker on a bin containing ornaments for the winter holidays and an orange sticker for bins with fall decor.
54. Kayak Lift
Use a high-lift system to hang kayaks or canoes from the ceiling. This prevents your watercrafts from taking up unnecessary space and adds personality to your garage.
Customize a Garage for Maximum Storage
While the garage storage ideas above will help you maximize your space, sometimes a standard-sized garage doesn't offer enough room. Check out our customizable metal garages to find the perfect size for your storage needs.
Get an instant price for your new metal garage.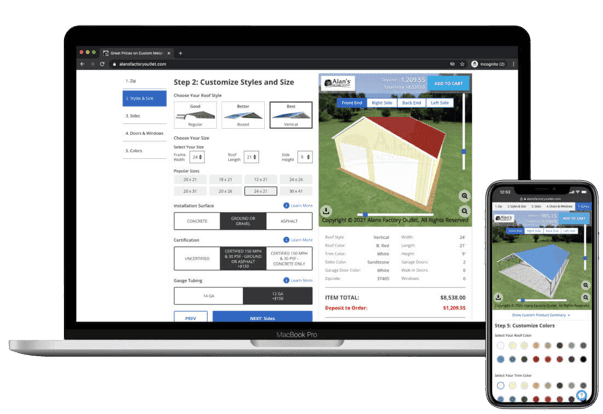 Price and Buy Online with Our 3D Builder Plus Free Shipping and Installation!
Select a size to meet your needs
Choose roof, side, and trim colors
Add garage doors, windows, and walk-in doors
Customize additional options
Customize Now