Planning to convert your garage but unsure where to start? Look no further than the walls. Whether considering a living or recreational space, walls can contribute greatly to the overall design. There are plenty of garage wall ideas to make a bare, boring garage more attractive and functional.
From cool themes to personal touches, this list of garage wall coverings will inspire your next renovation project.
Cheap Garage Wall Ideas
Drywall can get damaged easily, and installing and finishing drywall can take a while, especially if you're doing it yourself. Fortunately, there are several alternatives to traditional drywall for garage walls.
1. Peel-and-Stick Panels
With a built-in adhesive backing, peel-and-stick panels allow you to change your wall design hassle-free. Unlike traditional wall tiles that require grouting, adhesive spreading, and drying time, you just peel off the protective covering and stick the panels onto a clean, smooth surface.
Peel-and-stick panels come in many designs, colors, and textures. They're easy to install and naturally create a protective barrier for the walls—a perfect DIY garage wall project for all skill levels.
2. Wallpaper
Another easy way to personalize your garage and make the space more unique is with wallpaper. It has endless design options that let you instantly create an accent wall. Since the garage is more exposed to moisture and outdoor elements, you will need to waterproof your wallpaper, such as with a primer or varnish, to prevent peeling and fading.
3. Baseboards
Also known as floor trim, baseboards are a simple yet defining feature you can add to walls. They create seamless wall-to-floor transitions and cover the gap between the wall and floor, preventing insects from entering the garage through cracks. Baseboards are available in different styles, helping you give your garage a finished, polished look with less labor.
4. Plywood
As a drywall alternative for the garage, plywood is easier to install and warp-resistant. It is also more durable and less likely to dent or damage than drywall. Plywood adds structural support to garage walls, such as for installing shelves.
5. Metal Panels
Metal panels or sheeting, such as corrugated steel or aluminum, can give your garage walls a modern and industrial look. They're durable, resistant to moisture, and are easy to clean. More importantly, metal panels are fire resistant, helping improve safety during a fire.
Garage Wall Paint Ideas
Give your garage an instant makeover with colorful backsplashes of paint. Check out these creative ways to add a pop of color to your space.
6. Chalkboard Paint
For a fun way to change up your walls with little effort, you could turn your garage wall into a canvas. Chalkboard-style walls are great for garage gym conversions, where you can write workout plans, motivational quotes, and more. Best of all, chalkboard paint is available in various colors besides traditional black.
7. Two-Tone
Another creative way to add color to the garage wall is with two colors. You can paint halfway up with a dark color to make a bold contrast or fade one color into the other for a cool ombre look.
8. Striped Accent
If you'd rather keep the walls simplistic but with a hint of color, add a stripe of paint across the wall to serve as an accent. Change up the look by making it diagonal or wavy.
9. Geometric Shapes
One of the top garage wall paint ideas: paint circles, squiggles, and other various geometric shapes for an abstract look. If you use your garage for entertainment or lounging, you can use the shapes to create a cool backdrop.
10. Colored Trims
Another way to keep garage wall colors subtle yet visually appealing is by painting the trim around doors and windows. To create focal points, you can even paint the trim around bookshelves and wall-mounted items.
Functional Garage Walls
A well-organized workspace can greatly enhance your productivity, whether for a hobby or profession. If you use your garage as a workshop or storage space, try these wall ideas to keep it functional and clutter-free.
11. Custom Shelving
Use adjustable, wall-mounted shelving units to store containers, bins, and tools. This allows you to keep your workspace organized and maximize vertical storage space. Installing cabinets will also enhance the look of your garage walls, keeping your tools and equipment organized and protected.
12. Slatwall Systems
Not only are slatwall panels visually appealing, but also a storage hack. Mount them as a flexible system for hanging tools and sports equipment. With slatwall panels, you can easily attach hooks, brackets, shelves, and more.
13. Wall-Mounted Workbenches
Enhance your workspace by building a sturdy workbench along one garage wall. You can add shelves and drawers beneath it for additional storage.
14. Wall Bumpers
Do you still use one side of the garage for parking? Mount wall bumpers to protect car doors from scratches and dings. Garage wall bumpers come in various shapes and designs, adding a unique look to the space. If you need additional space for parking your car, consider getting a 2-car garage or 2-car carport.
15. Pegboard Systems
While not a direct replacement for drywall, you can use mounted pegboards to create a functional and versatile garage wall. Create a pegboard wall to hang tools and equipment on hooks, as well as rearrange items as needed.
Garage Wall Themes
Want to create a more inspiring environment for your garage-office conversion? Here are several wall themes to consider for your workspace renovation.
16. Rustic
Give your garage space a rustic look with exposed brick or wood paneling. These naturally insulated panels are also a great option if you want to improve the energy efficiency of your garage.
17. Industrial
Add metal accents and wall shelves for an industrial, urban feel. These can give your garage workspace a trendy and creative vibe.
18. Minimalist
For a clean, uncluttered look, sometimes less is more. Choose white and neutral colors and simple decor for your garage wall. Stick to a single color palette, like all black and white, for a sleek and minimalist look. Epoxy or polished coatings on the wall can also do the trick.
19. Vintage
Use vintage signs, old-fashioned furniture, and retro color schemes to give your workspace a nostalgic feel. You can even use posters and games from your childhood as decor.
20. Modern
High-gloss paint finishes such as acrylic or plexiglass wall features will give your garage space a unique, modern look. Incorporate sleek, metallic finishes and LED lighting for a cool, futuristic workspace.
Creative Garage Wall Solutions
Are you artistic? Consider the following DIY garage wall ideas to showcase your creativity.
21. Murals
Add some personality to your garage design by painting a mural or applying decals to the walls. This can make the space more inviting and inspiring.
22. Gallery Wall
Display your own artwork or personal achievements on the walls to make the space uniquely yours. You can showcase a curated collection on the walls of your collectibles, photography, and more.
23. Coastal
Use paint colors such as tropical blues and sandy browns to create a coastal color palette. Add beachy or maritime decor like sailboat anchors and other sea-inspired accents to create a relaxing beachfront feel.
24. Travel/Adventure
Use your garage walls to display your favorite travel destinations. Decorate them with maps, travel souvenirs, and adventure-themed decor to inspire adventure and exploration.
25. Wall of Books
You can install bookshelves and dark wood paneling to your garage walls for a sophisticated, personal library. Simply add a loveseat, side table, and lamp to create a cozy reading nook.
26. Artificial Living Wall
Incorporate natural-looking elements such as wood panels, artificial plants, and earthy colors for a nature-inspired look. Consider this style to create a calming and green workspace.
Lighting Wall Ideas
Make a dark and gloomy garage lighter and brighter with wall lights. When mounted to walls, garage lighting can double as accents and decor. Check out these lighting solutions to enhance your garage wall design.
27. Wall Sconces
Wall sconces are fixtures mounted on the wall, providing ambient and task lighting. They come in various styles and can be positioned at different heights to create a unique look.
28. LED Strip Lighting
Install LED strips or rope lights in a recessed area near the ceiling or at the base of the wall. Use this lighting technique to produce a soft glow and warmth to a room. LED strip lights are great for creating a cozy atmosphere.
29. Backlit Panels
Want to create a featured wall? Install backlit panels behind frosted glass or acrylic to create a cool glow effect. You can customize backlit panels with various colors, patterns, and more.
30. Neon Signs
Neon signs are making a comeback. Mount these colorful and customizable signs on the garage walls to create a focal point or simply add a retro vibe to your space.
31. Hang Mirrors
One of the easiest wall decor hacks is installing mirrors. You can hang them on one garage wall to help make the space feel larger and enhance the lighting.
Personalize Your Next Detached Garage
With so many garage wall ideas to choose from, consider one that best fits your garage needs and personal style. It's important to keep the garage clean, especially the wall surfaces, and do regular repairs to help prevent damage.
With a detached metal garage from Alan's Factory Outlet, you can customize your space to align with your wall plans of choice. Design and order your next garage today.
Get an instant price for your new carport or metal garage.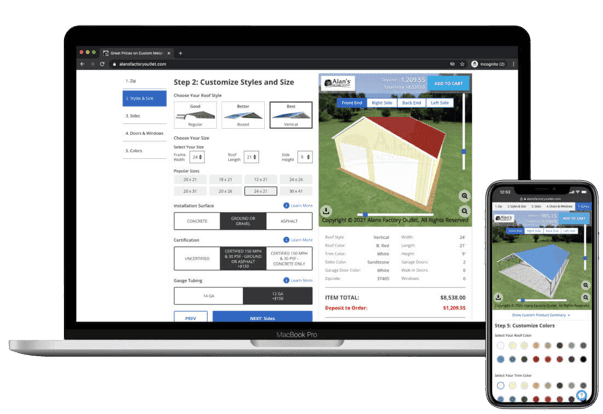 Price and Buy Online with Our 3D Builder Plus Free Shipping and Installation!
Select a size to meet your needs
Choose roof, side, and trim colors
Add garage doors, windows, and walk-in doors
Customize additional options
Customize Now