Wondering how you can renovate your garage on a budget? Fortunately, there are plenty of quick and easy upgrades you can do to give your space the ultimate garage makeover.
Before getting started on any garage improvements, it's a good idea to remove everything from the inside and clean it. This includes getting rid of any items that you don't need. That way, you can start off with a clean slate and visualize what you can do with the space.
Now, you're ready for inspiration. From space-saving garage hacks to DIY designs, check out these clever ideas to make your garage more appealing and functional.
1. Paint the Walls
You'd be surprised what a new coat of paint can do. One of the quickest ways to enhance the look of your garage is by adding a new coat of paint. Even if you decide not to change the original shade, repainting the wall will give it a fresh, clean look.
Remember that paint can expose imperfections in a wall, so it's good to sand it down before painting to make it nice and smooth.
2. Upgrade the Lighting
If you spend a lot of time in your garage, such as for work or leisure, you'll need good lighting. A dimly lit space can be hazardous, especially in a garage with spills and improperly stored items. The right garage lighting can solve this problem and make the room feel bigger and brighter.
When choosing garage light fixtures, LED lights are the best option. These lights are energy efficient, extremely bright, and have long lifespans. They also stay cool to the touch, perfect for safety.
3. Color Coordinate
Colors can boost the visual appeal of a space, but too many at once can be distracting. When updating the look and design of your garage, consider choosing one color or keeping all of the colors consistent.
For example, paint one wall a bright color to serve as the focal point while all other walls remain white. You can also keep all cabinets the same shade as the garage door.
4. Install Electrical Outlets
If your garage serves as a gym or workshop, consider adding more electrical outlets for convenience. Outlets will also be handy for charging smartphones and powering necessary appliances such as fans and mini-fridges.
Before installing multiple outlets, you may need to update your wiring to ensure the power supply is as safe as it is operational. In this case, it's better to hire a licensed electrician who can confirm the outlets have proper protection.
5. Coat the Floors
Even if your garage is clean, stained or cracked floors are still a painful sight. One of the most popular garage upgrades is updating the garage flooring with a finish.
Epoxy coating is a popular finish that creates a shiny, polished surface and makes floors look brand new. Epoxy will also strengthen your garage floor, making it more resistant to tire marks, moisture, and damage.
Before applying epoxy, it's best to patch up all of the cracks. You'll also want to sweep and mop up the surface to ensure the floor is clean and smooth before applying.
6. Add Insulation
If you'll be spending extended time in your garage, good insulation is a must. Insulation will prevent cool air from escaping through entryways, helping keep the garage cool in the summer and warm during winter. You can add insulation such as fiberglass and foam to your walls, ceiling, and garage door.
7. Seal Up Cracks
Equally important as insulation is sealing up the cracks. For indoor temperature control, you'll need to fill cracks and gaps around windows, door frames, the garage door threshold, and corners. You can also use weatherstrips around doors to block and seal drafts.
Both sealants and insulation will prevent condensation in the garage, helping prevent rust on metal tools and objects inside.
8. Invest in Bike Racks
Since bicycles are awkwardly shaped, they can be hard to store together without looking cluttered. Fortunately, proper bike storage in your garage can make a world of difference for your floor space. Mount bike racks on walls and even hanging from the ceiling as a space-saving solution.
9. Hang Some Decor
Just as with bikes, you can also mount skateboards, scooters, and helmets. Hanging sports equipment can double as wall decor and create an instant garage makeover. Consider putting together a collage of items from your favorite hobbies to reflect your personality in the garage.
Sheet metal is another cool hack for hanging decor. Add several magnets to the board to display other accessories, such as calendars and signage. Small magnetics tools will easily attach to sheet metal.
10. Get a Tool Organizer
Functional and inexpensive pegboards allow you to hang small, lightweight tools for easy access. Pegboards are also very customizable, allowing you to arrange tools by size, color, and function.
For larger, heavier tools and equipment—shovels, racks, water hoses, weed whackers—opt for vertical storage solutions such as racks and hangers. These options have heavy-duty hooks or slots that support weighty items.
11. Create Designated Zones
Freeing up floor space may be easy, but keeping it that way can take work. Zones are a great way to keep the garage visually pleasing and clutter-free.
You can start by planning designated areas of the garage makeover for workspace, storage, and leisure. Consider drawing or sketching a floor plan layout to estimate the measurements and space needed. For example, you might want to allow more floor space for the work area than the storage section.
12. Power Wash the Exterior
Years of precipitation, debris, and dirt accumulation not only cause wear and tear on your garage exterior but also contribute to a messy appearance. Sometimes, all a garage needs is a good washing to look good as new.
Power washing is a safe and easy way to freshen up your garage exterior. The high-speed water from the power washer helps remove heavy-duty dirt buildup on doors and siding, and can clean hard-to-reach areas like the roof.
13. Install a Security System
An attractive garage will definitely draw attention, making it a good idea to secure your belongings. Motion-sensing outdoor lights are a creative way to add security and double as design accents. You can also install cameras for additional security, which come in handy when using your garage space for business.
14. Switch to an Automatic Door
While not a visually-noticeable garage makeover, switching to an automatic door is definitely a worthy garage door upgrade. Automatic door openers add both convenience and security to your garage, permitting only those using the remote control or keypad code to enter. This installation most likely requires an expert to handle the electrical work, but the ease of use and added protection are perks.
15. Use Ceiling and Wall Space
Maximizing your wall space is one of the best ways to keep the floor and walkways clear. Cabinets and shelf designs let you store many things up on the wall so they're easy to see and grab. Modern cabinet and shelving designs will easily enhance the garage look.
Ceilings are commonly neglected areas that work well for storage space. Use this area to keep large lightweight items like fishing rods and spare lumber overhead.
16. Get a Workbench
Every garage workshop or hobby space needs a good workbench. They can serve as both a convenient work area and a focal point in your garage layout. Some workbenches also have versatile designs, where you can mount them to the wall to fold up when not in use. Other workbenches come with sturdy shelves and drawers for storing tools.
17. Use Portable Storage
For more flexibility, you can add wheels to your workbench table legs to make it mobile. Collapsible storage bins are another portable solution that works well for small spaces and are easy to remove. Using portable storage allows you to redesign your garage layout as needed.
18. Add Decorative Siding
For a quick new garage look, you can upgrade the siding. Garage siding styles such as brick and fiber cement are extremely durable options that can add texture to a plain design. Metal siding is also increasingly popular since it's fire- and weatherproof. Best of all, metal siding is easy to install and paint.
19. Upgrade the Garage Door Design
Similar to siding, another way to give your garage an immediate makeover is by replacing your garage door. Doing so will make an old garage instantly look brand new. You can switch out your outdated garage door with an attractive, modern door like a glass panel or shutter-style door.
20. Install an Exhaust Fan
Finally, a renovated garage needs to also feel comfortable inside to enjoy it. Installing an exhaust fan will keep the air clean, humidity low, and your garage nice and cool on those hot summer days.
Customize a New Metal Garage from Start to Finish
If a garage makeover is hard to do in your current setup, or if you've already converted your garage to a living space, consider getting and customizing a detached garage instead. Fire-resistant and long-lasting, our prefab metal garages are fully customizable and quick to install.
Design your next garage workshop or studio with plenty of windows, extra storage space, color, and more with our tool below.
Get an instant price for your new metal garage.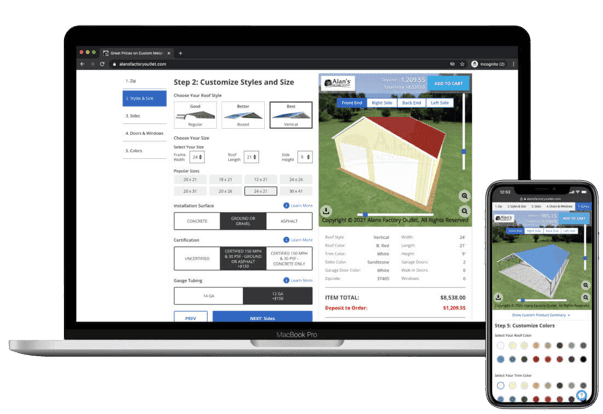 Price and Buy Online with Our 3D Builder Plus Free Shipping and Installation!
Select a size to meet your needs
Choose roof, side, and trim colors
Add garage doors, windows, and walk-in doors
Customize additional options
Customize Now