Highlights
• Average cost of a new garage door is around $1,200, cost range $730–$1,700
• Replacement costs $650–$1,470 vs. new repair $92–$302
• Material, size, design, customizations, and labor affect the total cost
• Hiring a pro is best to ensure garage doors get properly installed
• In some cases, replacing a garage door is cheaper than repairing it
A fresh garage door can easily enhance the look of your garage and property. A new garage door costs about $1,200, with prices ranging $730–$1,700 depending on the size, labor, and customizations.
There are a variety of styles and sizes, each with their own costs. Before investing in a new garage door, it is important to understand the different types, cost factors, and how to budget for one.
In this guide, we'll break down everything you need to know to choose the best garage door for your needs.
Cost Factors
There is more than meets the eye when deciding on a garage door style. Here are the most common cost factors to keep in mind for your purchase.
Door Material
If you're installing a garage door, the type of door material you choose can play a role in the building's energy efficiency, maintenance, accessories, and overall garage cost. Listed below are popular garage door materials and what you can expect to pay for them:
Garage doors with higher prices usually have more durable materials, an enhanced finish, and extended warranties.
Manual vs. Automatic
Upgrading to an automatic garage door comes with a range of benefits, such as convenience and strengthening your garage door security. The average cost of an automatic garage door opener is $420–$770 and includes installation. However, you should also account for the sensors, keypads, remotes, and any electrical work expenses.
Installation
Installation fees generally run $160–$470, but quotes will vary depending on the time and complexity of the process. Additional tasks may include:
Removing the existing door
Resizing the entryway
Aligning and securing door tracks
Assembling door sections
Installing spring and support cables
If you're hiring a professional contractor, they can provide estimates after an initial inspection.
Size
While a single garage door costs $730–$1,700, a double door can cost around $1,000–$1,730. Your garage size will determine the size of the garage door you need.
The type of vehicle also influences the size door you'll need. For example, the garage door sizes for RVs must have a clearance of at least ten feet, as opposed to eight feet for general cars and SUVs.
Customizations
Decorative hardware such as handles and magnets are common accessories and generally less than $50—these help enhance a garage door design. More advanced customizations like windows can cost between $100 and $1,000 each depending on the style and specialty, such as frosted or shatterproof glass.
Insulation
To prevent drafts and high energy bills, it's best to add insulation to the garage door. Insulated garage doors are more expensive than general doors, costing around $900–$2,000 per door. You can cut costs by adding in the insulation material yourself:
Bubble: $1.50 per sq.ft.
Woven: $3 per sq.ft.
Spray foam: $2.30–$7.20 per sq.ft.
Cost by Type
The type of garage door can strongly impact the design and vertical storage space inside. For example, doors that slide open horizontally may be better options for a garage with low ceilings, allowing more headway clearance. Below are a few popular door styles and their average costs:
Roll-up door: A traditional door that wraps up onto a mounted bar, helping maximize space. Roll-up doors are available in many different colors and materials.
Tilt-up door: A door made of one solid material that swings out toward the driveway to open. Tilt-up doors are also known as canopy styles.
Sectional door: A door with several hinged panels that roll up on a track to the garage ceiling. Sectionals are available in different colors, patterns, and moldings on the panels.
Carriage door: A double-door entry that swings in and out of the doorway. Carriage doors are named for their resemblance to the old carriage house style and often come with windows.
French door: An upscale double-door entry that pulls outward from the center to open. French doors are a less common style.
Repair vs. Replacement
Sometimes all your garage door needs are simple repairs, which is more affordable than installing new garage doors. While a full garage door replacement costs around $650 to $1,470, garage door repairs are much less expensive at about $90 to $300.
Regular maintenance such as concealing cracks, fixing the opener, and annually inspecting its functionality will help keep the door in shape. Depending on the door's age, type of damage, or your overall design goals, sometimes completely replacing them is the better option.
DIY vs. Hiring a Professional
If you're skilled at performing home upgrades and projects, replacing a garage door yourself can help out labor costs. Keep in mind that installing a garage door is not a one-person job, even for an advanced DIYer. It's best to have another set of hands help with the heavy lifting.
However, unique projects—such as adding a door to a carport—are best left to the experts. Even if the process seems simple, some doors have more complex procedures depending on the size, style, and weight. To ensure safe and proper installation, it's best to hire a professional.
A professional installation team can:
Visit your property in advance to measure the garage entrance
Help you choose the right door size
Provide recommendations for energy efficiency
Assist in choosing the best material and styles within your budget
When considering a professional garage door installer, make sure they're licensed. It's also a good idea to ask about warranty offers and have them explain all up front costs for labor and materials.
How to Save Money on Garage Door Costs
Here are a few ways you can cut garage door costs and save on the overall project:
DIY Some of the Work
You can purchase the door and all of the materials your contractor will need directly from the manufacturer. You can also add the door insulation and perform all of the general maintenance yourself.
Avoid Unnecessary Additions
Consider having a simplistic door design and skip additional features like windows and smart technology that you can live without.
Get Multiple Quotes
Reach out to multiple garage door vendors about the styles and work specifications needed for your garage door project. This way, you'll have any idea of what you're saving and can choose the offer closest to your budget.
Perform Regular Maintenance
Routine maintenance, such as inspecting for cracks and dents and replacing weather seals, can help prolong the lifespan of the door. To cover scratches or freshen up the look, you can repaint the garage door yourself instead of buying a new one.
How to Choose the Best Garage Door
As with any home project, you want to choose a garage door that is within your budget. While there is no one-size-fits-all option, you can ask a local contractor the following questions to help select the best door for your needs:
Will upgrading from manual to automatic be the same price?
How much more will accessories cost with this style?
Which garage door styles offer the most value?
Do I need to resize the garage door?
What is the best type of material for a garage door where I live?
Which garage door style requires the least maintenance?
Do I need to have insulated garage doors in this region?
Do you offer a warranty or manufacturer discounts?
How long will it take to deliver and install new garage doors?
FAQ
Below are a few frequently asked questions to guide you through the garage door buying process.
How long does it take to replace a garage door?
Installing a garage door may take about four to six hours depending on what you need to accomplish. Replacing the garage door with one that already fits the structure will be much quicker than something like resizing the frame.
How much will it cost to upgrade to an automatic garage door?
The cost of an automatic garage door opener can range anywhere from $400 to $800. This does not include labor costs and added features, such as keypads and additional remote controls. Upgrading from manual to automatic can be expensive, but the increased security is a worthy trade-off.
Do I need new tracks and hardware to install a new garage door?
The tracks and hardware should always be of the same make and model of your new garage door to ensure it is the correct size and functions properly. If your new door is the same brand and model as the old one, you can use the old tracks.
Is garage door replacement covered by homeowners insurance?
Most home insurance policies cover garage door damage if it is a part of your residential property. The coverage may be under certain parameters. For example, if the damage is by natural disasters and vandalism as opposed to general wear and tear.
The Bottom Line
Whether you're installing or repairing a garage door, a good rule of thumb is to get at least three quotes to compare prices. Doing so will give you a budget reference point and determine the best bang for your buck.
Fortunately, with our prefab metal garages, you can do both. Roll-up garage doors come with all of our garage products.* Using our 3D customizing tool, you can choose your desired door size and compare the look with different garage designs.
If you prefer to have a local pro install a different garage door style, we can frame the opening to your needs.
Get an instant price for your new carport or metal garage.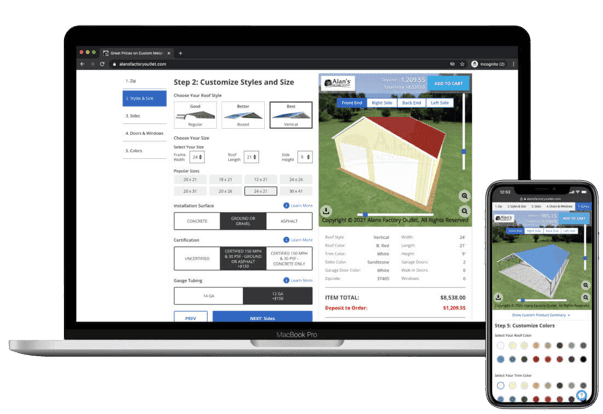 Price and Buy Online with Our 3D Builder Plus Free Shipping and Installation!
Select a size to meet your needs
Choose roof, side, and trim colors
Add garage doors, windows, and walk-in doors
Customize additional options
Customize Now
* Most of the roll-up doors offered do not include a chain hoist
Sources
Homewyse. "Homewyse Calculator: Garage Door Prices, Options and Installation Costs," n.d. https://www.homewyse.com/costs/cost_of_garage_doors.html.
Homewyse. "Homewyse Calculator: Cost to Install Automatic Garage Door Opener," n.d. https://www.homewyse.com/services/cost_to_install_automatic_garage_door_opener.html.
Homewyse. "Homewyse Calculator: Double Garage Door Prices, Options and Installation Costs," n.d. https://www.homewyse.com/costs/cost_of_double_garage_doors.html.
Homewyse. "Homewyse Calculator: Insulated Garage Door Prices, Options and Installation Costs," n.d. https://www.homewyse.com/costs/cost_of_insulated_garage_doors.html.
Homewyse. "Homewyse Calculator: Cost to Replace Garage Door," n.d. https://www.homewyse.com/services/cost_to_replace_garage_door.html.
Homewyse. "Homewyse Calculator: Cost to Repair Garage Door," n.d. https://www.homewyse.com/maintenance_costs/cost_to_repair_garage_door.html.
Sheeraz. "Garage Door Installation: How Long Does It Take to Install a Garage Door?" Door Doctor, October 20, 2021. https://doordoctor.com/en/blog/garage-door-installation-how-long-does-it-take-to-install-a-garage-door.