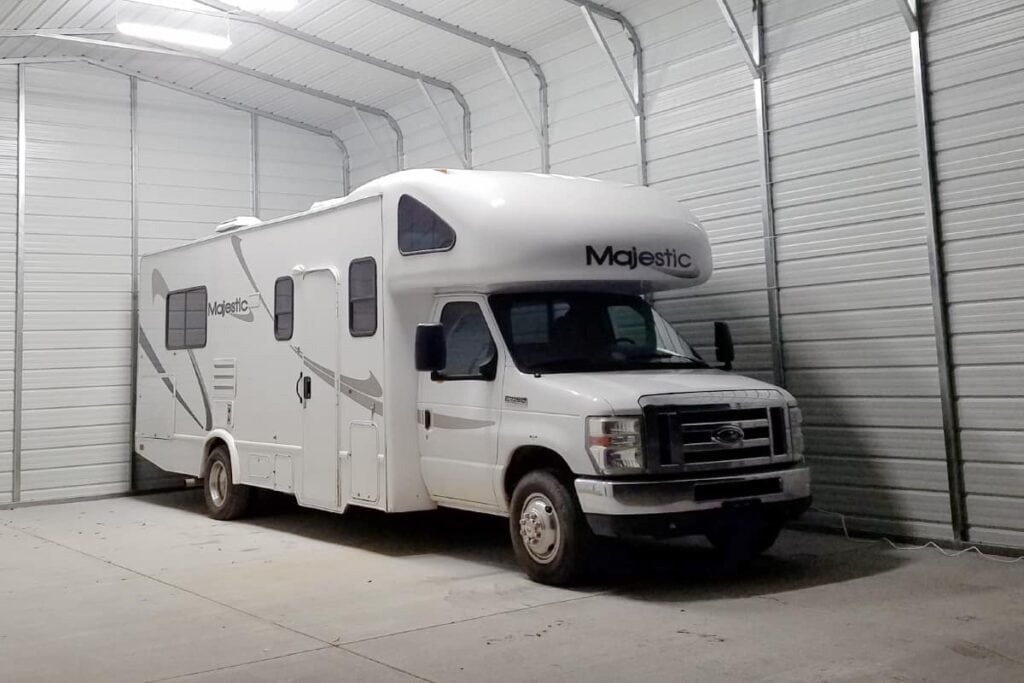 RV owners get to enjoy the call of the open road like few others. But when you're not out exploring, vehicle storage should be top of mind. Many RVs won't fit inside an average garage, so what are the standard RV garage door sizes?
If your new RV is too large to fit in the door, you may need to replace your existing door with a larger—maybe even custom—garage door. You may even need to build a garage for your RV.
We'll walk you through everything you need to know about garage door measurements and how to determine and the space you'll need to park your RV indoors.
Garage Door Sizes For RVs And Trailers
Between motor homes, fifth wheels, pop-ups, and other kinds of trailers, recreational vehicles come in a wide range of sizes. In the next few sections, we'll break these styles down into smaller groups to show you several RV garage door dimensions based on the size of your RV or trailer.
The standard garage size for a single car is between 12–18 ft wide and 20–30 ft deep. A garage large enough to fit a Class A RV could be as wide as 18 ft and as deep as 50 ft. As the size of the vehicle changes, so does the minimum size for the garage door.
Here's a quick rule of thumb to help you size a garage door properly: Add two feet to the height of your RV. The extra height will leave room for the track and motor for your garage door.
Fifth Wheels, Trailers, and Pop-Up Campers
Pop-up campers and pull-along trailers go by many names, but they're marked by a few consistent characteristics:
These trailers need to be attached to a vehicle since they don't have their own motor.
They have a maximum height of thirteen feet.
Common Garage Door Heights
Pop-Up Trailer: Ten feet
Travel Trailer: Twelve feet
Fifth Wheel: Fourteen feet
RVs and Motorhomes
Motorhomes and RVs are different from trailers because they don't require another vehicle to move them from place to place. RVs and motorhomes come in a variety of sizes and shapes, but they adhere to certain class standards. Keep in mind that these measurements are a starting point, not an absolute—especially if you make modifications to your RV that may fall outside of these standard ranges.
By law, RVs cannot be taller than 13.5 ft, but pop-outs, antennas, and other additions that you use when camping could increase the RV garage door height.
Common Garage Door Heights
Class A: Fourteen to sixteen feet
Class B: Twelve feet
Class B+: Twelve feet
Class C: Fourteen feet
Super C: Fourteen feet
Tips for Finding the Right RV Garage Door
Now that we've covered the most common sizes of garage doors for RVs, we're going to give you three tips that will help you make the right choice when you search for a garage door.
Check Out the Available Options
In addition to coming in many sizes, there are many different types of garage doors. The kind that most people are familiar with are called sectional doors—the type of garage doors found in most modern homes. They're made from several metal panels and you can raise or lower them using a motor and a track.
Another type of garage door is the roll-up door. Instead of having large panels like a sectional door, this type of door uses smaller sections of metal that roll up into a hood at the top. One of the benefits of this door is that it requires less additional space at the top of the door. So, if you have a garage without lots of extra room, a roll-up could be the right option for your RV garage door.
Measure Your RV Carefully
When choosing a garage door for your RV garage, it's important to measure your motor home carefully. Don't trust any measurements other than your own, because even the manufacturer's specs can be off. If you have added antennas and AC units to the top of your RV, it can be significantly taller than the original specs say.
To get accurate measurements, measure your RV as it will be stored. If you're going to have an AC unit on top, include it in the measurements. Remember to add two feet to the height to make room for the track and motor. If you have a trailer, make sure that you measure the full length of it, including the hitch.
If the true height of your motorhome is taller than you originally thought (and you aren't sure if it will fit in your garage), don't worry. Here's how to keep your RV protected, even if it won't fit in your existing garage.
Decide if You Need Extra Room
If you're lucky enough to be able to fit your RV in an existing garage, that's great! But ask yourself this: Will storing your RV in that garage displace other vehicles and eliminate useful work or storage space? If so, it might be a good idea to consider building a larger garage or adding a new drive-through door. A metal building can make a great garage for either your motor home or the vehicles the RV displaces.
Protect Your RV with a Custom Garage Today
Building another garage might seem like a dream, but there is an affordable way to build a new garage where you can store your RV. A garage built specifically for your RV will help keep it safe from the elements, theft, and other kinds of damage. An extra building gives you more storage space and can increase the value of your property. Best of all, once you pay for your new RV garage, you won't have to pay to store your RV year after year like you do at a storage lot.
Choosing a metal building or carport for your RV comes with even more advantages. First of all, it is faster and easier to erect a metal building than other kinds of structures. The materials are also less expensive and they can last longer than wood and other building materials. Even the foundation for a metal building is easier to put together: You can erect many metal buildings on a concrete foundation.

Now that you know more about RV garage door sizes, it's time to look at a new metal building that can serve as your new garage. At Alan's Factory Outlet, we have many different sizes and shapes of metal buildings that can make excellent RV garages, workshops, and more.
Get an instant price for your new carport or metal garage.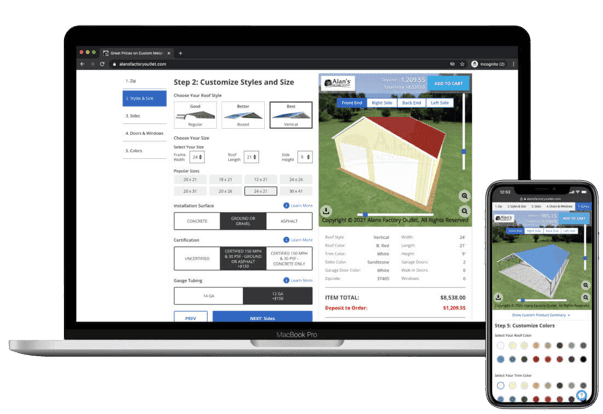 Price and Buy Online with Our 3D Builder Plus Free Shipping and Installation!
Select a size to meet your needs
Choose roof, side, and trim colors
Add garage doors, windows, and walk-in doors
Customize additional options
Customize Now