A drive-through garage features two entrances to pull your vehicle through without backing out. These are ideal for parking and managing large vehicles like RVs and trucks with trailers and can even improve the function of your garage.
Explore the benefits of a drive-through structure and ideas for your new garage or carport build below.
Improved Accessibility
Double doors in a drive-through garage improve access to garage items, including storage and vehicles. Double-access garage doors are especially handy for property vehicles like ATVs, golf carts, or lawn tractors. You can easily drive through a backyard entrance instead of driving around the garage each time you take one out. 
Easy Parking
Drive-through doors allow you to pull in and out of your garage without backing up—ideal for trailers and towing. It's also great for driveways that exit onto busy roads and houses built with back alleys and front street access. Overall, drive-through features are more convenient and safer.
Better Airflow
Opening multiple doors improves airflow, which helps cool your space on hot summer days. Garage ventilation is also an important safety feature since cars, chemicals, and machinery can produce fumes you don't want to breathe in or allow to seep into your home.
Expanded Outdoor Living
Garages aren't just for storage and oil changes. They're also a place to get together with friends and neighbors out of the sun.
Double doors facing separate parts of your property allow you to choose between opening the front or back to control privacy from neighbors and traffic. You'll also enjoy a cross breeze with both doors open to keep things cool.
Once the party is over, it's easy to fold up furniture, store coolers, and shut the garage down for the night.
Drive-through Garage Ideas
There are several drive-through garage designs to choose from, depending on your need and property. Explore garage and carport inspiration below.
Carports
Prefabricated metal carports offer all of the accessibility benefits of a drive-through garage at a more affordable price. They're easier to install and also require less space than a full garage.
These are ideal for sheltering RVs, trailers, and other large vehicles you don't want to back out of a garage. But carports aren't great for storing other miscellaneous items like your Christmas decorations.
Stand-Alone Garages
An independent structure is extra flexible since you can choose which direction the garage and doors face. You can build it to connect your front and back yard, place it over a circular driveway, or set it at the back of your property to house vehicles.
Open-Air Drive-through Garage
Drive-through garages don't have to feature garage doors. An open-air garage without doors is essentially a carport but with walls for privacy and protection. You can customize them with a number of materials to match your design and use goals. Plus, they're smaller than a standard garage and save space on your property.
Combination Garage and Carport
If you're looking for the best of both worlds, consider building a garage with a drive-through carport. You can save money and space in your full garage and still enjoy the benefits of drive-through protection for your larger vehicles.
RV Garage
RVs are large investments you want to protect from the elements, accidents, and theft. They're also much bigger than your car, and it can be difficult to back them out of a driveway—particularly if you live on a busy street.
A drive-through garage sized up for your RV is the perfect solution to protect your vehicle when you're not vacationing. Then it's easy to pull out when you're ready to hit the road.
Drive-through Garage Cost
A new garage costs between $30–$60 per square foot, and a completed garage averages $28,000 in the U.S. The only additional cost would be a second garage door installation, which ranges between $500–$1,800.
You may also consider a second driveway if you don't already have one, which averages $3,000.
Can You Convert an Existing Garage into a Drive-through?
Yes, depending on the location and design of your garage. A small attached garage that backs against your house isn't a great candidate, but you could convert a detached garage with plenty of surrounding free space.
You'll likely have to reorganize your garage to align a second garage door across from the existing one. Then you can install the second door and enjoy the drive-through. You may also want to install a new driveway leading to it to protect your property and vehicles.
Custom Designs for a Dream Garage
A garage is a multiuse structure, and building a drive-through garage increases its flexibility. Whether you want easy access for the tractor to reach the back garden or you're tired of backing your boat out each weekend, consider how you can customize your garage with as many doors as you like.
Get an instant price for your new carport or metal garage.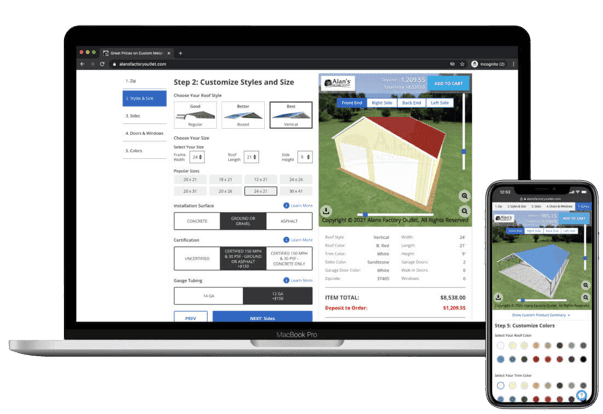 Price and Buy Online with Our 3D Builder Plus Free Shipping and Installation!
Select a size to meet your needs
Choose roof, side, and trim colors
Add garage doors, windows, and walk-in doors
Customize additional options
Customize Now