Riding your four-wheeler is a great way to spend the summer and spring months, but once winter comes, knowing how to take care of your ATV during the off-season is important.
Finding storage solutions for your ATV, like an outdoor metal shed, can be essential to protecting it from outside elements, like rain, snow, and even theft. In this guide, we'll cover a range of ATV storage ideas to consider, plus helpful ATV storage tips to ensure your ATV stays in good condition.
1. Build a Shed
To protect your ATV from the harsh outdoor elements, consider investing in an outdoor storage shed. An ATV storage shed provides a secure and dedicated space for your ATV, shielding it from rain, sun, and snow. From metal to wood, there are many types of sheds to choose from, but be sure to pick out a shed that has enough space and a wide enough door for your ATV.
Pros:
Excellent protection against weather elements
Keeps your ATV out of sight and secure
Offers additional storage space for your gear
Cons:
Buying a shed and installing it is an added cost
Limited space for multiple vehicles or larger ATVs
2. Store It in a Garage
Maximize your garage's potential by storing your ATV in it. If you have lots of garage space, it's a convenient and space-saving option to shield your ATV from the elements and potential theft. If your property doesn't already have a garage, you can get a durable metal ATV garage for storage.
Pros:
Protection from weather, theft, and vandalism
Uses existing space
Easy access for maintenance and quick rides
Cons:
May limit parking space for other vehicles
There could be an added cost to build a garage if you don't already have one
Requires some reorganization of existing garage items to ensure efficient use of space
3. Add a Carport
A carport is another great way to cover your ATV. A carport is simple and practical and provides coverage from rain and sunlight while offering easy access for your outdoor adventures. There are many carport styles to choose from, so you'll easily be able to find one that works well with your home.
Pros:
Affordable and easy-to-install option
Protection from direct sunlight and rain
Adequate ventilation to prevent moisture buildup
Cons:
Less protection from extreme weather conditions
Not as secure as an enclosed space
Limited customization options compared to a shed or garage
4. Place It in a Storage Unit
If space is limited and you don't have a shed or a garage, consider renting a storage unit for your ATV. Self-storage units offer a secure, off-site option for keeping your ATV safe from the elements and potential theft. However, they are not as convenient as a storage option such as a shed or garage.
Pros:
Secure, off-site storage option
Protection from weather, vandalism, and theft
Can accommodate larger ATVs and additional gear
Cons:
Ongoing rental costs
Requires transportation to access your ATV
Not convenient for spontaneous rides
5. Cover with a Tarp
Another way to protect your ATV is to cover it with one or more heavy-duty tarps. These protective layers shield your ATV from the elements while allowing you to store it conveniently outdoors. Choose a tarp or covering specifically made for an ATV so it's large enough, and make sure it is made from waterproof material such as plastic or canvas.
Pros:
Cost-effective solution for temporary protection
Easy to install and remove as needed
Protects against rain, snow, and debris
Cons:
Limited protection from extreme weather conditions
May require frequent adjustments
Potential for moisture buildup, condensation, and rust
6. Park it under an Elevated Deck or Porch
If your property features an elevated deck or porch, you can store your ATV under it. Storing your ATV beneath a raised platform protects it from the elements and keeps it hidden from view.
However, if you live in an area that gets much rain, the bare ground may release moisture that can damage your ATV. So consider placing a tarp beneath the tires and on top of the ground for added protection.
Pros:
Uses otherwise unused space
Conceals your ATV from sight
Protection from rain, sun, and snow
Cons:
Limited to properties with elevated platforms
May require modifications for accessibility
Potential for exposure to moisture
Maintenance Tips before Storing Your ATV
In addition to finding ATV storage ideas that work for you, it's essential to ensure that your ATV receives the care it deserves during the off-season. Properly stowing away your off-road companion isn't just about getting it out of sight–it's about preserving its performance and longevity.
Below are some maintenance tips for your ATV to ensure it stays taken care of while in storage. Remember to visit your ATV periodically to ensure everything is in good shape.
Wash Thoroughly
Before tucking your ATV away, thoroughly wash it to remove mud and grime. This simple step helps prevent corrosion during the off-season, ensuring your ride remains in top shape for your next adventure. While washing, be sure to cover the exhaust pipes to prevent water from leaking in.
Perform Battery Maintenance
Don't overlook your ATV's battery. Disconnect and store it in a cool, dry place, or use a maintainer to keep it charged. By taking care of your battery, you'll avoid power drainage and ensure it's ready to fire up when you're back on the trails.
If you decide to leave the battery connected, start up the engine every now and then to keep it in working condition.
Consider the Gas in the Tank
Adding a fuel stabilizer to your ATV's gas tank before storage prevents fuel breakdown and starting issues down the line. Running the engine after adding the stabilizer ensures it reaches the fuel system, maintaining its quality and ensuring a smooth start for your next ride.
Maintain Tire Air Pressure
Keeping your ATV's tires properly inflated or elevating the vehicle off the ground with stands prevents flat spots and reduces tire stress. This simple step maintains the tires' shape and readiness to grip the terrain when the off-season ends.
You can also consider elevating the ATV onto blocks to keep it off its wheels—this will help prevent the tires from flattening in storage.
Change the Oil
Fresh oil minimizes the risk of contaminants causing engine problems during storage. By changing the oil before storing your ATV, you safeguard its engine and set the stage for a trouble-free start the next spring. Dirty oil can damage the engine, so this is an important tip to remember while your ATV is stored.
Find the Right ATV Storage for You
Incorporating smart ATV storage solutions not only preserves the lifespan of your vehicle but also contributes to a clutter-free and organized outdoor space. These ATV storage ideas can be tailored to any situation, whether you have a shed, garage, carport, or need to explore storage unit options.
By implementing these practical suggestions, you can enjoy your ATV for years while keeping it safe, secure, and ready for your next thrilling adventure. Look into our large outdoor sheds to assist with your ATV storage during the off-season.
Get an instant price for your new carport or metal garage.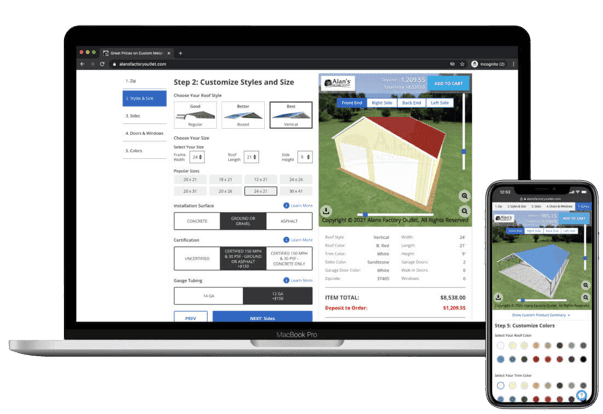 Price and Buy Online with Our 3D Builder Plus Free Shipping and Installation!
Select a size to meet your needs
Choose roof, side, and trim colors
Add garage doors, windows, and walk-in doors
Customize additional options
Customize Now