Did you know a garage can boost home value? Garages don't just protect your vehicles and provide extra storage space—you can also use garages as functional spaces, like workshops. This flexibility makes garages desirable for prospective buyers. 
The national average cost to build a garage is about $28,000, with prices typically ranging $10,000–$40,000 depending on the location, materials, and size. Adding any garage door security measures can up the cost.
If your house doesn't have a garage and you want to add one, this guide helps break down costs and figures for different styles and features.
Garage Costs per Square Foot
Most garages will cost around $35–$60 per square foot to build on-site, varying by size, location, finishing, and features. For example, you can expect to pay more per square foot for a high-end, multipurpose garage that includes plumbing and electrical wiring than a general garage used only for cars and storage.
Cost to Build by Garage Size and Number of Cars
The most common garage size is 20 feet wide by 20 feet deep (20×20), which are the smallest dimensions that can comfortably fit two cars. Below is a breakdown of garage prices by size:
One-Car Garage
A single-car garage is generally 12×20 (240 square feet), with costs typically ranging between $10,000 and $27,000. While this size can be a useful addition, it doesn't give you any space for extra storage. Keep this in mind when considering storage solutions.
Two-Car Garage
A two-car garage is a minimum of 20×20 (400 sq. ft.). More ideal dimensions, which can fit two different car styles, are at least 24 feet wide and 24 feet deep. The typical price range for a two-car garage is $20,000–$40,000.
Three-Car Garage
A three-car garage is a minimum of 30×20 (600 sq. ft.) and offers more storage space. The typical cost range of this garage style is $40,000–$57,000.
To calculate the best garage size for your needs, you have to consider the size of each vehicle you own, how much storage space you need, and how much space you need for accessibility. For example, SUVs, pickup trucks, and vehicles that have a wheelchair lift or other mobility aid, will require more space for opening large doors.
Cost to Build a Garage by Type
As for the type of garage, attached and detached design prices will vary greatly. Deciding between the two depends on your personal preference and budget. Here's an overview of each style as well as their pros and cons:
Attached
An attached garage costs between $10,000 and $40,000. Since this style shares wall space with the house, it can be cheaper to build than a detached garage using the same materials. The final cost, however, depends on interior finishing and other customization options.
Pros:
Easy to extend electricity and plumbing from your house
Convenient storage area
Additional home entryway
Extra living space for the home
Cons:
Difficult to expand
Risk of car fumes/chemicals entering your home
Changes the initial design of your house
Detached
A detached garage costs between $19,000 and $45,000, which is a bit more expensive than an attached garage. This style, however, has more flexibility to customize.
Pros:
Flexible design options
Could be used as a separate living space
Easier to expand
More convenient for chemical storage
Cons:
Less convenient access from your house
More challenging to extend utilities
Requires more yard space
It's worth noting that prefabricated detached metal garages are a more affordable option than stick-built garages, since metal is cheaper than lumber and the labor costs are much less.
Garage Materials: Cost Breakdown
The types of materials you choose greatly influence labor and construction costs of your garage. Here is a look at the most common materials as well as a cost breakdown of associated construction necessities.
Wood (stick-built) garages are the most popular style, but they also require the most expensive materials. Metal garages are more affordable, sustainable, and durable.
Foundation
Before building your garage, you must first have a foundation to serve as the supportive flooring of the structure. The most common types of garage foundation and their costs per square foot include:
Concrete: $8–$15
Gravel: $1.25–$1.50
Asphalt: $7–$13
Framing
The three most common options for garage framing are lumber, concrete, and steel. Pricing for these ranges $1–$5 per square foot, with an additional $4–$8 per square foot for labor.
Roofing
Adding a roof to a garage costs between $1,000 and $16,000, depending on the material, size, and installation. Below are common roofing materials and their costs per square foot:
Asphalt Shingles: $1–$2 (not including the plywood under the shingles)
Wood: $4–$7
Metal: $6–$9
Clay Tiles: $9–$14
Concrete: $3–$5
It's also important to consider the life span of each material. For example, asphalt shingles are the least expensive, but metal is more durable and has a longer life span.
Siding
Finishing the garage exterior, siding can cost $1,500–$9,000. You'll want to choose a siding that's durable, weatherproof, and within your budget. Types of common garage siding options and their cost per square foot include:
Wood: $3–$10
Vinyl: $1–$3
Metal: $3–$8
Brick: $11–$15
Garage Door Costs
Excluding installation, the average one-car garage door costs about $700 and can range anywhere between $400 and $1,200, depending on the style and customizations. A two-car garage door can cost up to $3,000.
Garage door installation costs range from $500 to $1,800. This also depends on the size, style, tracks, materials, and labor. Roll-up doors are included with prefab garages, which helps save on installation costs.
Cost of Garage Features and Factors
Once you have the basic construction of your new garage, you can factor in the costs of additional features. Here are common additions that can customize a garage to fit your needs:
Entry Doors
Adding an entry door creates an additional exit and safety feature for the garage. Entry door costs can range $100–$2,500 each, from simplistic styles to those with high-security features. Since an entry door has to be cut into the wall of the house for an attached garage, this will be more expensive.
Windows
Windows are not essential for attached garages, but they help provide natural light and are usually desirable for detached garages. The average garage window costs $100–$1,000 each, including installation. Additional costs depend on size, style, and exterior additions.
Electricity
If you plan to have electrical outlets and lighting in the garage, you can expect electrical work to cost an additional $1,000–$2,500. Extending wiring to a detached garage will cost more.
Insulation
Insulation, an optional add-on for any type of garage, is something to consider if you plan to spend time in the garage. Types of insulation include spray foam, blown-in, and batting, with costs ranging $1–$5 per square foot, or $400–$2,000 for the average two-car garage size.
Insulation for metal garages can also come in handy. Since metal conducts heat, insulation helps regulate the temperature.
Garage Door Openers
Accessibility features like manual and automatic garage door openers add convenience and add value for prospective buyers. The average cost of garage door openers ranges $100–$300, with installation an additional $120 to $200.
Building Permits
Before building a garage, it's best to check the building codes in your city. You will most likely need to get a permit for adding these types of building structures to your property, and they typically require an inspection after construction is finished. Permits can cost $200–$1,500 depending on your location.
Either you or the contractor can apply for the building permit. If your contractor applies for it, they may charge you an additional fee.
Workshop Space
Many homeowners use their garage as a workshop area, especially detached garages. If you have this in mind, factor in essential upgrades such as plumbing, HVAC, and storage space. You can expect to pay at least $5,000 for all of these upgrades combined.
Prefab vs. On-Site Garage Cost
Now we get to a big cost-saving opportunity: Prefab garages cost a lot less than garages built on-site, and might work just as well, depending on what you plan to use your garage for.
Prefab Garage
A prefabricated or "prefab" garage is one where the critical parts are prebuilt in a factory and delivered to the customer. A prefab garage is always detached. The average cost of a prefab garage is $15,000, with costs ranging between $5,000 and $20,000. Many prefab garage providers offer assembly and installation, which can be done in less than a day.
Prefab garages take less time to build than on-site garages and are cheaper than hiring a contractor to build a garage from scratch. Although homeowners can purchase prefab garage kits as a DIY project, building it can be a complex and time-consuming process, and any mistakes can cost you more in the end.
Pros:
Quick solution for car protection and storage
Generally includes installation costs
More cost-effective than an on-site build
Cons:
May have more building restrictions
May be more difficult to match the exact color of your home
Fewer customization options than an on-site build
On-Site Garage
If you decide to take the traditional route and build a garage from scratch on-site, the labor cost can be more than 50% of the total project cost. While the construction process is more expensive and takes much longer than that of a prefab, an experienced contractor can build a custom garage to meet your exact requirements.
Since building a garage from scratch requires design plans, you may also need to hire an architect for custom designs, like a drive-through garage. After completion, a garage built on-site typically provides more resale value than a prefab version.
Pros:
More customization options
Easier to convert into a living space
Can provide more resale value than a prefab garage
Cons:
More expensive than prefab garages
Longer construction time
Frequently Asked Questions
Is it cheaper to build or buy a garage?
Considering labor, materials, and features, it is cheaper to buy a garage, such as a prefab kit, than to build one.
Are metal garages worth it?
Yes, it's worth having a metal garage, since this type is more durable, sustainable, and inexpensive to build than other versions. Metal doesn't rot or mold and metal garages are low-maintenance.
Do garages increase a home's value?
Yes, garages definitely increase a home's value. A detached garage is typically more valuable than an attached garage since it gives you the freedom to do more with it, such as use it for a workshop.
Do I need a building permit?
Most cities and towns require that you have a building permit when adding or modifying structures of your home, such as detached garages, sheds, and other garage alternatives. It's best to check your local building code laws and HOA rules prior to the project.
Now that you have an idea of garage costs and options, the next step is to decide the best option within your budget. Our prefab metal garages start as low as $6,500 for a two-car garage and come with free delivery and installation. Customizing a garage has never been easier, and we'll walk you through the process from start to finish.
Get an instant price for your new carport or metal garage.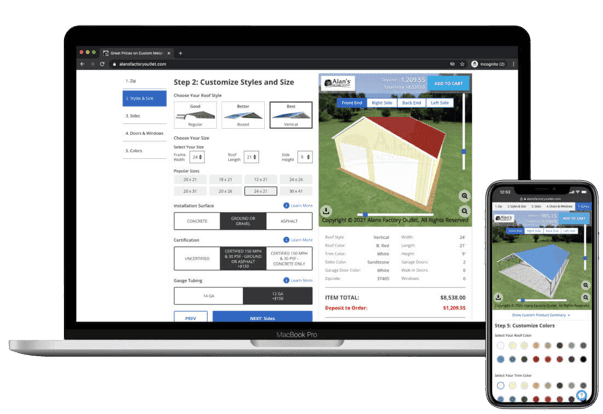 Price and Buy Online with Our 3D Builder Plus Free Shipping and Installation!
Select a size to meet your needs
Choose roof, side, and trim colors
Add garage doors, windows, and walk-in doors
Customize additional options
Customize Now