Metal roofs and asphalt shingles are two of the most popular roofing materials on the market today. How do you choose between the two? When it comes to protecting your property, the right roofing material can make all the difference.
Some homeowners stick with the traditional asphalt shingles, but as materials have modernized in the roofing industry, metal has made its way onto the scene as a trendy and eco-friendly material. 
While metal and shingles are both considered great options for residential roofing, including garages, sheds, and storage buildings, one is possibly the better choice for your unique situation. In this article, we walk you through a complete metal roof vs. shingles comparison, highlighting their key differences to help you make an informed decision.
Key Differences
Let's review the characteristics and factors of metal and shingle roofs for a closer look at what you're buying and how to choose the best option.
Cost
Regarding up-front costs, shingles are significantly less expensive than metal. Asphalt shingles cost about $4–$6 per square foot, while metal roofing costs about $10–$20 per square foot.
Durability
Metal roofs are engineered to last over 50 years, tested and proven to withstand severe weather events, including rain, ice, hail, heavy snow, heat, and strong winds. Asphalt, which only lasts 10–30 years, will need to be replaced more often due to damage from debris.
Customization
Unlike shingles, metal comes in a variety of colors and coating options, including bright and earthy tones. You can find asphalt shingles in different shades, but they have limited color options. Both metal roofs and shingles can be fitted with gutters, too.
Maintenance
Shingles can easily tear, disintegrate, and fall off from damage, so they'll require more maintenance than metal roofs. It's possible for metal to experience rust and corrosion, unless it has a protective coating like galvanized steel. Otherwise, metal is very low maintenance.
Sustainability
Metal roof panels are 100% recyclable and most of them are already made of recycled materials. Asphalt shingles, on the other hand, aren't environmentally friendly.
Also, it's important to note that shingles absorb and retain more heat than metal roofs, whereas metal reflects heat and is an energy-efficient material.
Installation
Both roof materials are pretty lightweight, which comes in handy during installation. There is a common misconception that metal is heavy, but some metal roofs actually weigh a little less than asphalt shingles.
That said, shingles require less time, skill, and labor for installation and replacement. Shingles also require less expertise than metal roof installation, so there are usually more contractors available and at cheaper labor costs.
Metal Roofing Pros and Cons
While most consumers believe metal roofs only come in one standard style, you'll be surprised to know that there are a variety of options. For example, there are snap-lock vertical panels, metal tiles, and even textured metal that mimics shake and slate roofs.
A common myth is that metal roofs are more likely to get struck by lightning, but there's no proof of it attracting lightning more than other roofing materials. In the case of a lightning-caused fire, the advantage of metal is that it's fire-resistant and durable enough to withstand a rough storm.
Metal roofs are also very low maintenance and fade-resistant, so replacement and repairs are rare. They may experience small dents, but this is over time with age.
Lastly is longevity. Yes, metal roofs are more expensive than asphalt shingles up front, but considering the maintenance and replacement costs, metal roofs give you more bang for your buck. Since metal roofs are the longest-lasting material, durable, and energy-efficient, they improve home resale value.
Roofing Shingles Pros and Cons
Asphalt shingles are the most commonly used roof style in construction and are one of the most affordable materials. It's easier to install shingles than other roofing types, so there's typically a larger pool of contractors available to do it.
Shingles are made of crude oil and processed materials that unfortunately aren't environmentally friendly or recyclable. However, many people prefer this roofing option since most homes have the traditional shingle look. Shingles also come in many shading variations, but are limited in color selections.
Last but not least, you need to inspect shingles annually for damage and require frequent maintenance such as re-caulking and sealing. They also have a lifespan of about 15 to 20 years, which is much shorter than other roof styles, and typically require more replacement.
What to Consider Before Choosing a Roofing Material
Now that you have the pros and cons of each roofing type, either may be right for you depending on your situation. Here are a few things to consider before choosing a roof type.
Budget
If you have a set budget in mind for your structure, it's important to choose a material within that range. When comparing roofing costs per square foot and the size of your garage, shed, or building project, this is something to think about.
Environment
Climate and weather conditions differ where you live. For example, a carport in Florida will experience much more heat and precipitation than in Idaho. In this case, you may lean toward a metal roof for your carport to withstand strong rainstorms and hot summers.
Building Design
What design do you have in mind for your building project? From flat to lean-to roof styles, one material may look more aesthetically pleasing to you than the other.
The Bottom Line: Metal Roofing vs. Shingles
Ultimately, there is no one-size-fits-all roofing material. When comparing a metal roof to shingles, it all boils down to the style you're looking for, your specific needs, and what best works with your budget.
If you decide a metal roof is the best option for you, check out our prefab metal buildings. Each of them have unique metal roof styles, which you can customize to your liking using our 3D Building Tool below.
Get an instant price for your new carport or metal garage.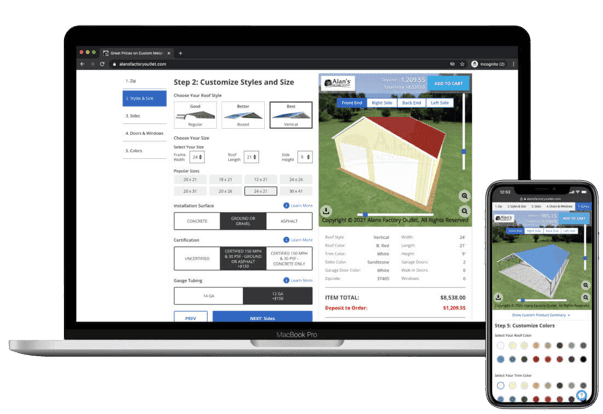 Price and Buy Online with Our 3D Builder Plus Free Shipping and Installation!
Select a size to meet your needs
Choose roof, side, and trim colors
Add garage doors, windows, and walk-in doors
Customize additional options
Customize Now