Get your custom carport and get our best prices plus Free Shipping and Installation!
Get a 40×80 Metal Building for Less
Made in the USA
20 Year Warranty on 12 GA Tubing
Free Delivery and Installation
Only Pay a Deposit for Delivery
4.8 Stars from over 13,000 Customers
Based on more than 13,241 unfiltered reviews on the independent, Shopper Approved website.
The two installers did a nice job putting up my new carport. It looks great and is made of very sturdy materials.
Customer service was great
At 7:30 am the crew of three arrived and did a fantastic job, working very efficiently. At 12 noon they were done, had the work site cleaned up of all scrap and were heading out of the driveway. Many thanks.
I have not received my carport as yet but was impressed with the order process and pricing for this style of carport.
The website is great, I love the visual aid when selecting the carport and options. The carport itself I am totally satisfied with as well as the installation. A large crew was in and out in under 3 hours, cleaned up all their mess and just operated like a well oiled machine.
Easy to order. Hadn't actually got the carport yet, but so excited for it to get here. Best price around!!
This is exactly what I was wanting, the price was less than I expected and delivery was prompt and FAST!!! They weren't playing around when they went to work on it!! Thanks for the great shopping experience!!!
High-Quality 40×80 Metal Buildings for Sale at a Low Price
40×80
Lean to Barn
40×80
Shop
40×80
Garage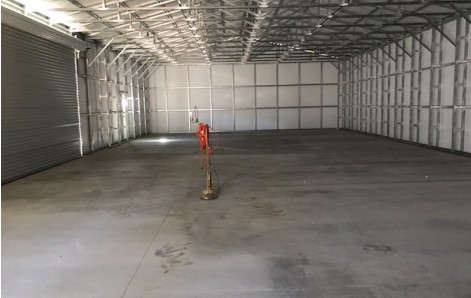 40×80
Metal Building
Get a custom prefab 40×80 metal building to use as a carport, shop, garage, storage shed, hay barn, or similar purpose. Our buildings are delivered and installed for less than the cost of hiring a builder.
Low-Cost 40×80 Buildings
You can't beat the price of a prefab steel building, and our 40×80 metal building prices are among the lowest you can find anywhere.
Quality, Certified Structures
Our 40×80 steel buildings come with a 20-year warranty on roofing and 12-gauge frames.
100% Satisfaction Guarantee
Cancel for any reason before delivery and get a full refund of your deposit.
Instant, Transparent Pricing
Select your options to get instant pricing online. No contact details are required.
Customize your building, see what it will look like, and order online without having to call a salesperson.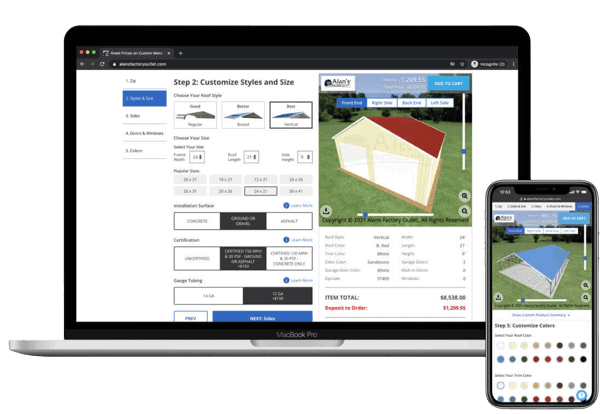 Price and Buy Online with Our 3D Builder Plus Free Shipping and Installation!
Select a size to meet your needs
Choose roof, side, and trim colors
Add garage doors, windows, and walk-in doors
Customize additional options
How Much Does a 40×80 Metal Building Cost?
The cost of your building depends on your location and the options you choose. The prices below are approximate. You should use our online cost calculator to get an exact price.
| Size | Approx. Base Price |
| --- | --- |
| 40×80×12 Metal Building | $44,000 |
| 40×80×14 Metal Building | $47,000 |
| 40×80×16 Metal Building | $53,000 |
| 40×80×18 Metal Building | $57,000 |
| 40×80×20 Metal Building | $64,000 |
Concrete Foundation Cost
If you plan to use your building as a barn, you may be able to anchor it directly to the ground or a gravel foundation. But for most other uses you will need a concrete foundation.
You will need to hire a local contractor to prepare the foundation for you. A 40×80 building has 3,200 square feet of space. A foundation for this size of building may cost between $4 to $10 per square foot, adding at least $12,800 to your total cost.
Reasonable Lead Times
Most 40×80 buildings are delivered within one to two months after the building permit is approved and the foundation is ready. For current lead times in your area, see our estimated lead times.
Free Building Plans
We can provide standard pre-engineered building plans for your building at no additional cost (many companies charge extra for this). If you need custom plans or wet-seal plans, these can be ordered for a reasonable fee.
Free Delivery and Installation
Installation is free and usually takes 2-3 days.
Due to the large size of the building you will need to provide a telescopic forklift for the installation crew. You can rent this from a local equipment rental company for about $500-$600 a day.
Lifespan and Warranties
Steel buildings can last for well over 50 years with proper annual maintenance, making them a cost-effective long-term investment. Our 40×80 steel buildings come with a 20-year warranty on roofing and 12-gauge frames.
Features and Design Options
Garage Doors, Walk-In Doors, and Windows
You have many options for garage doors, ranging from 6'x6' doors to 16'x16' doors. We also have two styles of walk-in doors and windows.
Custom Frame-Outs
If you want to add your own doors, windows, or other openings, we can add custom frame-outs for a small fee.
Custom Height, Width, Length
You can choose the height you need for your building in two-foot increments from 8 to 20 feet tall. Although a taller building costs more, it will also maximize your storage potential
We can also match most custom width and length requirements.
Lean-Tos, Carports, Porches, and Overhangs
We can add barn-style lean-tos to one or both sides, and we can enclose part of the building, leaving the remaining portion as a covered porch. If you don't see the option you are looking for in our 3D design tool, give us a call for details.
Insulation
You have three options for insulation:
No insulation
Double-bubble insulation to control condensation ($1.50 per square foot)
R-17 insulation for temperature and moisture control ($3.00 per square foot)
Optional Upgrades
If you want to maximize the lifespan of your building, the 12-gauge frame comes with a 20-year warranty and will help your building last for many decades into the future.
If you live in an area that usually gets snow or experiences severe weather, or if you just want to maximize the lifespan of your building, you can upgrade to 26-gauge steel framing and roofing.
Custom Colors
You can choose from 16 color options for the roof, sides, and trim of your 40×80 metal building. There isn't any extra charge for your custom color selections.
Design and Price Your Metal Building
Great Support from Real People
Hi, I'm Alan. My goal is to help you get the exact building you need for the best possible price, without the stress and headaches that often come with a large purchase.
If you have any questions or need any kind of help as you design your building, don't hesitate to contact us by phone or email. I have a small team of incredibly kind building specialists who can help you with just about anything. We are all friendly, down-to-earth people who will treat you right.
Thousands of Happy Customers
I looked at and spoke to dozens of manufacturers before I found Alan's. He had the fairest pri

This will be my third building from Alan's. They are great. It may take two months to get your building but it's worth the wait when necessary. Very good quality, installed exactly as desired.

We enjoyed being able to build our building the way we wanted. Liked knowing how much it was going to cost, no hidden fees. We liked that we could build this in the privacy of our home. It was delivered in the time that they allowed for delivery. Our overall experience was great.

Everything was just as expected. The buildings look great. The installation crew were very fast and efficient in their assembly and were nice. Very pleased with the entire experience.

Wonderful folks to work with. Helped out whenever I needed it.

[Web]site made picking out my building simple. The 3D garage builder was great for getting an idea of how it would look. All of my questions were pretty much answered on the Q&A from the site. I was getting updates from sales people along the way and got any questions I had taken care of. I highly recommend Alan's Factory Outlet for your metal building needs.

I am really happy with my metal Building from Alan's Factory Outlet. After shopping around I found that Alan's had the best product for the best price. The build your own building program on the website was easy to navigate. After purchase I was contacted by the Alan's team to verify the details. They were courteous and very helpful, they wanted to ensure the details were right. Once delivery was set up the building was fully erected in about 12 hours. I love my new building

This will be my third building from Alan's. They are great. It may take two months to get your building but it's worth the wait when necessary. Very good quality, installed exactly as desired.

We love our new metal building from Alans! It took us awhile to decide what we wanted … I called Alans many times and each time they were super friendly and helpful! The installation crew was great! Even in 100 degree weather they got the job done!

Wonderful folks to work with. Helped out whenever I needed it.

It was a very good experience! The crew who installed the building were great and very friendly. Also the staff who set up the appointment were great as well! I'm very satisfied!
Metal Building Uses
40×80 Pole Barn or Hay Barn
Farmers often use prefab metal buildings for storing equipment, storing hay, and sheltering animals.
A metal building is made out of steel poles that are bolted to the foundation, not wood poles that are sunk into the ground. So it isn't completely correct to call it a pole barn. But a metal building can be a cost-effective pole barn alternative.
Our metal barns do not come with a loft, but you can build a loft inside after installation if needed.
40×80 Shop
A 40×80 shop has almost 3,200 square feet of floor space. If you will be working in your shop, you will probably want to add insulation to help regulate the temperature. Another good idea is to choose a light-colored roof (like white) to maximize the energy efficiency of your shop building.
If you want to build a small office inside your metal building, check with your local building department to find out what is allowed in your area.
If you want to add living quarters to your shop, you should shop elsewhere, because our metal buildings are not designed to meet building codes for residences.
40×80 Garage
A 40×80 metal garage has more space than most people would ever need. It would be large enough for 16 cars. A six-car garage would be more practical for most people.
However, if you need a place to park a lot of large equipment, a 40×80 garage might be right for you.
A Look Inside Your 40×80 Metal Building
Here is an inside view of a 40×80×16 metal building from our 3D Builder Tool:
In this illustration, there are two 14×14 roll-up doors and a walking door at the front, and several windows on the side. Doors and windows will be placed between supporting steel studs. It is also possible to place garage doors on the sides if a supporting header is installed.
Use the 3D Builder to look inside your own 40×80 metal building.
Design and Price Your Metal Building
More Info
For more information about our metal buildings, see our main Metal Buildings page.