Most garages aren't fully insulated, and even attached garages only have insulation on the wall shared with the house. However, there are several benefits to insulating a garage.
If you have a heating or cooling system in your garage, insulation is necessary to save on energy costs. Insulated garages without temperature controls can also reduce the impact of extreme temperatures in the summer and winter months.
Installing insulation is a pretty achievable DIY project, depending on your space and insulation choice. Read on to compare insulation types to decide which is best for your home garage.
Why It's Important to Insulate Your Garage
Insulation helps prevent heat and moisture transfer so that you can spend more time in your garage, regardless of the weather. Consider insulating your garage for these benefits:
Comfort: insulation provides temperature and moisture control
Energy reduction: insulation reduces heating and cooling costs
Noise reduction: insulation offers soundproofing benefits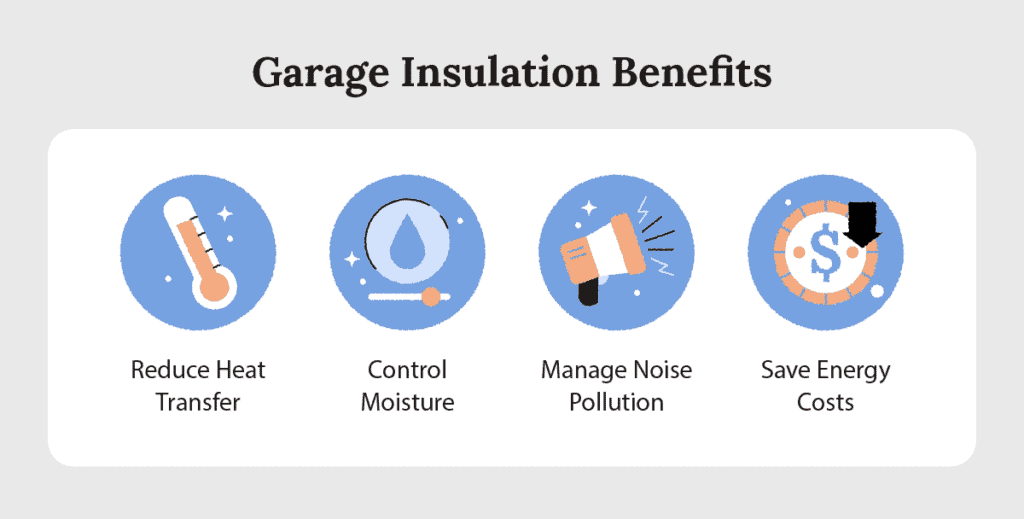 Garage Insulation Types
Different insulation types have different efficiencies and specialized benefits, so consider how your garage is built and your goals before choosing insulation.
For example, some types of insulation are best for interior living, like spray foam for a converted garage office. Others, like double bubble insulation, are ideal for controlling moisture in a metal garage.
All insulations feature an "R-value" that gauges how well a material insulates. R-values go as high as R-60, but exterior wall insulations are best between R-13 and R-20.
Here's an introduction to popular garage insulation options:
Fiberglass batts: Common insulation that fits between joists and studs.
Woven: A mix of foil, bubble, and woven materials for controlling temperatures in a metal building.
Cellulose: A loose-fill insulation to fill cavities behind drywall and ceilings.
Rigid foam: Foam boards or sheets with a high R-value.
Spray foam: An energy-efficient chemical insulation for interior living spaces and converted garage spaces.
Double bubble: Sheets of insulation with a foil backing for metal garage walls that help prevent condensation.
Insulation isn't one-size-fits-all, so you'll need to compare the pros and cons of each type to choose what's best for your garage. Consider how your garage is built, how you'll install the insulation, and what benefits you need for your space.
| | | | |
| --- | --- | --- | --- |
| Insulation Type | Best For: | Pros | Cons |
| Fiberglass Batts | Stick-built garages | Affordable, easy to install, accessible | Causes, irritation, prone to moisture damage, mold, and mildew |
| Woven | Metal garages | Easy to install when a metal building is being erected | Difficult to install after building is erected |
| Cellulose | Stick-built garages | Eco-friendly, fire-resistant, accessible | Expensive only for finished walls |
| Rigid Foam | Unfinished walls and garage doors | Affordable, noise reduction, cut to fit difficult spaces | Susceptible to moisture, must be tightly installed, may fail air-venting codes |
| Spray Foam | Interior living spaces | Flexible for tight spaces, available in open cell (affordable) and closed cell forms (water resistant) | Closed cell foam is expensive, not ideal for metal garages |
| Double Bubble | Metal garage walls | Moisture control, inexpensive | Not suited for temperature control |
How to Insulate a Garage
Insulation installation varies depending on the type of insulation you purchase, so always follow the manufacturer's guidelines for a proper install.
Since fiberglass batts are the most popular type of insulation for garages and homes, we've outlined the installation process for this type of insulation below. Note that spray foam insulation is a much more challenging installation process, so consider contacting a professional for help if you choose to use spray foam insulation.
Tools
Protective eyewear
Gloves
Dust mask or respirator
Utility knife
Staple gun
Ladder
Hammer
Caulking gun
Screwdriver
Materials
Insulation (fiberglass batts)
Drywall screws
Caulk
Step 1: Clear the Walls
Fiberglass batts are installed between joists and studs, so you'll need to clear everything off of the walls before you begin. Ideally, you're still in the construction phase or working with an exposed frame. If not, you'll need to remove your drywall, too.
Step 2: Inspect and Seal the Wall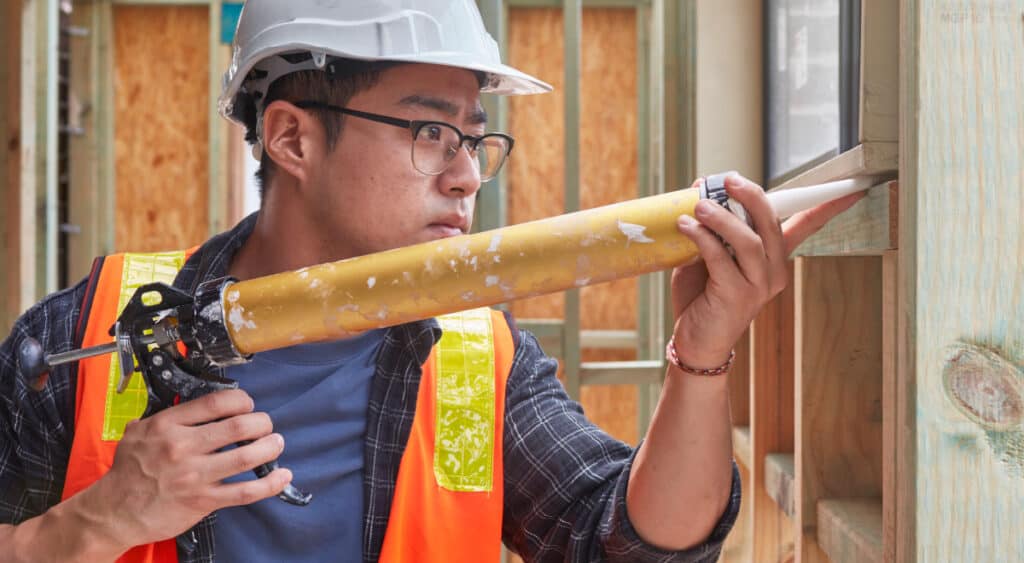 Take a look at your wall and check for any access to the outside through the exterior wall. Repair any damage or cracks with an exterior sealant to prevent moisture and insects from entering your walls.
While there, inspect your wall framing for damage or loose fasteners and repair them as necessary.
Step 3: Take safety precautions
Protective eyewear, gloves, and masks are essential for safe fiberglass insulation installation. Fiberglass is made of tiny glass particles that are harmful to skin, eyes, and lungs. Safety equipment prevents irritation and long-term respiratory concerns.
Step 4: Install insulation batts
You can begin installing your insulation batts once you've prepared the wall sealants and they have cured. Set batts between wall studs so that they fit snugly against the lumber.
As you place your fiberglass, you'll have to work around some other features in your walls:
Cables: Split the insulation batt so that it goes around the cable and insulates both sides.
Electrical boxes: Trim the insulation with a utility knife to fit tight around the box.
Pipes: Install insulation behind existing pipes so they're exposed to the interior heat.
Step 5: Trim insulation to size
You have two options to trim your batting—measure your stud spaces and cut the insulation to fit or trim the excess off once the batt is in place. Cutting placed insulation is more efficient, but you can always pre-measure batts if it doesn't work out for you.
In either case, leave a little extra insulation to prevent any gaps. Don't leave too much excess, which can cause the insulation to bulge and bunch. Consider giving an extra half inch to the length and width.
Step 6: Fill in other exterior edges
Your walls aren't the only part of your garage that benefits from insulation. It's critical to install insulation between ceiling joists to prevent heat loss through the roof.
You should also take a look at your windows and doors. You can split and install fiberglass insulation around window and door frames where air leaks are especially common.
Your garage door also benefits from extra insulation, but you'll need insulation designed for garage doors. Fiberglass batts aren't a good fit for rolling doors.
Step 7: Finish your walls
After all of the insulation is secure in the wall studs, it's time to cover the fiberglass. Consider a vapor barrier to prevent moisture damage, rot, mold, and mildew.
After the vapor barrier, installing drywall over everything is the nicest way to finish your garage. It also supports the insulation's temperature control and soundproofing. Measure your garage interior to determine how much drywall you need, and secure the sheets with drywall screws.
If you're not interested in drywall, you can install a poly membrane sheet over the insulation instead. Some building codes may even permit exposed insulation, but know that fiberglass can irritate your eyes, lungs, and skin if you interact with it.
Frequently Asked Questions
With so many insulation options, there's more to consider than an R-value. Learn more about garage insulation best practices and costs below.
What's the Best Way to Insulate a Garage?
Batt and blanket insulation is the best and most popular way to insulate a garage. It's cost-effective, simple to install, and a strong insulator.
Fiberglass batt is the most popular, but you can also purchase mineral wool insulation. It's more expensive but has a higher R-value.
What Does Garage Insulation Cost?
Garage insulation costs range between $0.65-$3 per square foot of wall and ceiling area. The total project cost can range between several hundred dollars for DIY installation to several thousand for professional installation.
Costs vary by material type and garage size. Material type impacts both the material cost and labor cost. Some insulation, like foam spray, is harder to install and requires more time and experience.
Here's an overview of costs per square foot by material choice:
Fiberglass Batt: $0.65-$2/sq.ft.
Double-bubble: $1.50/sq.ft.
Foam Board: $2.40-$3.75/sq.ft.
Woven 17: $3/sq.ft.
Spray Foam: $3.15-$7.50/sq.ft.
Should You Insulate an Unheated Garage?
Yes, there are several garage insulation benefits whether the structure's heated or not. Insulated walls and ceiling will help prevent heat transfer, keeping your garage more comfortable throughout the year.
Insulation also reduces noise pollution from the outside and softens garage noises, like heavy impact drills and table saws.
Heated garages see the greatest benefits since good insulation reduces energy costs. But you don't need a temperature-controlled building to enjoy an insulated garage.
Design Your Perfect Garage
Your dream heated and insulated garage is waiting, and all you have to do is design it. Explore custom metal garage designs you'll love all year round with our online 3D garage builder.
Get an instant price for your new carport or metal garage.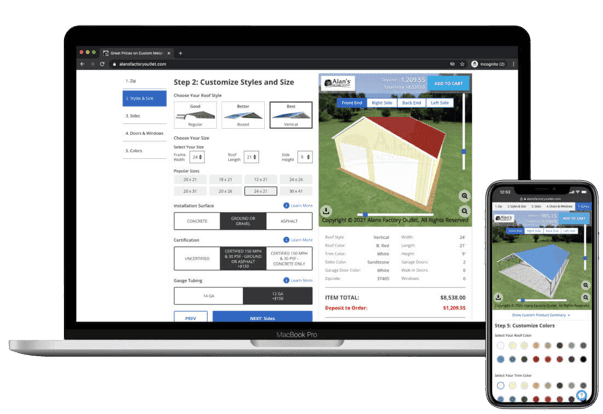 Price and Buy Online with Our 3D Builder Plus Free Shipping and Installation!
Select a size to meet your needs
Choose roof, side, and trim colors
Add garage doors, windows, and walk-in doors
Customize additional options
Customize Now