Many people use their garage as a workshop or hangout area. During the winter season, however, garages are generally too cold to enjoy. Fortunately, with the right heating system, you can spend time in your garage year-round.
Of course, having a heated garage requires careful thought and planning. Not all heating systems are created equally, and one may be a better option than another based on your garage size and style.
Read on to explore ten effective ways to heat a garage and identify which option works best for you.
1. Start With Insulation
Before investing in any type of garage heater, having insulation is key. While insulation doesn't heat, it creates a barrier that helps keep the warm air inside and the cold air out. It also comes in handy during the summer, helping keep the garage cool. Insulation can be affordable and you can easily add it to the garage doors, walls, and ceiling.
Pros:
Affordable
Simple installation, easy to DIY
No additional maintenance
Cons:
Only maintains heat, doesn't create it
2. Find and Seal Drafts
Sealing drafts is equally as important as insulation. Doing so will help prevent the warm air inside your garage from seeping out through the cracks. Before installing a heating unit, check common draft sources such as windows, door frames, and the garage door threshold. You may need to use weatherstrip adhesives like door strips to seal and block those drafts.
Pros:
Affordable
Easy to install
Cons:
May need to replace every few years
3. Purchase a Convection Heater
Convection heaters are a versatile heating option since their units can run on electricity, propane, or natural gas. They operate by heating the air around you through convection currents. Some units heat up fairly quickly, while others can take longer depending on the appliance type and size.
Pros:
Comes in many styles
Relatively safe
Cons:
Some styles take a long time to heat
Nearby objects can block the airflow
4. Bring a Portable Space Heater
A portable space heater is a great option if you're working in a smaller area. It's a simple way to warm up on a chilly day, and comes in many sizes that can fit any budget. Since the average space heater doesn't warm up an entire space, you may need more than one depending on the size of your garage.
Pros:
Budget-friendly
Readily available in various sizes
Easy to use
Cons:
Higher electric bill
Can be noisy
Doesn't warm entire space
5. Install Electric Ceiling Panels
Electric ceiling panels are slim in design and a great option if you want to maintain floor space. Since they have a modern style, many people like to use them in living spaces. Electric ceiling panels are also energy-efficient, as they heat up and cool down quickly. Understanding that heat rises, however, your garage may still feel cold near ground level with this heating system.
Pros:
Heats up quickly
Saves on energy
Cons:
Uneven heating
Requires maintenance
6. Add a Floor Covering
Heaters may warm the air around you, but the typical concrete garage floor still remains cold to the touch. This can be a problem if you kneel on the floor often when performing work on a vehicle or other projects.
Covering the floor with an outdoor or garage flooring mat is a quick and simple solution. These types of mats are generally waterproof and slip-resistant, and many versions come with a carpet-like feel for comfort.
Pros:
Lightweight
Affordable
Comes in various sizes
Versatile
Easy to install and clean
Cons:
Doesn't emit heat, only helps preserve it
7. Mount an Electric Heater
Wall-mounting an electric heater is easier to install than other heating systems. Bigger than a space heater, electric heaters can come in handy in large garages. And since they're mounted, you save floor space and the area is safer with pets or children around. The only downside is that using this type of heater consumes a lot of energy, which can result in high electricity bills.
Pros:
Easy to install
Helps save floor space
Safe to use around children/pets
Cons:
Can create high electric bill
8. Invest in a Heated Garage Floor
Heated garage floors have electrical panels beneath them that emit infrared radiation, heating the space from the floor up. This is more of a luxury option and is best for building a new garage.
If you try to install electric floor panels after construction, you'll have to jackhammer out the concrete, install the system, and pour new concrete back on top.
Pros:
Quiet heating
Heats the space more evenly
Low-maintenance
Cons:
Expensive upfront cost
Difficult installation process
9. Use an Infrared Heater
Infrared tube heaters will radiate heat throughout the space while consuming less energy than other heating units. This option doesn't heat the air, but rather heats objects around it. Best of all, they stay cool to the touch, making them a safe option for pets and kids.
Pros:
Safe, cool to the touch
Operates quietly
Uses less energy
Low-maintenance
Cons:
Limited heat travel
Room quickly loses heat when turned off
10. Add a Mini-Split System
Also known as ductless systems, a mini-split is a single unit that heats and cools. They're energy-efficient, helping save money on utility bills, and offer the most flexibility. Mini-split systems can recirculate the indoor air, helping keep the garage temperature levels comfortable no matter the season.
Pros:
Remote-controlled, accessible
Flexible placement/installation options
Can use year-round
Cons:
Needs periodic maintenance (cleaning filter, etc.)
Requires a professional to finalize installation
More expensive than other options
Frequently Asked Questions
Is a heated garage bad for cars?
There are many advantages to parking cars inside heated garages. They reduce the time spent warming up the car during freezing mornings and also help warm the oil, which keeps the engine lubricated in the winter.
The only thing to consider is if you drive on salty roads (which is common during winter). Salt can speed up the rusting process on your car when parked inside a warm and humid space, so it's still important to wash and dry your car regularly during the winter season.
What temperature should a heated garage be?
The temperature of your garage depends on the climate where you live. A good rule of thumb is to keep it above the point that condensation forms, which is usually around 40 degrees Fahrenheit.
Is it safe to heat a metal garage?
One of the major advantages of metal is that it is fire-resistant, making it safe to heat a metal garage. As long as the space is properly insulated and you follow all safety precautions of your heating system, you shouldn't run into any issues.
Are propane heaters safe in garages?
Yes, propane heaters are safe to use in garage spaces as long as it is rated for indoor use and the garage is well-ventilated. Be sure to always follow the instructions and fire precautions.
If having an attached heated garage is too much of a hazard for your home, consider designing a detached garage instead. As a separate building from the house, it'll be easier to customize and use as a workshop space.
With your heating preference in mind, you can use our 3D customization tool below to design the perfect insulated garage space.
Get an instant price for your new metal garage.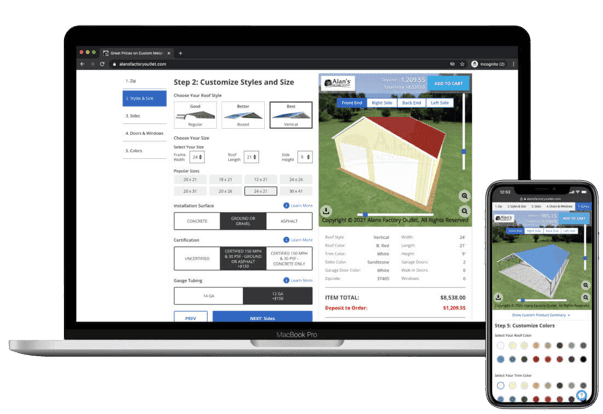 Price and Buy Online with Our 3D Builder Plus Free Shipping and Installation!
Select a size to meet your needs
Choose roof, side, and trim colors
Add garage doors, windows, and walk-in doors
Customize additional options
Customize Now