Whether your garage functions as a workshop or a place to store your car, it's important to choose the right floor type. You want a garage floor that's durable, visually appealing, and easy to maintain, but your options could be limited by your budget.
To help you decide on the best flooring option for your needs, we've outlined 13 garage flooring ideas and the advantages and disadvantages of each below.
1. Granite Flooring
One of the advantages of having a granite garage floor is its visual appeal. It's scratch-resistant and available in many colors and patterns to fit any garage design. However, it's not resistant to certain chemicals such as bleach or vinegar, and installation is difficult and costly.
Advantages:
Visual appeal
Scratch-resistant
Available in many designs
Disadvantages:
Not resistant to some types of powerful chemicals
Expensive installation
2. Epoxy
Apply an epoxy coat to your floor to increase its resistance to chemicals, moisture, and hot tires. Epoxy comes in many colors, increases your floor's durability, and gives it a glossy finish.
That said, it's important to fix any imperfections on your floor before applying epoxy. If your floor holds moisture, it is unlikely to be suitable for an epoxy coating. If your floor is usually damp or you see areas with a white powdery residue, those could be signs of moisture damage.
Advantages:
Many color options
Glossy finish
Resistant to chemical damage
Disadvantages:
Not suitable for floors that hold moisture
Can discolor when overexposed to sunlight
3. Polished Concrete
One of the advantages of a polished concrete garage floor is its durability. It can easily handle the weight of one or two cars and has a classic look that reflects light to brighten your space.
If you live in a snowy area, however, your car could track in road salts that damage the polish of your floor. To minimize damage, sweep and dust mop your floor regularly.
Advantages:
Durable
Classic look
Brightens your space
Disadvantages:
Susceptible to chemical damage
Less suitable for snowy areas
4. Concrete Floor Paint
Painting a garage floor is an affordable way to improve its appearance. That said, paint is susceptible to staining and damage from chemicals and road salts.
While it's time-consuming, you can save some money by painting your garage floors yourself. While you're at it, you could repaint your garage door to bring your space to life.
Advantages:
Very affordable
Easy to install
Many color options
Disadvantages:
Can be stained easily
Susceptible to chemical and road salt damage
5. Concrete Stain
Staining your concrete floor offers protection and a sleek look. After staining, your floor may resemble polished stone or marble. Painting your floor may be slightly less expensive, but staining is a more durable solution that's easier to maintain.
Concrete stain is affordable, but doesn't add any insulation to your space. If it's important for you to stay warm year-round, consider heating your garage.
Advantages:
Sleek look
Resistant to oil spills and chemical damage
Can be used with other types of floor finishes
Disadvantages:
Doesn't cover existing floor imperfections
Difficult to DIY
6. Concrete Sealers
Concrete sealers are inexpensive and prevent cracks, but don't provide much protection from heavy traffic. Sealed concrete is stain- and moisture-resistant and can be used over paint for an extra layer of protection. For someone on a tight budget who uses their garage minimally, a sealer can do the trick.
Advantages:
Very inexpensive
Stain- and moisture-resistant
Easy to apply
Disadvantages:
Typically susceptible to chemical damage
May need reapplication every one to three years
7. Foam Tiles
Foam tiles are comfortable to walk on, come in a variety of colors, and are usually waterproof. One disadvantage is that heavy objects can cause lasting impressions on foam surfaces. So while foam tiles might be better for a garage that functions as a personal gym, they aren't as effective for parking.
If you want to use your garage for leisure but can't think of another way to protect your car, check out our garage alternatives.
Advantages:
Versatile design options
Typically waterproof
Comfortable to walk on
Disadvantages:
Can trap moisture beneath its surface
Heavy or sharp objects may cause damage
8. Porcelain Tiles
Porcelain tiles are a durable, stain-resistant garage flooring option that can last decades. It's hard as stone, resistant to cracking and chipping, and requires little maintenance.
Because of its longevity and durability, porcelain tiles can get expensive. If you're comfortable with DIY installations, it could save you money to tile your own garage.
Advantages:
Durable and stain-resistant
Can last for decades
Requires minimal maintenance
Disadvantages:
Very expensive
Can be slippery
9. Polyvinyl Tiles
A garage floor of polyvinyl tile is durable and easy to maintain. It's important, however, to have a level floor before installation. A disadvantage is that tiles can become slippery when moisture collects on them. This type of floor may also tear or bubble if it isn't installed correctly.
Advantages:
Durable
Low maintenance
Water-resistant
Disadvantages:
Can be slippery
Can tear or bubble with improper installation
10. Carpet Tiles
Carpet tiles are a comfy option that is easy to install. They come in interlocking or peel-and-stick pieces, which cover your garage floor underneath. While they're susceptible to oil stains, tiles are easy to swap and replace.
This option is better if you're planning to use your garage as a workshop or extra room. If you often have cars coming in and out, it can dislodge your tiles.
Advantages:
Comfortable to walk on
Versatile design options
Easy installation
Disadvantages:
Not ideal for parking
Susceptible to staining
11. Laminate Tiles
Laminate tiles are a comfy option for people using their garage for recreation. These tiles imitate the look of wood, are inexpensive to install, and are scratch-resistant. But most laminate flooring options can't withstand the weight of cars without being damaged. They're also susceptible to damage from moisture.
When designing a garage with comfort in mind, make sure you ventilate your space for ideal temperature levels and air quality.
Advantages:
Inexpensive installation
Visually appealing
Stain-resistant
Disadvantages:
Typically can't support the weight of cars
Susceptible to moisture damage
12. Slate Tiles
Slate tiles are versatile and stain-resistant. They come in shades such as tan, gray, and earthy green. But they can be expensive to install, and pure slate tiles may wear down under a car's weight over a long period of time.
Advantages:
Versatile look and texture
Stain-resistant
Low maintenance
Disadvantages:
Not ideal for parking cars
Expensive installation
13. Roll-Out Mats
Roll-out mats are easy to install, move, and swap out. They are typically made of rubber or polyvinyl and are oil- and stain-resistant. In snowy weather, they protect your concrete floors from road salt and freeze damage.
But roll-out mats might bulge over depressions if your concrete floor beneath has damage. Moisture may also get trapped between the mat and your floor, which can cause an unpleasant smell.
Advantages:
Easy to install
Oil- and stain-resistant
Resistant to damage in snowy weather
Disadvantages:
Bulges over cracks and depressions in floor
Can trap moisture beneath surface
14. Gravel
Gravel is an eco-friendly, cost-efficient garage flooring option that's easy to install. Due to the movability of the material, gravel is ideal for garages used for storing items, rather than those used for vehicle storage. Parking and moving a car on gravel causes large divots and pot holes over time.
Advantages:
Easy to install
Very inexpensive
Long-lasting
Disadvantages:
Not ideal for parking cars
Bottom layer can trap moisture
15. Treated Wood
Pressure-treated wood is durable and can sustain a great deal of weight, making it a great option for storing furniture, boxes, and other large items.
However, if you plan to use your garage for vehicle storage, you may want to add an additional protective coating or park on top of a plastic tarp that covers the floor. Water, oil, and other fluids that often drip from parked cars can damage the wood over time.
Advantages:
Highly durable
Insulates against cold temperatures
Disadvantages:
Not ideal for vehicle storage
Susceptible to warping
Not stain-resistant
Choosing the Right Flooring for You
Remember to keep the main purpose of your garage in mind when considering your flooring options. If you're searching for the ideal floor for a leisure space, you'll likely care more about comfortable materials, whereas if your garage is your workshop, you might care more about durability and functionality.
If you need a new garage altogether, check out our metal garages to find an option that fits your needs.
Frequently Asked Questions
What Type of Flooring is Best for a Garage?
For a garage that's going to house vehicles, concrete is usually the best flooring for a garage. This is the strongest material to hold up to wear and tear. To slow down the deterioration that's bound to happen, explore garage floor covering ideas to layer on top of the concrete, like rubber tiles, mats, or epoxy coatings.
Which Types of Garage Flooring Are The Most Affordable?
Wood
Plastic tiles
Sealed concrete
Gravel
Mat
Two-part epoxies
How Can I Make My Garage Floor Look Nice?
There are many ways to make your shed or garage floor look better, most of them involving choosing a surface covering and keeping the area clean. Concrete floors have options for mats, epoxy, stains, and tiles. A wood-floor garage can accommodate many of these options, too. Investing in a high-quality covering along with regular sweeping and mopping will keep your garage floor looking nice.
How Do You Refinish a Concrete Garage Floor?
To resurface a concrete floor, you'll need to buy a concrete refinishing product. These are available at most stores that sell paint, stains, and other finishes. Once you've chosen your product, you'll have to soak the floor thoroughly and then push out any puddles that gather with a mop or broom. Once the concrete has become damp but not wet, you should pour the refinishing product on the floor and quickly spread it across the surface.
Get an instant price for your new metal building.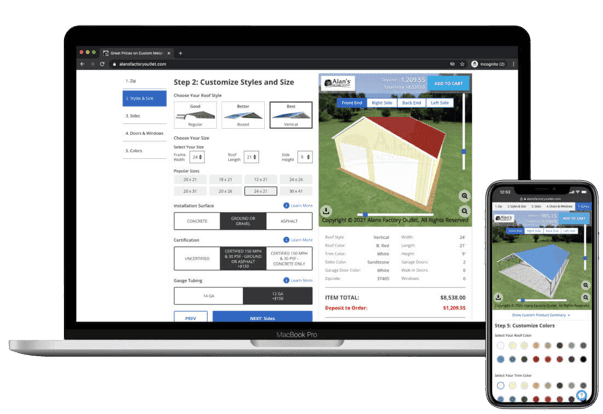 Price and Buy Online with Our 3D Builder Plus Free Shipping and Installation!
Select a size to meet your needs
Choose roof, side, and trim colors
Add garage doors, windows, and walk-in doors
Customize additional options
Customize Now