The condition of your garage door can make or break your home's look. If your garage is stained, rusting, or peeling, it might be time to cover it with a fresh coat of paint to match your home's color scheme.
Painting a metal garage door is pretty easy to do, and it will only need about a day to dry. With materials from your local hardware store and some planning, you can do the project yourself. Read on to learn how to paint a metal garage door in seven simple steps.
Materials You'll Need
To make the painting process as simple and safe as possible, gather the following materials before you begin:
Paint
Painter's tape
Paintbrush set
Bucket and sponge
Sanding block
Fume-rated mask
Safety glasses
Paint stirring sticks
Roller brush handle and heads
Rags
Ladder
Roller tray
Paint thinner
Sprayer (optional)
Primer
A primer isn't always necessary for new metal doors that come already primed. And if you want to paint faster, you can use a sprayer instead of a paintbrush or roller—just keep in mind that heavy winds could prevent it from working properly.
How to Paint a Metal Garage Door
1. Wait for Good Weather
It's important to wait for ideal weather conditions before beginning a paint job. If it's raining, over 90 degrees, or very windy, you may experience issues with drying. Ideally, you want the temperature to fall between 50 and 85 degrees Fahrenheit.
2. Sand the Surface
First, you'll want to remove any old paint on your door by sanding the surface. Gather your scraper, stiff wire brush, and a sanding block to scrub off the old coat.
3. Wash and Rinse
Once your door's surface is smooth, you're ready to give it a wash. Use dish soap and water to scrub away any dirt, rust, or grease. When finished, rinse off the soapy residue with water and dry the surface with a rag.
4. Unplug Your Garage
If your garage door is automatic, it's best to unplug it and pull the safety release chain so you can adjust its position manually.
5. Tape off Your Door
Tape off any areas of your door that you don't want to get paint or primer on. This probably includes your windows, gaskets, trim, and handles. To avoid paint drips on the concrete, lay out a tarp or drop cloth.
6. Apply Primer
If your door isn't already primed, you'll need to do so now before applying paint. Use your paintbrush, a roller, or a sprayer to apply a coating to each panel, making sure to get in between each indent and crevice. Wait until the primer is dry before you begin painting.
7. Paint from Top to Bottom
Once you've stirred your paint and prepared your brushes, it's time to apply the first coat. Start from the top right panel and work your way down until you're finished. This could take a couple of hours if your door is larger than a two-car garage.
Paint one panel at a time until you reach the hinges. From there, lift the garage door so you have more room to move and can be more precise with your brush. After applying paint to the edges, you're done.
If your door isn't fully covered by the first coat of paint, wait for it to dry before applying another coat. Keep in mind that an oil-based paint will take much longer to dry than an acrylic latex paint.
Best Metal Garage Door Paint Options
The ideal paint for a garage door will resist fading and peeling while bonding reliably to the metal surface. Oil-based and acrylic latex paints are two options that do this well.
Acrylic Latex Exterior Paint
Acrylic latex exterior paint is the most commonly used paint for metal garage doors. It's simple to maintain, fast to dry, resistant to fading over time, and bonds easily to metal surfaces. It also comes in a variety of finishes such as gloss and satin, which will protect your surface from scrapes and scratches.
Oil-Based Paint
Oil-based paint is more rust- and stain-resistant than acrylic latex varieties, but may yellow or oxidize over time. Since it's more durable, it takes longer to dry, sometimes over a day. Oil-based paints also emit high levels of VOCs, which can negatively impact the environment, your health, and your garage's air quality.
We recommend acrylic latex exterior paint for your garage door, but if durability is your priority, then you may consider using oil-based paint instead.
Choosing a Garage Door Primer
Quality primers will help cover up old stains, bond your paint to your door's surface, and prevent rust and corrosion over time. You can either use water-based primer or oil-based primer.
Water-based primers are easier to clean, dry faster, and release less VOCs than oil-based primers, so they're usually the best choice unless using an oil-based paint.
You can technically mix-and-match primer- and paint-types, but to keep it simple you may want to match oil-based primers with oil-based paints and water-based primers with water-based paints.
Just know that water-based paints shouldn't be applied on a layer of oil-based paint and vice versa. Doing so could lead to cracked and peeling paint.
FAQs
For everything else you need to know about painting your garage door, refer to our FAQs below.
Should I Use a Brush or a Roller to Paint a Metal Door?
Generally, brushes are the better choice to paint the details of a metal door. Rollers can get the job done faster, but you'll likely still need a brush for complete coverage.
What Kind of Paint Do You Use On a Metal Garage Door?
Acrylic latex exterior paint is recommended when painting a garage door. It's non-yellowing, dries fast, and is resistant to fading over time.
How Much Does It Cost to Paint a Garage Door?
The average cost to paint a garage door might fall anywhere from $100 to $600 depending on the size of your garage, its material, and your preferred type of paint.
It's also cheaper to paint the door yourself versus hiring a professional.
What Color Should I Paint My Door?
Neutral colors like white, gray, beige, black, and walnut brown are most commonly used for garage doors. Of course, you can paint your garage door any color you want, but neutral colors complement most home and garage designs.
Final Takeaways
Adding a fresh coat of paint to your garage door can brighten the look of your home and increase its curb appeal. With some occasional maintenance, your new paint job will last years to come.
That said, when you order a metal garage from Alan's Factory Outlet, we will take care of the paint job for you. Simply design your garage according to your ideal colors and dimensions with our 3D customizing tool below.
Get an instant price for your new metal garage.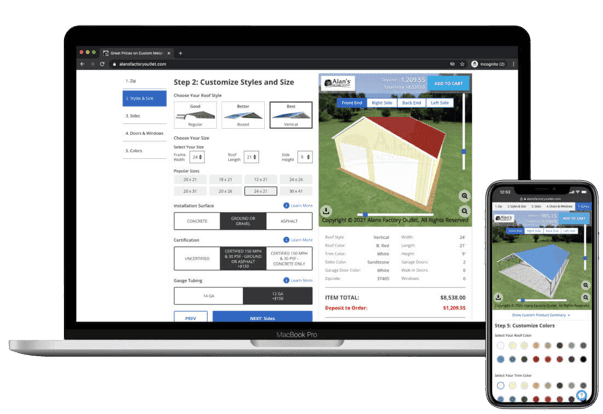 Price and Buy Online with Our 3D Builder Plus Free Shipping and Installation!
Select a size to meet your needs
Choose roof, side, and trim colors
Add garage doors, windows, and walk-in doors
Customize additional options
Customize Now