Looking to expand your garage for another vehicle? Two-car garage dimensions can vary greatly, so it's important to accurately estimate the amount of space you'll need. For most homeowners, the ideal garage accommodates all of their vehicles and provides space for storage items and other activities.
In this guide, we'll examine common two-car garage options and how to ensure you design a garage with ample space.
Standard Two-Car Garage Dimensions
The standard dimensions of a two-car garage are a minimum of 20 feet long by 20 feet wide (20×20). Other standard garage sizes for two cars include 20×22 and 20×24.
Considering the average car size is at least 14 feet long and 6 feet wide, garage dimensions of 24×24 or larger are better for getting two vehicles in and out without risk of scratching your doors, especially if you have a truck or an SUV.
Many people also prefer to use their garage as extra storage space. If you plan to keep yard tools, holiday decorations, and other miscellaneous items in your garage, a 24×30 two-car garage may be a better fit.
Width
While 20 feet is the minimum width required for a two-car garage, it may not be wide enough depending on the sizes of your cars. It's best to have at least 3 feet between the two parked cars, as well as 3 feet between each car and the garage wall so you can open your car doors without hitting the walls. That said, a 24-foot wide garage is a better choice.
Depth
The minimum depth of a two-car garage is also 20 feet. However, a garage at least 24 feet deep provides more flexibility for storage space and items. Always opt for more space than you think you need.
Height
The standard garage ceiling is at least 8 to 9 feet high. However, we recommend a garage height of at least 10 feet. This height allows for more vertical space, small RVs, and flexibility with garage door options.
Doors
The right-sized garage door will avoid scratching and denting your vehicles. Standard two-car garage door dimensions average 16 feet wide and 7 feet high. To estimate the size you'll need, a good rule of thumb is to get a garage door that is at least a foot higher than your tallest vehicle.
While single doors are common for wood garages, when a large door is installed in a metal garage it requires an extra header, which costs extra money. For this reason, it is more affordable to install two separate garage doors (one fore each car) if you're getting a metal garage.
Two-Car Garage Costs
A site-built two-car garage with minimum 20×20 dimensions will cost between $20,000 and $40,000. This price will vary depending on types of materials, customizations, and labor if you hire a contractor.
On the other hand, a prefab two-car garage with 24×25 dimensions starts as low as $8,000 plus the price of a concrete slab. Since metal is much more affordable than traditional lumber, you can save on garage costs by choosing a prefab metal garage instead of building one from scratch. Prices will still vary based on the size and features you choose.
How to Maximize Garage Space
From denting and scratches to hitting other stored items, lack of space in your garage can be more of an inconvenience than you might expect. Below are a few solutions to consider.
Increase Vertical Dimensions
If limited space on your property prevents you from expanding your garage size, consider increasing the height instead. There are plenty of ways to use vertical wall space to your benefit. For example, mounted shelves and storage racks can help reduce items on the floor and make more parking space.
Get Organized
Sometimes the problem isn't a lack of space, but rather a lack of organization. Using the garage to store miscellaneous items can increase clutter over time if not well kept. In addition to overhead storage racks, here a few more ways to take advantage of underused wall space:
Pegboards: From tools to craft supplies, you can hang almost anything on a mounted pegboard.
Cabinets: With cabinets you can keep items stored away from plain sight and organize them into drawers.
Bike racks: Hanging bikes and scooters not only prevents them from being a parking hazard, but also keeps them from getting scuffed while not in use.
Interested in more ideas? Check out our tips for an organized garage.
Opt for a Carport
As an alternative to garages, open-design carports alleviate the constraints of four enclosed walls. This design offers more space to open and exit from car doors.
Additionally, carports are more affordable than garages and can help you save money. Carports can come in handy if you already have an attached garage but need to protect another vehicle.
Which Two-Car Garage Dimensions Are Right for You?
For two large vehicles, we recommend 24×25 garage dimensions, or 600 square feet. If you want storage or work space, a 24×30 garage (720 square feet) is more ideal. Remember, it's better to choose a garage with more space than you think you will need.
If this is your first time purchasing a garage, check out our garage buyer's guide. From planning to building permits, it walks you through everything you need to know about metal garages. Once you're set on your ideal garage, you can use our 3D customizer below to design one with confidence.
Get an instant price for your new carport or metal garage.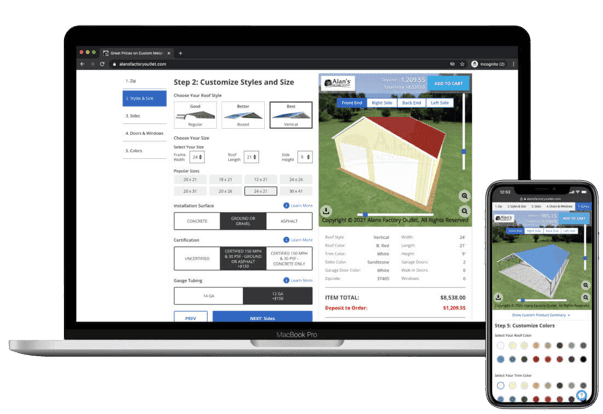 Price and Buy Online with Our 3D Builder Plus Free Shipping and Installation!
Select a size to meet your needs
Choose roof, side, and trim colors
Add garage doors, windows, and walk-in doors
Customize additional options
Customize Now