If your current garage size is too cramped for your vehicles and storage, building a garage extension is an effective way to increase square footage. A garage extension costs around $35–$45 per square foot if you hire a professional contractor for the job.
There are a few different ways you can extend your garage to maximize space, but it's not a home improvement project to jump into without careful planning. This guide will cover everything you should know about extending your garage as well as ideas and answers to common questions.
Garage Extension Costs
Increasing the space by one car size, which is usually 12'x20' or 240 square feet, comes to about $8,400 to $10,800. As with any construction project, you can expect to pay more for additional features and customizations. But since you're adding onto the existing garage structure, you will likely spend less than it would cost to build a new garage.
Below is a helpful breakdown of common cost factors:
Demolition
Most demolition contractors will charge between $25 and $37 per hour for service, but their fees are sometimes negotiable. Demolition may be necessary if you'll be knocking down a wall to increase the width of your garage.
Foundation
Costs will vary depending on the type of foundation you choose. Most garages have a concrete base, which costs about $9–$11 per square foot with labor and supplies. If you're installing a foundation for an additional 240 square feet of space, the total cost will be around $2,160–$2,640.
Framing
Lumber, metal, and concrete are the most common garage framing materials. Including labor, you can expect the framing to cost around $5–$13 per square foot.
Siding
Costs for siding materials will also vary, and many garage designs use mixed material. The most common materials—metal, wood, vinyl, and brick—will cost anywhere from $1 to $15 per square foot.
Roofing
Typical roofing materials, including asphalt shingles, metal sheets, panels, and clay tiles, range from $4 to $24 per square foot. You can expect to pay a bit more if the roof you're extending also needs to be repaired.
Additional Features
In addition to all of the above, here are several common features and customizations for garages, depending on your intended use of the additional space:
Windows: The average cost of a window, including installation, material, and labor, is approximately $600 to $900.
Doors: If you'd like to add another entry door to the garage, installation can range from $620 to $930 including labor and materials.
Garage door: The average garage door cost ranges from $730 to $1,700, where the size, type of door material, and customizations all influence the final price.
Insulation: There are three main types of garage insulation, including double bubble, woven, and spray foam. Prices for these run $1.50–$7.20 per square foot. Insulation helps control the temperature, sound, and moisture levels inside the garage.
Electricity: If you plan to have electricity inside the garage, such as for power tools and heating, installation will cost about $250–$350 per wiring run.
Plumbing: If you plan to use the extra space for a bathroom, washer, and dryer, plumbing for new construction costs about $800–$1,100 per fixture.
Customizations: Upgrading to an automatic garage door costs around $420–$720. Additional features like this help enhance garage security.
Garage Extension Ideas
From creating a storage area to having a functional workspace, the plans for a garage extension are limitless. That said, there are a few ways you can increase the square footage space, and the ideal option for you depends on your needs and budget. Let's explore a few ideas and how to choose one for your property.
Garage Bump-Out
With a garage bump-out, you're basically "bumping out" the wall to increase the total square footage. This option lets you upgrade your space from a one-car to a two-car garage, making room for another parking space and even a fitness area. This will require knocking down some walls to lengthen or widen the garage, so it's better to hire a professional if you're not experienced in construction.
Above Garage Addition
Another option is to build a second floor above the parking area of your garage to use as extra storage or living space. This option requires a bit more planning and preparation than the others. When adding a second story, it's important to first hire an engineer to inspect the garage frame and foundation to ensure they're up to code and able to support the weight.
It's also helpful to hire an architect to create garage designs of the floor addition in advance. Doing so will ensure it's properly scaled and that the choice of materials match or complement your garage and house style.
Carport Addition
Instead of knocking down walls, you can skip that step altogether and just attach a carport to the garage building. You may only need to install an entry door from the carport to the garage for convenience.
A carport addition creates flexible indoor-outdoor parking and storage areas, such as for bikes and lawn equipment, as well as a shaded area for outdoor leisure. Building a carport addition can cost as little as $1,300, which is much cheaper than a garage bump-out or second floor.
Storage Room Add-on
Another budget-friendly option that avoids wall demolition is adding a small, enclosed room attachment on the garage building. Essentially, it'll be an attached shed, and building a shed costs on average $2,500.
You can use this shed storage area to separate general storage items—like holiday decorations, bikes, and lawn and gardening tools—from the parking area. You also have the option of installing an entry door if you want to access the storage room from inside the garage.
Additional Things to Consider
As with any type of home construction, there are a few factors you need to consider before diving into the project.
Intended Use
If you'll be using the extra garage space for leisure, you may also want to invest in interior design elements to make it comfortable. This may include adding cozy furniture and attractive garage flooring finishes.
Property Size
Depending on the size of your property, there may be limitations to the type of garage extension you can do. For example, if there isn't much space between your property and your next door neighbor's property, this can prevent you from widening with a bump-out or carport.
You should also check your local zoning laws to find out how far your garage extension needs to be from the property line. You can partner with an architect for recommendations based on the size and shape of your garage.
Building Permit
You also can't start construction without permission, especially if adding a permanent structure onto a residential property. You will more than likely need a building permit, which often costs around $100–$600. Skipping this important step may cost you a fine of $1,000 or more.
If you're not sure, check the zoning laws in your city or county and local building codes. Typically, you'll also need to provide your local building department with plans for your project.
Hired Labor vs. DIY
Professional labor will cost approximately 50 percent of the total construction project. Unless you're a contractor or have engineering experience, most garage extension projects are too advanced to tackle on your own. You can, however, perform some of the labor yourself, such as pouring the concrete slab and siding the new walls, which can help cut down on labor costs.
Frequently Asked Questions
Is a garage extension worth it?
A garage extension is definitely worth it if it resolves your limited space issues and adds convenience to the property. Many home upgrades, including garage extensions, also help boost the value of a home or property when the homeowner decides to sell.
Does a bump-out need a foundation?
Yes. Since garage bump-outs rest on the ground, you must build them on a solid foundation.
How hard is it to extend a garage?
Building a garage extension is an advanced construction project for someone without engineering and contracting expertise. Just like building a new garage, the process requires a lot of planning and preparation beforehand, as well as building permits. Fortunately, there are more simplistic garage extension options, such as adding on a shed or carport that you may be able to do yourself.
Save Money With a Custom Detached Garage
If extending your garage is too costly or impossible with your current design, a detached garage may be more affordable and convenient. Adding a detached garage creates extra space without construction on the actual home. Best of all, prefab garages and carports are quick to build, saving time, money, and a lot of hassle.
Customize and order your next detached metal garage using our 3D building tool, and we'll deliver and install it for free.
Get an instant price for your new carport or metal garage.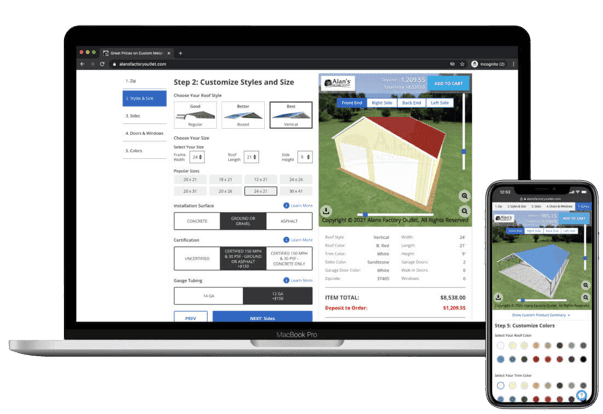 Price and Buy Online with Our 3D Builder Plus Free Shipping and Installation!
Select a size to meet your needs
Choose roof, side, and trim colors
Add garage doors, windows, and walk-in doors
Customize additional options
Customize Now
Sources