Carports can be budget-friendly alternatives to garages while still providing style. They don't have to look boring! With outdoor furniture and carport kits, you can transform a carport into a functional and attractive space. In fact, there are many modern metal carport designs with unique styles that can complement your property and increase the resale value of your house.
If you're considering adding a carport to your home, here are twenty stylish carport ideas—including metal carports with regular roof plans, vertical roof designs, walls, and more—to inspire your next project.
1. Go Sleek and Modern
Modern designs—those that incorporate natural materials, minimalism, and simplicity—are making a comeback in architectural trends. These modern designs are all about simplicity and functionality. Metal carports are a popular choice for those looking to protect their vehicles and other possessions while adding a touch of modernity to their property.
A carport with a sturdy frame made of sleek steel or smooth wood can be a stylish addition to your home. It provides a protective roof for your vehicles and tools, keeping them safe from the elements. A metal carport is also a convenient space to store and organize your belongings, making them easily accessible whenever you need them.
2. Opt for Prefab Metal
If you're looking for a rewarding DIY project, a prefabricated carport is an inexpensive option. It's a great way to get an affordable and easy-to-install roof to shelter your vehicles and other valuables. These cost-effective carports are a great DIY option for homeowners who want to increase their property's value for minimal cost. The roof and frame are manufactured off-site and later delivered to your residence, making the carport easy to assemble. Save money and time by building your own carport with these pre-made structures.
3. Enclose It with a Wall
Is your front yard open to a busy street or neighboring houses? Consider adding a wall or two extending from the roof on your carport to enclose it and create some privacy. You may be able to do these additions yourself. If later you decide to fully convert your carport into a garage, just install a DIY garage door on the side!
4. Install a Gate
Another enclosed carport idea is one with a gate. DIY carport gates add extra security for your vehicles and other belongings. They can also create a trendy look for your carport. Additionally, gates function as stylish garage doors on carports. You can install mechanical sliding gates for your metal carport that open and close automatically when you enter and exit.
5. Choose a Transparent Top
Love the idea of a luxurious skylight for your DIY carport ceiling? You can achieve it with transparent roof panels. Durable polycarbonate panels are a great choice for an open carport as they provide translucent roofing material that allows natural light to enter while also protecting your cars from UV damage. If you're looking to build your own DIY carport, consider using these panels for a durable and functional solution.
6. Construct a Balcony
Balconies make great additions to any home. If you prefer a carport attached to the house, you can team with an architect and contractor to design a functional space on top of it. For example, by expanding the second floor of your home and parking cars beneath it, you'll create a carport balcony that overlooks the yard.
7. Use a Shade Sail
For a beachy or coastal vibe, consider shade sail carports. The best thing about sail fabric is that it is waterproof and designed to withstand strong winds, making it an ideal choice for an open carport. Use them to create a cool and breezy cover for your vehicles and shade for your yard.
8. Install a Retractable Awning
Speaking of yard shade, you can create some with a retractable awning. It's the perfect solution for a transitional outdoor space, becoming both a single-car carport and comfortable lounge area when needed. This DIY carport combines functionality and relaxation seamlessly. You can even install a motorized retractable awning for convenient shade at the push of a button.
9. Make It Multifunctional
There are plenty of creative DIY ways to use a carport that don't involve cars. If you choose a double carport size for two cars, consider reserving one side as a multipurpose space for outdoor leisure.
10. Incorporate Mixed Materials
Who says you can't mix and match? DIY carports made of various materials add texture and engage the eye. You can use visually contrasting materials in your DIY carport structure, such as metal and wood or stone and glass, to make a statement.
11. Embrace the Pergola
The versatility of pergolas make them perfect additions to homes. Whether attached or stand-alone, pergolas shade your outdoor furniture and serve as an architectural accent just about anywhere in the yard. If you have one large enough, you can use it as a stylish pergola for your cars!
12. Go for a Barn Style
Are you a farmer or horse owner? Lean-to carports make excellent barns. Design a carport with a storage area for tractors and farming equipment, providing shade and shelter for livestock.
13. Use Attractive Colors
Gone are the days of the boring aluminum-colored carports. Modern steel carport versions are available in many different colors, which you can select for the carport roof, trim, sides, and even a classy two-tone on horizontal siding. Since all of the colors are directly baked onto the steel carport metal sheets, you don't have to worry about peeling paint.
14. Build a Carport-Garage Hybrid
Maybe you already have a garage but it's not enough space for your vehicles. In this case, consider a hybrid carport structure. Create the best of both worlds by installing an awning or extending the garage roof to create a shade area for additional parking. Or, consider adding a new carport for additional vehicle storage and to provide more covered space for parking in front of or next to your garage. A double carport is a great option to accommodate multiple vehicles.
15. Design a Porte-Cochère Style Carport
If you're up for a home renovation project, you can attach a carport to your house entrance area to create a passageway. This architectural style is known as the "porte-cochère," in which a covered entryway, also called a carport, is large enough for vehicles to drive through and park beneath.
16. Add an Arched Entry
For a luxurious look, design a carport with an arched entryway. Curves and other geometric designs on carport architecture draw the eye and add a sense of elegance to carports.
17. Solar Panel Rooftop
Metal roofs are one of the most compatible materials for solar panels, making them ideal for energy efficient homes with a carport. Installingsolar panels on your carport roof will also spruce up an ordinary design. However, you should always make sure your carport has been designed to carry the weight of solar panels before installing them.
18. Use Creative Columns 
Make your carport stand out by replacing the support beams with attractive columns. Choose different materials like stacked stone or painted aluminum to make your carport the focal point.
19. Grow Lush Greenery
Level up your landscaping by planting climbing plants on and around the carport. It's also a natural way to add privacy to your parked vehicles beneath the carport.
20. Add a Storage Room 
Need extra storage space? If you're building your own carport, you can construct a room or shed within it to store bikes, tools, and accessories.
For more ways to make your carport stand out, check out these customization tips below:
I hope these carport ideas help you get inspired with what's possible for your DIY carport project. Some can be easy to implement, especially when using a carport kit. Before you know it, you can have the perfect carport to complement your property—one that adds shelter and protection for your valued possessions, along with convenience and peace of mind for you. I recommend choosing a durable metal carport for long-lasting use.
Now that you have plenty of inspiring carport ideas, use our 3D Builder below to plan and visualize your project. You can explore different carport customization options, instantly see how the finished carport will look, and receive an estimated carport price to get you started.
Get an instant price for your new carport or metal garage.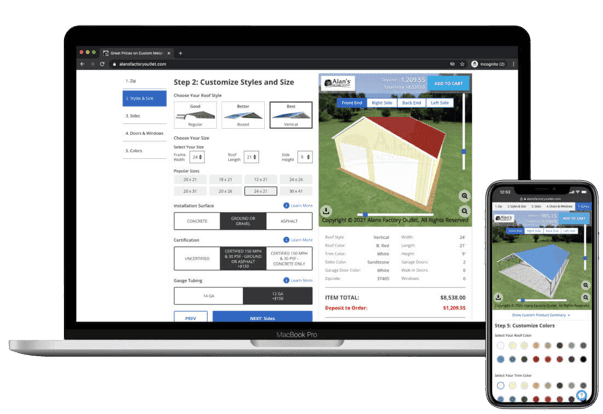 Price and Buy Online with Our 3D Builder Plus Free Shipping and Installation!
Select a size to meet your needs
Choose roof, side, and trim colors
Add garage doors, windows, and walk-in doors
Customize additional options
Customize Now