Here are several carport ideas (with photos) to help you design an inexpensive carport beside or in front of your house.
Idea 1: Consider a Metal Carport
If you're looking for ideas for building an inexpensive carport, metal carports should be at the top of your list. Metal carports are the most cost-effective type of carports available on the market. In many cases, a metal carport will cost less than half the price of a carport built with other materials.
While some of the metal carports of the past were not visually appealing, today, carport manufacturers offer an amazing variety of options for homeowners who want a classy carport for an affordable price.
Idea 2: Chose a Boxed Eave or Vertical-Style Roof
There are three basic roof styles for metal carports.
Traditional Regular Roof
A traditional carport roof is curved at the edges. If you're on a tight budget, this is a great choice because it is the least expensive option. However, these carport roofs probably won't win any beauty contests, so if you want a more contemporary look, I'd recommend a boxed eave or vertical style roof.
Boxed-Eave Roof
A boxed-eave roof will give your carport a nice visual appeal, and it isn't really much more expensive than a traditional-style carport roof. If you might ever sell your home, this roof style will increase the perceived value of your property.
Vertical Roof
A vertical carport roof looks very similar to a boxed-eave roof, but the roof panels run from the crest of the roof to the edges. This style is recommended if you live in an area that gets a lot of snow. Vertical roofs are the strongest type of carport roof, so they can hold a heavier load of snow. The vertical roof panels allow snow to slide off the roof.
Idea 3: Measure Your Vehicles and Your Driveway
As you're collecting ideas for your carport, you'll need to figure out what size of carport will work best for your property and your vehicles. How many vehicles do you plan to park under your carport? How wide is your existing driveway? How much space do you have in front of or at the side of your house?
After you determine how many vehicles you will park under your carport, you should measure your vehicles. Add at least three feet of space between each side of the carport and your vehicle. If you have more than one vehicle, also leave at least three feet of space between your vehicles. This will make parking easier. You will also be able to avoid dings when you open the doors of your vehicles.
Single-Car Carport Sizes
A one-car carport (for a single car, camper, boat, or RV) is typically between 12 and 18 feet wide. A 12-foot carport is sufficient for a single car. The length of metal carports is completely customizable, but most carports will be at least 20 feet long.
Two Car Carport Sizes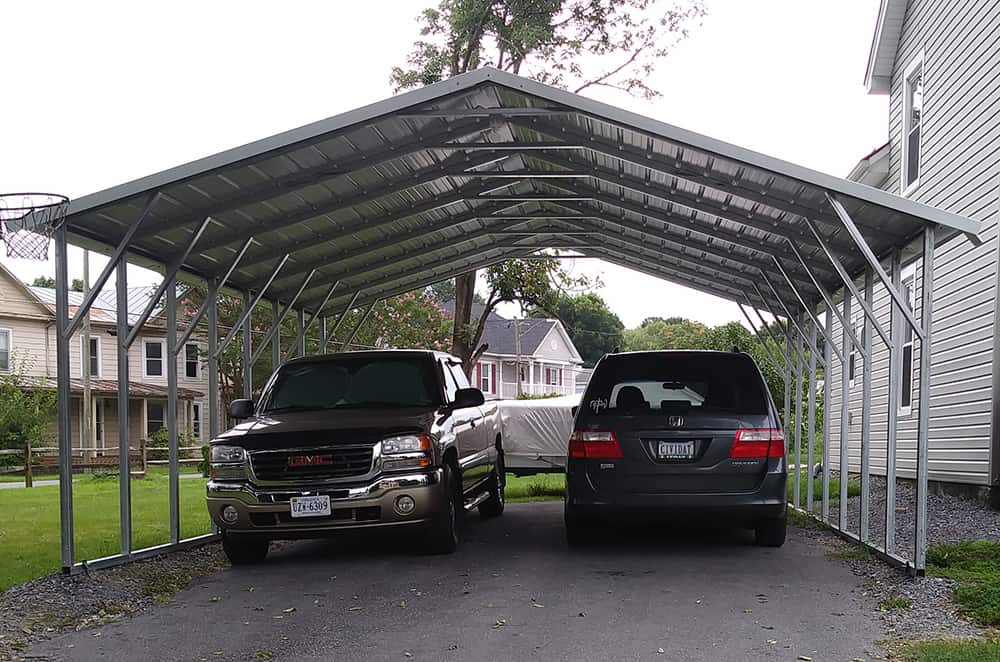 While it is possible to fit two cars in a 20-foot-wide carport, it will be a very tight fit, and your vehicles will probably get dinged up. If you are tight on space, 22 feet is an acceptable width, but 24 feet (or more) would be better.
Three Car Carport Sizes
A three-car carport should be at least 30 feet wide, but 36 feet of space is more advisable.
Another popular option is to go with a narrower carport (24-28 feet wide) but make it longer, so you have enough space to park four cars.
Idea 4: Decide Whether You Want an Open or Closed Carport Design
A closed carport design offers several advantages to an open design.
Carports with closed sides provide better protection from sun, rain, and wind.
Because of the extra material used in construction, they are stronger than open carports.
A closed carport with nicely-colored sides may look nicer on your property.
Another option is to fully enclose your carport, turning it into a garage.
Idea 5: Use Attractive Colors
Gone are the days of ugly aluminum-colored carports. Modern steel carports are available in every imaginable color. For example, here at Alan's Factory Direct, we offer you a choice of 16 different colors. You can select different colors for the roof, trim, and sides—and you can even select a classy two-tone design on horizontal siding at no additional cost.
All of the colors are directly baked onto the steel metal sheets so you don't need to worry about peeling paint.
Idea 6: Use a 3D Carport Builder to Design Your Carport
Here is my best idea of all: Use this 3D Carport Builder to plan and visualize your carport. Using a 3D designer takes a lot of guesswork out of the carport planning process. You can explore different options and instantly see what your finished carport will look like. This 3D carport builder also instantly gives you a price for the options you select.
Like other drawing tools, the designer is easier to use on a desktop or a laptop than a phone, but if you don't mind scrolling up and down a bit, it works great on a phone too.
If you're looking for ideas for an inexpensive metal carport, the 3D carport designer is the tool for you.
About the Author
Alan Bernau Jr. has helped more than 50,000 homeowners design and install custom carports and garages. If you need a custom carport, and you live in the eastern half of the United States, Alan's Factory Outlet is here to help.