A solar carport is a parking space canopy with solar panels fixed to the top. Since this type of structure covers your vehicles and parking area, it functions just like a typical carport. The key difference is that it has panels installed on top that capture solar energy for use.
Both commercial and residential solar carports are increasingly popular, especially now that electric cars and cleaner energy methods are more in demand. While solar carports have many advantages, there are also a few factors to consider before purchasing one.
Read on to learn more about solar carports and if investing in one is right for you.
How Do They Work?
Just like a rooftop solar panel, a solar carport harnesses power from the sun and converts it into energy. You can use that energy as an emergency backup during power outages or to create a charging station for your electric vehicle (EV).
Cost
Installing solar panels on a pre-built carport costs about $9,000–$18,000 for a typical 3kW to 6kW system size.1 Solar panel cost will vary depending on:
The type of solar panels
The amount of space and power you use
Professional installation costs
Your location
Full construction of a solar carport can cost around $19,000–$32,000 when factoring in the cost of permits, building materials, and labor.
While solar carports can be an expensive home addition, you can save money by building the carport structure yourself and having a professional install the panels. Solar technology also qualifies for certain tax credits, which can help you save money.2
Are They Worth It? Pros and Cons to Consider
Using an alternative energy source is one of many advantages to having a solar carport. That said, solar panels still may not be for you. Here are a few pros and cons to consider.
Pros
Lower energy bills: Since solar carports supply energy from the sun, you'll be using less electricity from the power grid, which can significantly reduce your bill. It's also cheaper to charge EVs with solar power, since power grids charge kilowatts by the hour.
Reduces carbon footprint: Traditional power grids emit greenhouse gasses that are harmful pollutants to the atmosphere. Solar power, on the other hand, is a renewable energy source and therefore an eco-friendly alternative.3
Tax credits: The U.S. government's Residential Clean Energy Credit allows you to claim a percentage of the solar panels cost to receive a dollar-for-dollar reduction.4
Vehicle protection: Solar carports function as any carport or canopy cover, providing shade and protection for your car and other vehicles.
Convenience: Solar carports are easier to maintain than rooftop panels. They also come in handy if the roof of your home isn't suitable for solar panel installation.
Cons
High upfront costs: Though they can help save money in the long run, complete construction and installation of a solar carport can cost as much as $32,000.
Difficult installation: Like other electric sources, wiring for solar carports can be challenging and hazardous if not properly installed by a professional.
Location limitations: Solar panels must be installed at specific angles to get enough sunlight. This may not provide enough shade or protection for your vehicle depending on where you live or the position of your property.
Frequently Asked Questions
Is a DIY solar carport cheaper?
Building the carport structure yourself can help cut overall costs. However, having a professional install the solar panels is best. The panels require electrical work, which can be dangerous if you're not skilled with handling wiring.
A professional solar installer will ensure the panel system is attached safely and correctly and also offer a warranty, which can save you time and money in the long term.
How much power does a solar carport produce?
Domestic solar carports can generate enough power to cover 88% of your electricity bill. Larger commercial carports, on the other hand, can produce enough to power a stadium.5
What's the difference between solar carports and ground-mounted solar systems?
Ground-mounted solar panels are essentially the same as solar carports, just without the carport feature. Both options have more positioning angles than rooftop panels, serving as flexible alternatives.
Customize Your Next Carport Addition
Save time and money on carport construction by using our prefabricated metal carports. Not only are they durable and faster to assemble, but our team will also install them for you for free. Use our 3D tool below to easily customize your carport roof style to your liking.*
Get an instant price for your new carport or metal garage.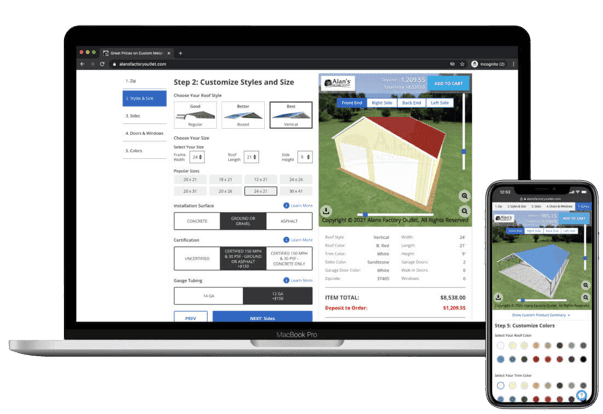 Price and Buy Online with Our 3D Builder Plus Free Shipping and Installation!
Select a size to meet your needs
Choose roof, side, and trim colors
Add garage doors, windows, and walk-in doors
Customize additional options
Customize Now
* Alan's Factory Outlet carports are not designed for solar panel installation. Alterations and additions to the structure would be at the customer's discretion.
Sources
Hyder, Zeeshan. "Are Solar Canopies and Carports Worth It?" Solar Reviews, February 10, 2022. https://www.solarreviews.com/blog/are-solar-canopies-worth-it.
SEIA. "What Rebates and Incentives Are Available for Solar Energy? | SEIA," n.d. https://www.seia.org/initiatives/what-rebates-and-incentives-are-available-solar-energy.
Energy.gov. "Solar Energy, Wildlife, and the Environment," n.d. https://www.energy.gov/eere/solar/solar-energy-wildlife-and-environment.
Energy.gov. "Homeowner's Guide to the Federal Tax Credit for Solar Photovoltaics," n.d. https://www.energy.gov/eere/solar/homeowners-guide-federal-tax-credit-solar-photovoltaics.
Metaye, Romain. "Solar Carports (Everything You Need to Know)." Climatebiz, May 24, 2022. https://climatebiz.com/solar-carports/.