When you need to protect your vehicle from the elements, your best bet is to invest in a garage or carport. While everyone has heard of a garage, you might be asking yourself: What is a carport?
A carport is an open-ended shelter for vehicles that typically takes up less space, is quicker to install, and costs less to build than a garage.
To help you decide if a carport is right for you, we'll walk you through all the features, benefits, and the different types available.
Features
Carports are used to shelter vehicles such as cars, boats, trucks, and RVs. They can be built attached to homes, though they're usually standalone structures. Carports might have two side walls or none at all.
Some of the benefits of a carport include:
Vehicle protection: protects RVs, cars, and other vehicles against rain, hail, UV rays, heavy wind, and snow
Multipurpose Use: can double as a shady relaxation space during hot summers
Portable: many fabric carports are easy to fold and set up anywhere
Customizable: come in a variety of colors and styles to fit your needs and match your home
Cost-Effective: significantly less expensive than building a garage
Carports can also be used as a storage space or a cover for a patio area. For more security, you can upgrade your carport with a garage door.
Styles
Carports come in all shapes and sizes. Here are some examples of the different carport styles you can build.
Open-Sided
Open-sided, or regular-style carports, have no walls, only a frame and a roof. This means your vehicles will be protected from rain, hail, and sun, but not extreme winds or storms. The main benefit of an open-sided carport is its affordability and quick installation time compared to those with extra walls.
Attached
While most carports are standalone structures separate from any other building, attached carports are connected to your home. This increases convenience of access and can discourage burglars since your car will naturally be under closer supervision.
Flat Roofs
Flat roof carports are inexpensive and easy to install with a versatile design that complements most houses. However, the biggest downside is that the flat roof makes your carport more susceptible to the buildup of water and debris, which can increase maintenance requirements.
Vertical Roofs
Vertical roof carports feature roofs with a triangular design, which allows for rain and snow to slide right off. This roof type makes for a better winter carport than a flat roof carport. That said, vertical roofs are more expensive to build than flat roofs.
Material Types
Before you invest in a carport, it's important to understand the pros and cons of each building material.
Metal is your best bet for a long-lasting carport requiring minimal maintenance. But if you're looking to save on upfront costs, fabric carports might be a better choice.
We break down each carport material and its pros and cons below.
Metal
Pros:
Most durable
Little maintenance needed
Resistant to most elements
Cons:
More expensive than fabric carports
Metal carports are the most common and durable type of carport. They can protect from harsher weather conditions than fabric versions, but are more expensive. That said, steel carports make up for upfront costs with low maintenance requirements over time.
Timber
Pros:
Medium durability
Timeless design
Cons:
Most expensive carport type
Susceptible to rot and pests
The main benefit of a wooden carport is its attractive look. While not quite as durable as metal, timber does a solid job protecting your vehicles from rain and snow.
Wooden carports are the most expensive type. You'll also need to practice regular upkeep to protect your wooden frame from rot, termites, and temperature expansion.
Fabric
Pros:
Often portable
Least expensive
Cons:
Least durable
Weak against snow and extreme winds
Fabric carports aren't as durable as metal or timber options, but are more affordable and lightweight. They're also often portable, meaning you can bring them on vacation for picnics or when you go camping. Since they're less durable, fabric versions fare better in locations that don't experience snow or extreme winds.
Carports and Home Value
While some carports likely won't increase the value of your home, a high-quality carport with a modern design can increase curb appeal to potential buyers. Just make sure your carport makes functional sense for your property and is well maintained.
If your carport is worn out, rusted, or doesn't match the style of your home, it could instead be perceived as a burden for buyers. Keep this in mind if you're investing in one to increase your home value.
Is a Carport Better Than a Garage?
Which is best: a garage or a carport? It depends on what you're looking for.
If you're looking for an affordable option that will protect your car from most elements, a carport could be the answer. If you're willing to invest more money for better storage and security, a garage could be the best fit for your property.
A carport could be the right choice for you if you prioritize:
Fast installation: Since carports are simpler structures with natural ventilation and open walls, installation is easier and quicker than with a garage.
Energy efficiency: Carports are also more energy-efficient than garages since they don't feature electric door openers or lights.
Affordability: Carports are a more affordable garage alternative that are simpler to construct and require fewer materials.
That said, a garage could be the best choice if you're looking for:
Security: Garages generally do a better job of protecting your vehicle from the elements and intruders since they provide an enclosed space with four walls.
Storage potential: With garages, you can install shelves, hooks, and more to increase its storage capacity.
Alternative uses: Garages are easier to transform into recreational areas or workshops since they have outlets and walls to protect from all kinds of weather.
For more information on the pros, cons, and differences between the two structures, check out our full guide on carports vs. garages.
Choosing the Best Option for You
Carports can protect your vehicles, provide shade for outdoor hangouts, or serve as a storage space. Their fast installation, affordability, and energy efficiency sometimes makes them the preferred choice for homeowners over a garage. To design the perfect metal carport for your home, use our 3D metal building customizer below.
Get an instant price for your new carport or metal garage.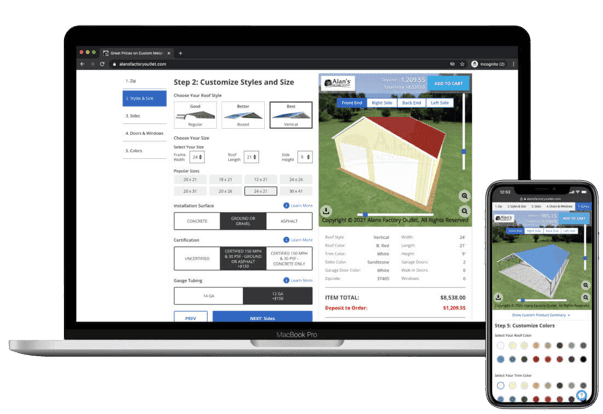 Price and Buy Online with Our 3D Builder Plus Free Shipping and Installation!
Select a size to meet your needs
Choose roof, side, and trim colors
Add garage doors, windows, and walk-in doors
Customize additional options
Customize Now