For many people, snow is one of the most magical parts of winter. While it looks pretty, the downside of snow is the risk of damage to your property. Fortunately, carports can help shelter your vehicles during a snowy winter.
While there are plenty of cool carport designs, the key is choosing the right style that can bear the load of snow piles. Read on to learn what to look for in a winter carport as well as a few extra steps you can take to ensure your vehicle is protected from snow.
How to Choose a Winter Carport
When it comes to snow, not all carports are built the same. Some aren't designed to bear snow loads or even withstand ice. Here are a few factors to consider while weighing your options.
Compare materials
You'll need a carport that can handle harsh weather conditions, such as freezing temperatures and heavy snowfall. The most common carports are made of either wood or metal.
Between the two, metal is the most durable material. Unlike wood, metal doesn't rot, which can result from exposure to moisture in snow and ice. Metal is also resistant to insects, which typically hide in wood during colder seasons. If you want a strong and long-lasting carport for snow, choose one made of metal.
Understand snow load certifications
If you live in an area that typically experiences heavy snow and cold weather, it's important to ask if the carport is snow load certified.
Structures that are certified for snow load confirm they're professional designed to withstand a specific snow snow load. For example, some carport structures are certified for a ground snow load of 50 PSF (pounds per square foot). These carports can hold up under a considerable load of snow during rough winter weather.
Depending on the average snow load in your area, you can find a carport best suited for your local weather. You can contact your local building department to learn about local structural design codes for snow loads and wind speeds.
Consider the size
Think about the size of the carport and vehicles you plan to park beneath it. Your vehicles will have better protection from snow with carports that are several feet longer and wider than your vehicles. A short carport also provides better protection than a tall carport. If you get a tall RV carport, consider adding side panels for additional protection.
Look for durable features
Finally, after you have an idea of the size and ratings, here are a few important features to keep in mind so you get the best bang for your buck.
Roof angle and style: Get a carport with a sloped roof style that allow snow and ice to slide off and prevent buildup.
Quality: Find a carport made of galvanized steel—a stronger metal with rust-resistant coating and at least a 25-year life span.
Anchoring: Make sure your carport of choice has the right anchors to secure properly to your foundation. 
Design: Consider carports designed with partial or full side panels, which can provide extra protection against winter weather.
5 Tips for Winterizing Your Carport
After you find the perfect carport for snow, it's important to maintain it throughout the season. The following tips will help you keep your winter carport in tip-top shape.
1. Clear the roof often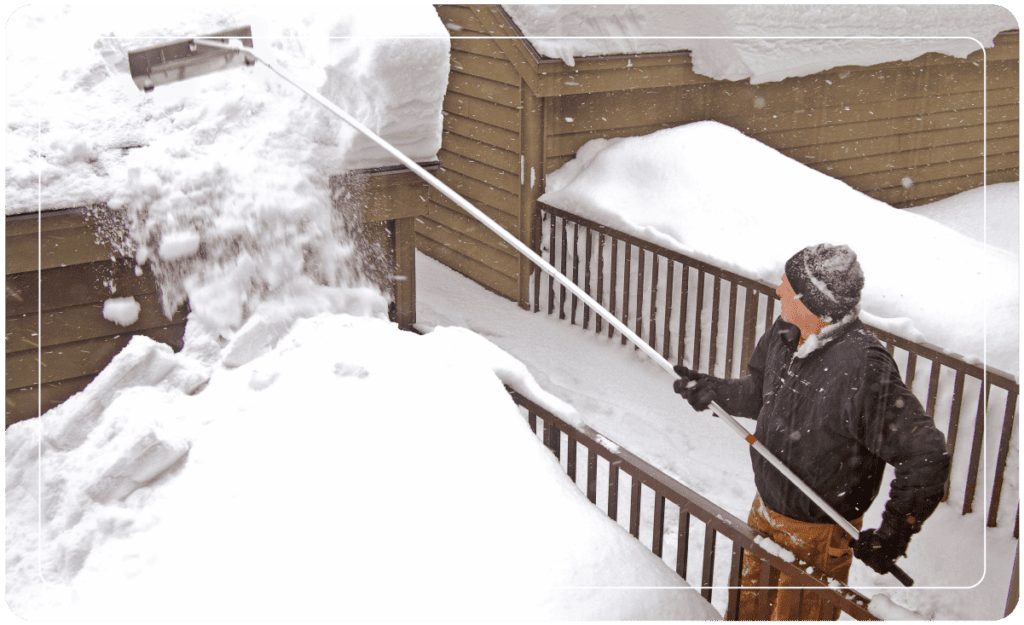 When you let too much snow accumulate on the carport roof, it starts to weigh down the structure and creates extra stress on the posts. Ice also expands and contracts when it melts and freezes, which can damage the roof.
If your carport has a flat roof, remove snow and ice as soon as possible. Doing so not only keeps the carport roof in good condition, but also saves you time and energy from clearing off heavier snow later.
Here are two types of snow-clearing tools that'll help you get the job done:
Roof rakes: These rakes have long poles and wide heads to remove snow and debris from roofs.
Push broom: If you don't have a roof rake, a regular household push broom can do the trick. You may not clear the roof completely, but it can still help remove a lot of loose snow and ice.
Since you'll need a ladder to reach the top of the carport, it's best to ask someone else to help hold it steady. Also make sure you wear shoes with good traction to keep from slipping.
2. Reinforce your carport structure
Frame reinforcement is especially important if you assembled the carport yourself or went the DIY route. Always make sure the frame is solid, checking for any parts that are corroded or bent. You can take it a step further by anchoring the carport to the foundation using nails or ground rods. This will create extra stability and wind resistance.
3. Add a temporary enclosure
Even though carports aren't fully enclosed like garages, you can add a temporary cover during winter months. For example, there are canopy kits, tarps, and custom fabrics designed to fit over carport structures as wall barriers. If you have a solar carport, it's especially important to cover it during winter months to avoid damage. You can find temporary carport enclosures that are both water-resistant and snow-certified.
4. Clean the gutters
If your carport has gutters or drain channels, you'll want to keep them as clear as possible, especially during winter. If not, debris can build up in the gutters over time and create a blockage. Cleaning gutters periodically will allow water from melted ice and snow to run back into the ground.
5. Install a garage door
For a permanent solution, you can enclose your carport with a garage door or gate. Not only will this give your vehicles extra protection from snow, but also creates extra security from theft.
This type of addition, however, may require a building permit. Before adding or installing anything, be sure to first check with your local jurisdiction and HOA rules.
Design a Custom Snow-Proof Car Shelter
If you haven't been able to find the winter carport you need, why not design your own custom carport? Our durable steel carports come in a wide range of styles and sizes for cars, RVs, tractors, and more.
Use our 3D customizing tool below to get started.
Get an instant price for your new carport or metal garage.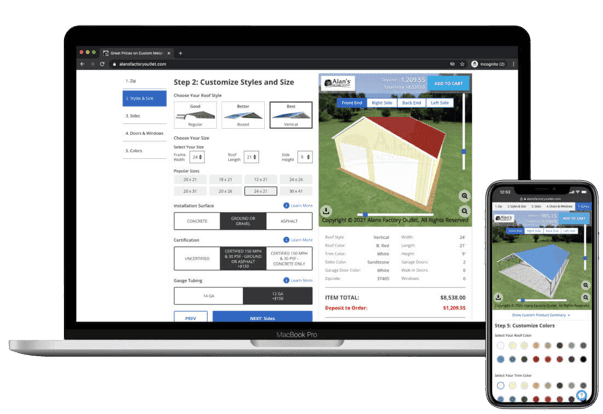 Price and Buy Online with Our 3D Builder Plus Free Shipping and Installation!
Select a size to meet your needs
Choose roof, side, and trim colors
Add garage doors, windows, and walk-in doors
Customize additional options
Customize Now