After purchasing or building a carport, you may wonder how to keep it secured to the ground. The answer: carport anchors. Anchoring carports will properly secure and stabilize the structure during strong winds and weather.
Keep reading to learn about the different types of carport anchors and how to choose the correct one for your needs.
Types of Carport Anchors
Not just any anchor will do. You need the right type of carport anchor for your carport's stability and defense against harsh weather conditions. Even top-rated carports must be properly secured to the ground or foundation. Below are the most common anchors you'll use.
Concrete Anchor
A concrete foundation is a strong and stable surface for installing carport on. However, if your carport isn't attached to the foundation, it could blow away. This is why concrete anchors are effective.
To properly secure your carport with concrete anchors, the process requires drilling holes into and through the concrete slab. Slide or drive the concrete anchor into the hole and tighten the nut to create a firm hold. The size and thickness of the concrete slab will help determine the correct size of concrete anchor needed for the project.
Auger Anchor
Auger anchors, also called earth anchors or mobile-home anchors, are the most common for carports that are placed on a gravel or dirt foundation. They're good to use in various hard and soft soil types and are relatively easy to install.
The auger anchor usually consists of steel and has a spiral ending or corkscrew-like threads that you twist into the ground by hand. You can also twist them with machinery to save time and energy. Sizes for the auger anchor will vary depending on the size and weight of your structure.
To use auger anchors, you'll need to twist them deep into the dirt so that they firmly latch onto the soil. However, the ground surface must be level. Auger anchors are good for carport installation without a foundation, and you can use them in windy areas without affecting the carport structure's stability.
Rebar Anchor
Rebar anchors, also known as "pin" anchors, are a cheap and easy way to tie down carports on foundations such as clay and gravel. This carport anchor style is not as strong as other types and is best for installation in areas with mild winds.
A standard rebar anchor is about 36 inches and can be driven deep into gravel, dirt, grass, and other natural surfaces. To install your carport with rebar anchors, hammer them through pre-drilled holes in the carport's base rails and on into the ground.
Asphalt Anchor
Last are asphalt anchors, which by their name, are ideal for asphalt foundations. Asphalt is much softer than concrete, so don't use concrete anchors. Concrete anchors will pull out of an asphalt foundation. Asphalt anchors are much longer and have spikes or spiral threads that help them stay put once installed.
Some asphalt anchors must be driven into the asphalt and attached to the base rails of your carport. Others must be inserted through holes in the base rail down into oversized holes in the asphalt beneath. The holes must be filled with gout that will harden and keep the anchors in place.
Choosing a Carport Anchor Right for You
Using the correct type of anchor is important for your carport's stability, especially in the case of storms and other harsh weather conditions. For example, concrete anchors can expand when fastened. If you were to use them in asphalt, they would easily crack the foundation and slip out.
Below are a few other considerations to keep in mind when choosing carport anchors to ensure you have the correct kind for your project.
1. Soil/Foundation Type
The type of foundation you choose will determine which type of carport anchor you need. If you're not using a foundation, consider the soil type in your area. For example, soft or sandy soil may require stronger anchors like ground screws, while rebar anchors might work well enough in hard soil.
2. Type of Carport
The roof style and design customizations affect the size and weight of the structure, so it's important to know what type of carport you're working with. Larger/heavier carports may need larger, stronger anchors for stability.
3. Weather Conditions
If you live in an area prone to high winds, storms, or heavy snow, you'll want to prioritize stronger anchors like concrete and auger anchors. Enclosing your carport can also help with resistance against weather conditions.
4. Installation Difficulty
Consider your comfort level with anchoring a carport. Some anchors require specialized equipment and skills, while you can install others by hand.
5. Local Regulations
Be sure to check local building codes and regulations before anchoring your carport. Some regions and areas have specific requirements for how carports can be anchored.
6. Budget
Keep in mind that different carport anchors have varying costs. Choose an option that fits your budget while still meeting your stability and durability needs.
Also, some carport kits and models come with the manufacturer's instructions and guidelines and may recommend certain carport anchors over others.
Durable Metal Carports with Free Installation
If choosing anchors and installing a carport by yourself is too much of a hassle or time-consuming, take advantage of our free delivery and installation service here at Alan's Factory Outlet.
Use our customizing tool below to design and order your next metal carport today and get the right type of anchors included free with your order.
Get an instant price for your new carport.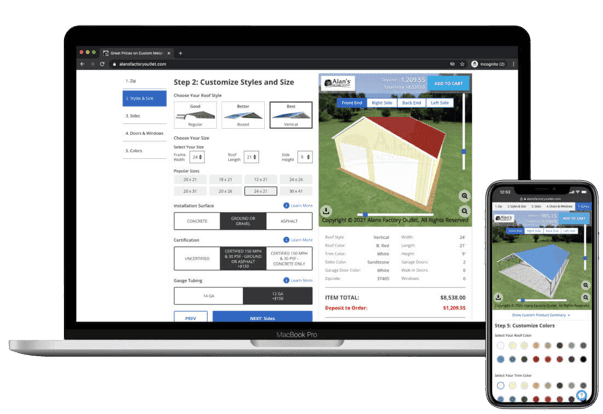 Price and Buy Online with Our 3D Builder Plus Free Shipping and Installation!
Select a size to meet your needs
Choose roof, side, and trim colors
Add garage doors, windows, and walk-in doors
Customize additional options
Customize Now