If you don't have a garage, carports are an affordable alternative to protect your vehicle. As freestanding covered structures, carports offer the convenience of shade and ventilation while also sheltering your vehicle from sun exposure, rain, debris, and other elements.
Whether you're looking for a permanent structure or portable options, there's a variety of carport styles to meet your needs. From durable steel structures to foldable canopies, we compared dozens of different options to discover the best carports on the market.
In this guide, we'll review our top nine picks and how each carport model stands out from other products.
As prefabricated structures, Alan's Factory Outlet carports are professionally assembled and installed much quicker than site-built carports. Made of durable steel, our carports stand well against harsh temperatures and weather elements.
Our products are fully customizable, where you can choose from a variety of colors and sizes, as well as options to add a garage door, enclosed walls, and more. Buying a carport from Alan's Factory Outlet is ideal for people looking for a quick yet permanent solution to protect their vehicles without sacrificing quality.
Standout Factor: Unlike other manufacturers, we offer free delivery and installation for all our products, saving both time and money for our customers.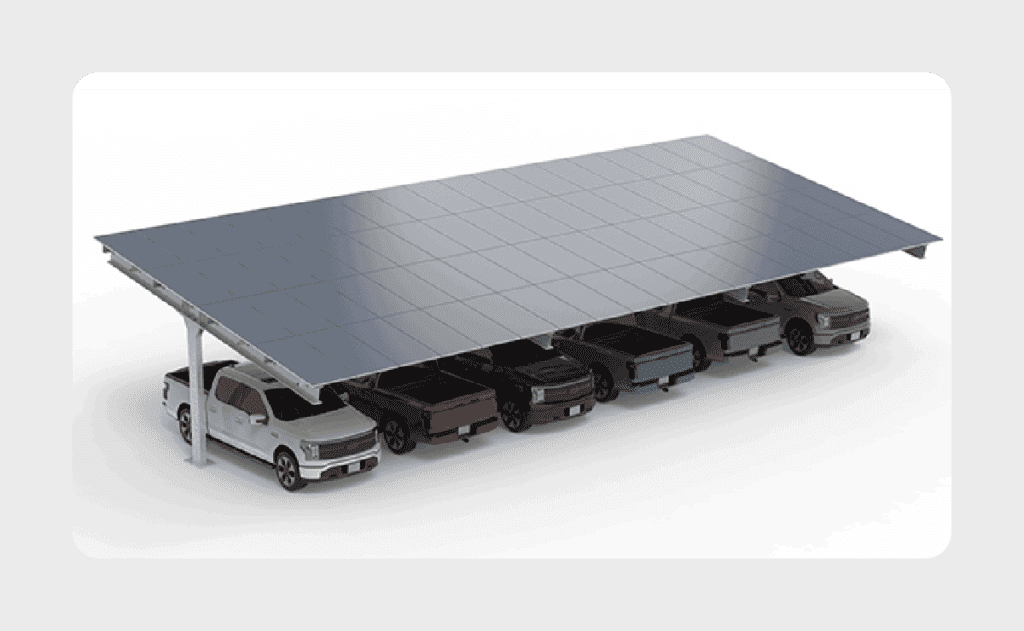 If you own an electric vehicle, having a solar carport that can also serve as a charging station can come in handy.
Preformed Line Products (PLP) specializes in commercial and residential solar systems, and their ground-mount systems come with adjustable clearance. This allows the structure to function as a carport that provides protection for vehicles parked beneath it.
We like this carport style because it's simple and quick to assemble thanks to a design that comes with pre-drilled galvanized steel parts. The modules also share clamps, meaning they have fewer pieces than most typical carports. The extensions are adjustable to fit almost any installation site, such as a sloped or uneven landscape.
Standout Factor: One thing that makes PLP's carports unique from other solar carport brands is that they offer a certified installer program. This program guides clients to a network of certified installers who can provide professional installation and maintenance when needed.
Pros:
Certified installer program
Customizable with three tilt options
Designs for single and double parking spaces
Maximum 15-foot clearance (can accommodate RVs)
Cons:
More expensive than non-solar carports
Simplistic and easy to build, FDW's outdoor tent offers the convenience of covered parking as well as shade for grilling, parties, and other outdoor activities. It has a durable tarp cover pulled tight by bungee cords for a tight, sleek look. It's pulled on a sloped frame, preventing snow accumulation as well as protection from sun, rain, and debris.
This carport also includes an anchor kit to install it to a concrete or asphalt foundation, where you can add extra bolts to secure it. Upkeep is important, where a few reviewers mentioned needing to replace the product after a few months. Fortunately, customers can take advantage of Amazon protection plans.
Standout Factor: The price for FDW's carport is only $115, which is unbeatable for a quick and easy carport solution.
King Bird tops our list for having all the qualities customers look for in a winter carport. The Heavy Duty carport is made of an extremely durable tarp attached to a rust-resistant steel frame. Its design also has a high-peak roof style, which prevents snow buildup.
As for the structure itself, King Bird's carport comes with 5 support legs on each side (more than those on standard carports) as well as reinforced top and ground bars, improving wind and snow resistance.
Standout Factor: It has a unique trapezoidal structure with a three-zipper door design that helps increase the door size. This makes it suitable for boats and other large vehicles you may need to store for winter.
Pros:
Suitable for various vehicle sizes, including boats
Durable, tear-proof fabric
Waterproof and UV-resistant
Durable and sturdy
Easy to assemble (with two or more people)
Cons:
Sizes only for single-car parking
Kit doesn't include fastening tools
For those who prefer a DIY carport, HCY's model is designed with ease in mind. The tent can be used as a carport or for camping, parties, and other outdoor activities. Its clearance also covers most vehicle sizes, including SUVs and boats. The simplistic structure makes it very easy to set up and disassemble when needed.
Standout Factor: Its triple-layer fabric tarp is waterproof and also provides UV protection. Paired with a rust-resistant steel frame, this style is a bit more durable than typical collapsible tents.
Pros:
Durable and sturdy
UV-resistant and waterproof
Easy to assemble, basic setup
Multipurpose use
Cons:
One style, no color variety
Not good for strong winds/weather conditions
Only for single-car parking
While most fabric carports come as is, Gardesol's carport canopy offers some customizable features. The doors and sidewalls are removable, so you can change its look for parking as well as any outdoor occasion.
The canopy has a durable fabric that is both water- and UV-resistant, making it good for year-around use. Setup is also pretty simple, as there aren't any additional tools needed for assembly.
Standout Factor: The Gardesol carport canopy's rollup mesh windows allow for ventilation. This is especially advantageous for vehicles during rainy seasons, helping to prevent mold.
Pros:
Customizable
Durable
Multipurpose use
Water-resistant, UV protection
Quick and easy setup
Cons:
One size and color
Not ideal for longer cars/RVs
Not good for strong wind
Backyard Discovery's model isn't necessarily a carport, but rather a modern gazebo design. The benefit of this style, however, is that it has a versatile appearance and function, so you can use it for parking cars, outdoor dining, and other leisure activities.
This structure has a corrosion-resistant steel roof that's able to withstand up to 7,800 pounds and 100 mph wind speed. The roof is also thermal insulated, which can reduce heat up to 20 degrees, helping cool the area beneath.
While carports made of wood material can be susceptible to water and insect damage, the posts of this particular product are cedar wood, which are naturally insect- and humidity-resistant.
Standout Factor: The structure is designed with a convenient powerport feature to connect outdoor appliances for grilling, charging phones, and more.
Pros:
Certified durability and wind resistance
Heat-reducing technology
Powerport features
Available in multiple sizes
Cons:
Complex assembly process
Wood is susceptible to fire damage
For some homeowners, an attached carport is a more convenient option. Palram's carport canopy fits this preference. Unlike a typical awning made of fabric, this product is made of polycarbonate roof panels and heavy-duty aluminum posts.
This carport style is multifunctional—you can attach it to the back of your home as a patio cover or the side of your home as a carport. It also has custom fitting capabilities, so you can adjust it to match your patio's dimensions.
One drawback, however, is that it is only 10 feet wide. This is a tight fit for a standard-sized car, but can be ideal for smaller vehicles like motorcycles, ATVs, and riding lawn mowers.
Standout Factor: Despite its smaller size, this product is very durable. The roof panels have anti-moisture UV-blocking properties. It's also fairly resistant to weather, with a snow load of 35 lbs/ft2 and wind resistance of 75 mph.
Pros:
Ready to assemble; easy DIY for two people
Modern design
Sturdy and durable
UV and weather protection
Cons:
Step-by-step instructions aren't clear (per reviews)
Reports of delivery damage from shipment (dents, scratches, missing parts, etc.)
Last but not least on our best carports list is the Purple Leaf Aluminum Pergola. It has a sleek, modern design that functions as a large awning for deck and poolside shade, and as a carport for parking. Its coated aluminum frame is rust-resistant, making it ideal for year-round use.
As for its design, the pergola has a hidden built-in gutter system along the roof, helping avoid water accumulation on the roof. One thing to keep in mind, however, is that Purple Leaf recommends at least four people to assemble this model. For this reason, we don't consider it an easy DIY option.
Standout Factor: The design has an adjustable, louvered roof which gives you shade control. This feature is handy when using it for outdoor activities, since the sunlight direction changes periodically throughout the day.
Pros:
Available in multiple sizes
Water-resistant
Adjustable roof
Cons:
No installation service from manufacturer
Not suitable for extreme weather conditions
How We Chose Top Picks
To narrow down our list to the nine best carports, we analyzed each product using the following criteria: key features, materials, ease of assembly, and customer reviews.
Key features: We looked at what a particular carport model had in comparison to other products of a similar size and style, such as an adjustable roof and certified durability.
Materials: While we prioritize durability, carports made of sturdy materials or that provided UV protection and water resistance were a plus.
Ease of assembly: We compared the price and durability of each carport to the labor needed for proper installation. In cases where products were difficult to build, we chose those that offered professional assistance.
Customer reviews: Lastly, we looked at what current customers of each product had to say about their experience. We took into account both positive and negative reviews to provide the most accurate description and expectation.
When choosing a carport, these four elements can help you make a decision about which model is right for you.
Things to Consider When Choosing a Carport
While there is a wide range of carport styles and options to choose from, the most important thing to consider is what best fits your needs. Do you plan to use your carport for more than parking? Does it need to be portable? Here are a few factors to think about to make sure you choose the right one.
Size
You'll want to make sure the carport is large and wide enough for the type of vehicles it will cover. For example, if you're covering an RV or truck, you will need more clearance than for a standard size car.
Assembly
How skilled are you with assembling parts? While many carport kits and DIY prefab structures are hassle-free, more advanced carport styles typically have more complex instructions and require assistance. This doesn't include the installation process, where anchoring your carport to the foundation is an extra, advanced step.
Some distributors offer carports that are easy to assemble, and some distributors offer free installation for more complex designs. Both options are something to consider if you're hesitant to set a carport up on your own.
Style
Consider a design that best suits the needs of your vehicle. For example, only certain roof styles can accommodate the height of SUVs, trucks, and other large vehicles. And depending on how you plan to use the carport, styles that offer enclosed sides, a garage door, and storage room additions may come in handy.
Budget
Think about how much you're willing to pay for your new carport. The cost of a standard size metal carport ranges from $1,300–$5,000. Size and type of material can impact the cost.
Carports with unique design features, such as temperature control and adjustable roofs, will also likely have higher prices. That said, it's usually worth the investment to have a carport that offers better quality and protection.
Location
Last but not least, there may be local building regulations and zoning rules for installing new structures, depending on where you live. You'll most likely need a building permit if your carport is permanently anchored to the ground and larger than a certain size.
Additionally, certain carport materials may not hold up well in your region's climate. For example, if your area is prone to hurricanes and snowstorms, fabric and wood-based carports aren't ideal. Be sure to check the wind and snow ratings of the product if not specified by your local building laws.
Frequently Asked Questions
What is the best material for carports
Steel is one the most durable building materials for carports and has a high strength-to-weight ratio. Steel is also both fire- and rot-resistant, withstanding hazards and preventing insect infestation.
How much can I expect to spend on a carport?
A metal carport can cost between $1,300 and $5,000, depending on the style, size, and customizations. There are DIY kits and portable fabric carports available at much cheaper prices, but they generally lack quality and are meant to serve as temporary solutions.
What is an ideal carport size?
The standard carport size for one car is 12×18 feet, and 20×20 feet for two cars. However, it's best to consider the type and size of your vehicle before choosing a carport because carports for RVs, SUVs, and other large vehicles need to be taller and wider than standard-sized carports.
Invest in a Carport That Meets Your Needs
The best carport for you comes down to the design and features you'll need. While there is no one-size-fits-all solution, you can't go wrong with a custom-designed structure. If having a fully customizable carport sounds like a match made in heaven, check out our 3D design tool below to get started.
Get an instant price for your new carport or metal garage.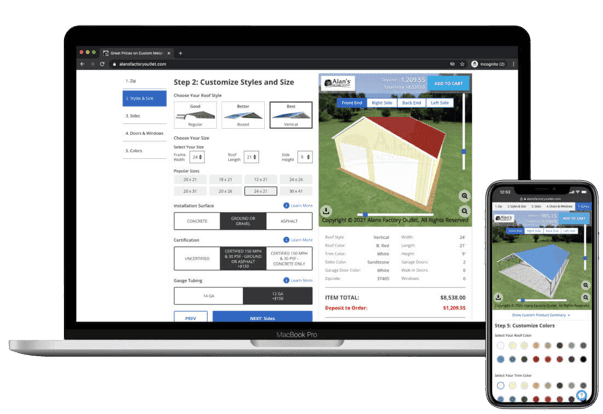 Price and Buy Online with Our 3D Builder Plus Free Shipping and Installation!
Select a size to meet your needs
Choose roof, side, and trim colors
Add garage doors, windows, and walk-in doors
Customize additional options
Customize Now