Can you put a garage door on a carport? The answer is yes! While carports are affordable garage alternatives, they don't necessarily have the same security as a fully enclosed building. Having an open front and sides can make your vehicles susceptible to theft and vandalism.
Installing a garage door to your carport is the perfect solution to add more
security without completely converting it into a garage. It also allows you to keep the open-end style, which comes in handy if you live in warmer climate areas.
If you find it a bit challenging to envision a carport with a garage door, you're in the right place. Read on to learn unique ways to customize your carport, as well as a few factors to consider beforehand.
Carport with Garage Door Ideas
Adding a garage door to your carport may require some extra thought depending on your home and property layout. Below are some ideas to explore.
Carport and Privacy Fence
If you don't want to attach framing components to the carport, you can build a privacy fence around it instead. With this style, the gate of the fence serves as a garage door entrance for your vehicles. The best thing about adding a fence is that it can also complement your house and add curb appeal.
Gated Carport
Another method is to enclose your carport by installing a gate on it. If you have a freestanding carport, it'll be much easier to attach a gate to the front support posts than digging holes and pouring concrete. You can even give it a creative look using a lattice panel or a more modern look by installing motorized bi-fold gates.
Carport Storage Hybrid
Who says you can't have the best of both worlds? A metal utility building is designed as a shed or garage with an attached carport, creating a hybrid of the two. This is a quick and easy solution for sheltering large equipment, like lawnmowers, that may not fit inside the garage with your vehicles.
Enclosed Carport with Roller Door
If you have a metal carport, the strength and durability of this structure can support a garage roller door at the front of the structure. You'll just need to install mounting brackets and tracks along the opening. Consider hiring a professional to ensure it's installed safely and correctly.
What to Consider before Installing
Now that you have design inspiration, let's walk through a few important factors to know before adding any structure to your carport.
Local Building Permits/Codes
Almost any type of installation or construction project requires a building permit or a field inspection, especially if it involves mechanical service or electrical wiring. It's also a good idea to check with your local jurisdiction and HOA beforehand.
Some building departments require a drawing or layout plan to issue you a permit, so having one can be helpful. Here's an example carport with a garage door plan for inspiration:
Carport's Current Condition
You'll want to inspect your carport structure, including its roof condition and framing, to see if it's sturdy enough for a door addition or in need of any improvement. Sometimes you'll need to upgrade the framing, such as replacing a post or adding a wall for extra support.
Measurements and Planning
The next step is to measure the structure's size to plan the opening. Depending on your garage door style, such a roll-up, you may need to raise the height of your carport to fit it. You may also want to plan for lighting if the door installation will block natural light.
Tools and Materials
If you decide to take the DIY route and build a carport with a garage door yourself, it's important to have the right tools and materials. To properly install a garage door onto a carport, you'll need the following:
nails,
hammer,
screws,
drill,
measuring tape,
ladder,
door track,
door(s) of choice.
FAQs
How much does it cost to convert a carport into a garage?
You can expect a carport-to-garage conversion to range between $8,000 and $10,000. This price, however, varies depending on the size of your project, modifications needed, and labor costs if you decide to hire a contractor. Considering the latter, a conversion may equate to the cost of building a garage from the ground up.
Can you add a roller door to a carport?
Yes! Just keep in mind that the average roller garage door is about 7 to 8 feet high. You may need to increase the height of your carport as well as install additional beams to support the roller door track.
What additional features can you add to a carport?
In addition to color combinations for the structure, there are several ways to jazz it up and make the carport unique. You can plant climbing vines to grow on and around the posts as living decor, install solar panels on the roof, add lighting, and more.
Custom Design Your Carport Today
Fully convinced to add a garage door to your carport? You can do that and more with our 3D customizing tool below. Choose the size, color, and desired style of your carport and complete the entire order process online. Once finished, we'll deliver and install your carport for free.
Get an instant price for your new carport or metal garage.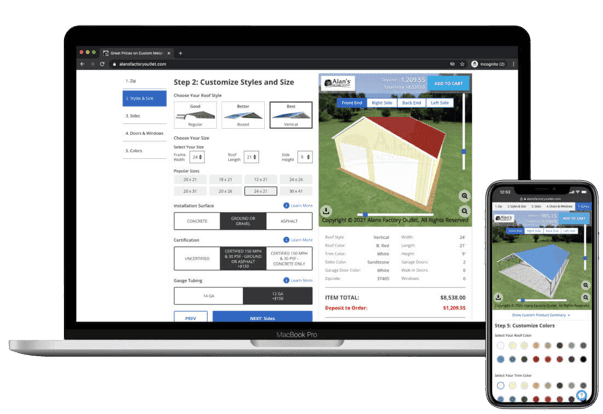 Price and Buy Online with Our 3D Builder Plus Free Shipping and Installation!
Select a size to meet your needs
Choose roof, side, and trim colors
Add garage doors, windows, and walk-in doors
Customize additional options
Customize Now