Whether you're running out of storage space, need a place to park your specialty trailer, or want coverage for an extra parking space, it could be time to extend your carport.
To help you plan your building project, we've outlined each carport extension method and the materials you'll need below.
Extending Length
Sometimes the standard carport length isn't enough to cover longer vehicles like RVs and boats. In this case, you'll want to extend the length of your carport by following the steps below:
Remove your roof and side paneling: Set aside your sheeting and remove your side paneling so you can access your carport's struts.
Extend your concrete slab: Before you add struts to support the added length of your carport, you may need to pour more concrete to extend your slab.
Secure new struts: Install two new struts and secure them by their base—similar to your existing struts.
Reinstall sheeting: Reinstall the sheeting you set aside earlier and install new sheeting to cover the added space of your carport.
Extending Height
Standard carports typically have legs that are seven feet high with a center height of 12 feet, which might not accommodate larger RVs or travel trailers. To raise the height, you'll need the right carport leg extensions and jacks.
You can search for carport leg extensions at your local retailers or directly contact your carport manufacturer to see if they sell specifically-built extensions. Then you'll likely want to find three large A-frame jacks at your local hardware store.
Before you install your extensions, remove your carport's roof to make it easier and lighter to lift. Then lift one side with your three jacks and install your extensions on the opposite side. Once finished, work on the side you initially lifted.
Finally, you can reinstall your roof, and your structure should be ready to go.
Install a Lean-To
Instead of extending your existing structure, adding a lean-to is a simpler way to add width. It won't perfectly match your carport's original design but will add extra coverage for parking space.
Before you begin, extend your carport slab so any new struts you erect have a proper foundation.
Installing a lean-to involves erecting new support posts to support one side of the structure while the other side leans against your carport's roof. This could require you to remove some of your roof sheeting before attaching the structure. After secure support beams support your lean-to, you can reinstall the sheeting.
Considerations Before Extending Your Carport
Extending your carport can be a costly and time-consuming process. Before you begin the process, here are some important considerations:
Permits and Zoning Laws
Your local government or HOA will likely have regulations surrounding building extensions. Call your local zoning department to see if your area requires building permits for the process.
Purpose
Determine the purpose of your carport to determine what adjustments you should make and how much it will cost. Otherwise, you might adjust the height of your carport only to realize your RV sticks out at the end—meaning you'll need to spend more money and time to adjust its length too.
Cost
The cost of extending your carport will vary depending on the adjustments you need to make. Ensure your budget allows for the necessary materials before you begin building.
Location
Extending a carport or adding a lean-to is a big time and money investment. If you plan on moving from your location anytime soon, it might be worth waiting before you commit to a large building project.
Other Options
If these extension methods don't work for you or you don't have enough time to do them yourself, consider ordering a new carport or garage from Alan's Factory Outlet. Use our 3D garage and carport builder to build and price your dream building—we'll take care of the delivery and installation for free.
Get an instant price for your new carport or metal garage.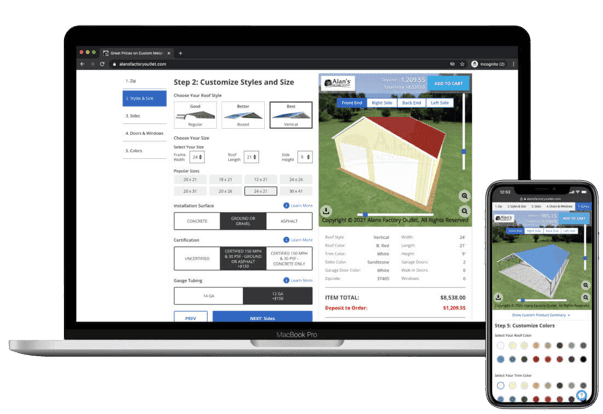 Price and Buy Online with Our 3D Builder Plus Free Shipping and Installation!
Select a size to meet your needs
Choose roof, side, and trim colors
Add garage doors, windows, and walk-in doors
Customize additional options
Customize Now