A metal carport is a great, cost-effective way to provide protection for your vehicles and other important belongings. To ensure the carport you choose offers the best quality, you might be asking: What are the typical metal carport parts to look for?
Whether you're building a carport from scratch or ordering the prefabricated frame (or entire building), it's always helpful to know what the metal building components are in case you need to replace one. In this helpful guide, you'll learn the names, primary functions, and structural shapes of common metal carport parts — and you'll know what to replace if something gets damaged or goes missing.
Before we get started, if you're interested in getting a new metal carport, you're in the right place. Here at Alan's Factory Outlet, all our carports are custom made in the USA, and thousands of customers love that they provide protection, convenience, and peace of mind. Let us know how we can help you, too!
Metal Carport Parts: A Visual Guide
As the simplest form of our prefabricated metal buildings, our carports have all the basic metal building components outlined in the visual below. Each carport part consists of durable, galvanized structural steel, making it resistant to corrosion and damage and able to withstand harsh conditions such as high winds and more.
Continue reading for a detailed explanation of each metal carport part and how it completes the structure.
Base and Sides
The most common type of carport foundation is a concrete slab. While a foundation isn't required, a concrete slab is a durable, long-lasting option for installing and anchoring the carport base.
Base Rails
Base rails are the square tubing installed at the base of the metal carport or building. The base rails are anchored to either the concrete foundation or the ground, and attached to the legs of the building to form a strong base.
Columns/Leg Posts
The columns, or "legs," of a metal carport are made of square vertical tubing and determine the height of the building. Carport legs attach to sleeves that are welded to the base rail for stability, and connect the rooftop bow to the base rails. The leg height will vary based on the type and size of your carport.
Anchors
Carport anchors properly secure the structure to the ground or building base and stabilize the frame against strong weather. Different types of anchors, such as concrete and asphalt, are specifically designed for the type of foundation you use.
Roofing Components
Most metal building roofs are composed of the same basic parts. Additional parts will vary depending on the roof style, size, and design of the metal carport or building.
Braces
The braces are shorter steel bars that attach from the carport legs to the roof bow, as well as the center of the roof, for extra stability and reinforcement. Braces are optional depending on the size and weight of the metal carport or building.
Bows
Bows consist of square tubing that bend to the shape of the roof and are made of either 14-gauge or 12-gauge steel. Common in smaller carports, bows connect to the building's legs and support the purlin and rafter panels of the roof.
Purlins and Rafters
Both purlins and rafters are additional forms of bracing for roof frames of steel buildings and carports. Rafters and purlins attach to the top of the legs and connect perpendicularly to one another.
Trusses
The truss is a long frame composed of top and bottom steel beams connected by triangular chords. Trusses are attached between the roof and legs, and serve as the roof's support. They are commonly used in extra-wide carports to evenly distribute the weight.
Metal Roof Panels
Metal roof panels are the steel sheeting that is used for the rooftop, and protect everything beneath it from the sun, elements, and harsh weather including hail, heavy rain, and more.
Ridge Cap
This is a cap-shaped metal piece that covers the ridge of the roof (where panels meet at the peak) and generally matches the color of the roof panels.
Finishing
The parts listed below add the final touches to the exterior framing of metal carports and buildings.
J Trim
J-trim is a J-shaped piece of trim you can place along the bottom exposed edge of the sheet metal to cover the sharp end. This optional trim gives a metal carport or building a finished look and creates safety from the sharp edge.
Corner Trim
This is a section of metal trim that neatly covers and "softens" the exterior corners of a structure.
L Trim
An L-shaped metal trim is a decorative piece to install on the panel edges of a regular-style metal carport or building to provide a finished look. L trims are also commonly used to enhance the outer appearance of optional windows or doors.
Siding Panels
These consist of three-inch wide, 29-gauge metal sheeting used to form walls that enclose the sides and/or ends of the carport. Side panels help cover and protect the interior area and items inside from wind and weather damage.
Additional Carport Features
Common optional features you can add on to metal carports and buildings include:
Windows
Walk-in doors
Garage door
Wall(s)
The above features can customize the look of prefabricated metal buildings and add important conveniences. For example, you could enclose a carport with walls, add walk-in and garage doors, and make other modifications to convert it into a metal garage or storage building.
Frequently Asked Questions
What type of steel is used for metal buildings like carports?
Large metal buildings often consist of red iron l-beams, steel coated with "red-tinted" iron oxide. Small metal buildings typically use galvanized steel with zinc coating. Both types of steel coatings serve as a rust-resistant, protective layer, furthering the longevity of steel buildings.
Can I install a carport without a foundation?
Yes, you can install a carport directly into the ground without a foundation as long as it has the proper carport anchors to secure it.
What is the difference between 12-gauge and 14-gauge tubing?
A 14-gauge is the standard tubing used in a metal building frame and is 2 ½ inches square. The optional 12-gauge tubing is thicker at 2 ¼ inches square and provides more strength and durability to structures.
Find the Best Metal Carports and Buildings at Alan's Factory Outlet
Metal is one of the most durable options for carports and storage buildings. Since it's fire- and termite-resistant, a metal building is extremely low-maintenance. Now that you're familiar with the different parts and components of a metal carport, you'll know what to order in case one of your parts is damaged or missing.
Fortunately, when ordering prefabricated carports and metal buildings from Alan's Factory Outlet, everything is pre-engineered, cut, and professionally assembled for your convenience. Our metal building products are extremely durable and last for over 50 years, saving you time and money.
Feel free to visit our FAQ page for further information on our best-quality metal products. When you're ready, you can use our customizing tool below to order a carport or storage building that perfectly fits your needs.
Get an instant price for your new carport or metal garage.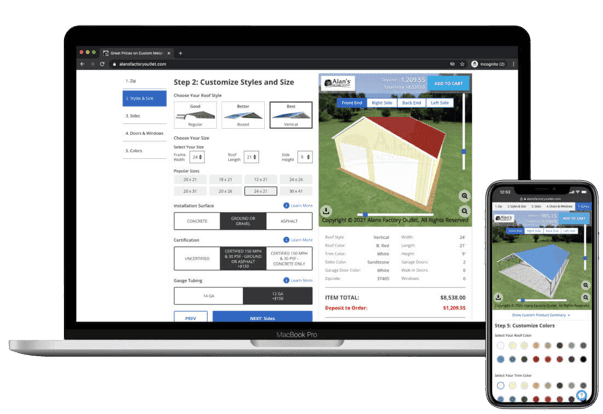 Price and Buy Online with Our 3D Builder Plus Free Shipping and Installation!
Select a size to meet your needs
Choose roof, side, and trim colors
Add garage doors, windows, and walk-in doors
Customize additional options
Customize Now
*Note: Alan's Factory Outlet does not sell individual parts