If you need a low-cost way to cover your car, consider investing in a carport. Carports are partially-covered structures that shelter vehicles and are easy to install in a driveway. Several types of carports, ranging from structural design to roof style, have a slightly different appearance from one another.
In this article, we'll guide you through the various carport types available and what to look for when choosing the best option for your needs.
Freestanding
Freestanding or "detached" carports are generally more popular than attached carports since you can install them wherever you choose. They're also easier to set up without the worry of damaging the house siding. You'll find more design versatility for freestanding carports, such as the options below.
Open-Sided Carport
Most types of carports have open sides, where there are no walls or doors on the structure. Open-sided carports provide convenient drive-in parking, as well as a shield for your vehicles from sun rays, weather, and debris.
The only drawback is that vehicles may still encounter weather damage through the open sides of the structure, like during severe winds and storms.
Enclosed Carport
While most carports have open sides, some designs have two to three wall enclosures. This carport style helps better protect vehicles and storage items from rougher weather conditions. It's also easier to add doors and convert your carport to a garage later.
Attached
Attached carports connect to the house, usually as an extension of the home design. This version is a common garage alternative since it requires fewer parts and is cheaper to build. An attached carport can function as a covered parking spot for vehicles and an optional shaded area to relax outdoors.
Cantilever Carport
A cantilever carport resembles an awning, where the roof is secured to a building wall and extends over a vehicle to provide shade. Cantilever styles are good for smaller parking areas with no support beams taking up driveway space.
Lean-to Carport
As the name suggests, lean-to carports have an open-sided roof that "leans" against or connects to a larger, stable structure. This carport style is a common attachment for barns, where the covered or shaded space is reserved for hay or animal grazing.
By Roof Style
Since roof shapes can completely change the design of a carport, many are categorized by their roof style. Below are the most common roofing style options for carports.
Regular
Regular or "barn-style" roofs are the most common carport roof style. This unique roof shape is similar to a barn, with its curved slope at the ends to prevent rain and snow accumulation.
Flat
Level or "flat" roof carports are a popular style for homes due to their simplistic design. Many people also choose flat roofs when building a carport since the style is easier to assemble and install than other roof types.
One disadvantage is that it is easier for water, snow, and debris to collect on flat roofs over time. For this reason, you'll need to clean carports with flat roofs more often.
Boxed-Eave
Carports with boxed-eave roofs have more of an A-framed shape, with panels running horizontally from front to back. Like flat roofs, you'll have to clean this roof style more often to prevent leaves from collecting in the roof panel ridges.
Vertical/Gable
Vertical roof carports imitate those on modern homes, where the shape is similar to an A-frame but has panels running vertically down its sides and gables on the end. Vertical roof slopes prevent heavy snow accumulation, making them ideal carports for winter.
Single-Slope
Single-slope or skillion roofs are solitary, flat sheets positioned slightly at an angle on the carports. A single-slope roof encourages rainwater to run off while maintaining a simple design. It is also good for installing solar panels on carports, which helps catch more sunlight at a slight angle.
Portable
Unlike attached and pre-built carports, portable ones are designed with mobility in mind. This carport type is collapsible and easy to relocate as needed. Here are two types of portable carports you can find.
Folding Carport
Folding or "retractable" carports are fabric-covered carport canopies that can stretch up and over vehicles for sun and weather protection. When not in use, they can conveniently fold flat on the ground. Folding carports are lightweight, and the fabric is generally waterproof.
One consideration is that folding carports aren't as durable as permanent structures, and the fabric can tear under strong weather conditions.
Carport Kit
Similar to prefab carports, some manufacturers provide pre-cut steel frames with instructions to assemble the carport yourself. Carport kits are a flexible option, allowing you to anchor the carport to make it permanent and disassemble it whenever you move or want to relocate the structure.
Frequently Asked Questions
What material is best for carports?
In comparison to wood and fabric covers, metal is the most durable material for carport structures. It doesn't crack, rip, or warp from moisture and weather damage. Metal is also fire- and insect-resistant, creating a longer lifespan and less maintenance than wooden carports.
Which is cheaper, a carport or a garage?
Carports are much cheaper than garages since they use less construction materials and less time to assemble. Carports also don't require as much labor to build and install as garages, which also cuts costs.
Can I enclose my carport?
Yes, you can enclose a carport yourself by erecting and attaching one or more walls to the structure. You also can find a carport manufacturer that offers pre-built, enclosed carports.
Customizable Carports You Can Trust
Now that you understand the different types of carports, you can choose the best design for your vehicles' needs. Considering the size and number of vehicles you need to shelter, you'll want a carport that fits the style of your home and the amount of space available.
With our design tool below, you can choose from a wide range of customization options, including size, roof style, and added features, to design a metal carport that best fits your needs.
Get an instant price for your new carport.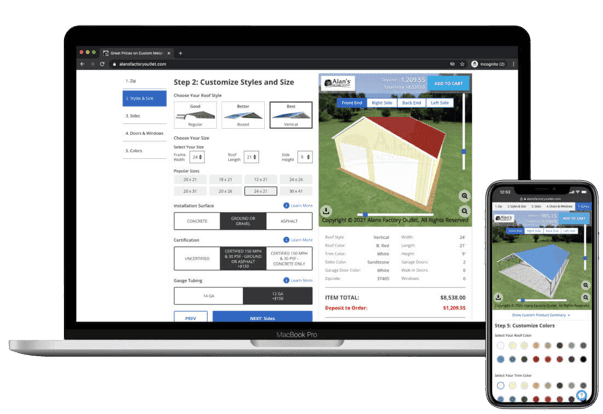 Price and Buy Online with Our 3D Builder Plus Free Shipping and Installation!
Select a size to meet your needs
Choose roof, side, and trim colors
Add garage doors, windows, and walk-in doors
Customize additional options
Customize Now