Your decision over whether to add a carport vs. garage to your property no doubt rests on their differences like appearance, cost of construction, and permits required to build.
The main difference is that carports are less expensive and easier to install. Garages are more secure, beneficial to property value, and versatile. We'll go more in-depth about the pros and cons of each to help you make the right decision.
Below, we'll break down the pros, cons, and key differences between a carport vs. garage.
Carports: Pros and Cons
A carport is a reliable solution for parking, outdoor leisure, and more. The simplicity of this structure means that there are many ways to get creative with a carport on your property.
Here are the top pros and cons of building a carport.
Pro: Lower cost
Pro: Takes less time to build
Pro: Naturally ventilated
Con: Less secure
Con: Doesn't improve property value
Con: Doesn't have additional storage space
Garages: Pros and Cons
A garage is an enclosed storage, working, and parking solution that can be a valuable addition to your home or business. Since garages are enclosed, they generally have more uses than carports.
Here are the primary pros and cons of building a garage on your property.
Pro: Increased security
Pro: Adds additional storage space
Con: More expensive
Con: Takes longer to build
Con: Less well-ventilated
Differences Between Carports and Garages
The main difference between a carport vs. garage is that a carport might not have walls, but a garage does have them. Carports are open-sided structures that are more economical, but fully enclosed garages can provide better cover for any items you're looking to store inside.
Carports and garages differ in aesthetic appeal, cost to build, shelter, ease of installation, and permits required. Let's take a look at each of these differences and break down how each makes a carport different from a garage.
Appearance
It's not uncommon to consider the appearance of your home when deciding between a carport or a garage. Carports still provide excellent cover for the vehicles and/or equipment you store beneath them, but it's easier to design a garage that fits more in line with your home's style.
You can make sure that the walls and trim of the garage match the colors of your home to create a more aesthetically pleasing appearance. You are still able to match the roof of a carport to your home's color, but a carport is an open-air structure without walls or trim, which limits your aesthetic options.
Cost
On average, carports cost significantly less than garages since they require fewer materials to construct. Garages will cost more due to the addition of walls, doors, and trim. If the price point of your new metal building is a critical factor, a carport might be the better solution for your needs.
No matter what your deciding factors are, metal carports and garages from Alan's Factory Outlet give you the lowest possible price without sacrificing quality.
Storage and Security
A garage is enclosed, while a carport is an open-air structure. Because of these differences, a garage is a better choice for protecting any vehicles and/or equipment you choose to store within it, depending on the size of your garage.
In addition to storage, garage walls provide more protection from natural elements like snow, wind, and rain. You can also lock up a garage to keep your property safe from theft, while a carport remains exposed.
Installation
Carports are usually much easier to install than garages. No matter the carport's size, they're far more lightweight and can usually be erected and secured within just a few hours. On the other hand, garages can be a bit more complicated to build.
If installation worries you, you're in luck. Any type of metal building purchased from Alan's Factory Outlet includes free delivery and installation to take care of the hard part. Or, if you prefer to build your new metal structure yourself, you can opt for an easy-to-assemble prefab kit.
Permits
Whenever you add a new structure to your property, it's a good idea to check with your local planning department to find out whether or not you need any permits. The answer will differ depending on where you live.
It's more likely that you'll need a permit to add a full garage, but you'll most likely need one for a carport as well. Check with your local government officials before deciding on one building over the other, as this could end up influencing your decision.
Ventilation
If ventilation isn't an important factor for you, a garage could fit your needs. You can still ventilate a garage by opening the door(s) and optional window, but the inside won't ventilate fully when everything's closed.
A carport is different from a garage because it's completely open. Carports are naturally ventilated and great places to catch a cool breeze. If your car ever needs to idle or you want an open space to hang out, you might want to check out customized carports.
Carport or Garage? How To Make the Best Choice
It's clear that carports and garages both offer unique value depending on what you want from a metal building. If you value speed, low cost, and ease of installation, buying a carport will likely suit your needs. If storage, security, and aesthetics are more important to you, it's likely that you'll want to choose a garage for your property.
Whichever solution you choose, the pros at Alan's Factory Outlet sell high-quality metal carports and garages for vehicles, farm equipment, and more. Use our convenient 3D customizing tool below to design and order your carport or garage, and we'll deliver and install the structure for free.
Get an instant price for your new carport or metal garage.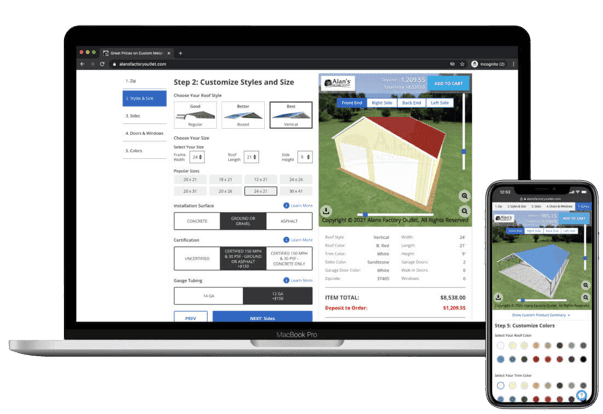 Price and Buy Online with Our 3D Builder Plus Free Shipping and Installation!
Select a size to meet your needs
Choose roof, side, and trim colors
Add garage doors, windows, and walk-in doors
Customize additional options
Customize Now