Do you need an extra room at home to use as a workspace? Hiding beneath a bunch of storage boxes and lawn equipment, you may have the perfect space—your garage.
With some reorganizing and planning, you can turn that parking or storage space into the ideal garage home office. The best thing about using your garage is the convenience of working from home while still having a separate, distraction-free area from your living space.
Unlike major garage conversions that are expensive, you'll only need to invest in a few upgrades to make the area functional and comfortable for working. Read on to learn how to set up an office in your garage in a few easy steps.
Step 1: Declutter and Clean
The first step to converting your garage into a home office is to get rid of the clutter—old furniture, unused boxes, tools, items in storage, etc. You can donate old and unused items to charitable organizations and throw away anything in bad shape. Next, give your garage interior a deep cleaning, including wiping or hosing down anything dirty and dusty.
For the things you can't throw out, there are clever garage hacks such as mounting overhead racks and using decorative storage bins to organize everything and help clear up floor space. You can also invest in a quality storage shed for your bikes, tools, and larger equipment.
Step 2: Cover the Basic Necessities
Since garages aren't designed to be habitable, some upgrades are necessary for comfort and convenience. Below are a few useful additions to consider for your home office.
Power
Since the garage will be your main workplace, you'll want plenty of accessible electrical outlets. These will charge or power up your lights, fans, space heaters, computer, phone, fridge, and other appliances.
When it comes to installing electricity, outsourcing the labor to a professional will be your safest option. An electrician can determine how much power you'll need, safely run the wiring, and test for any issues.
Heating/Cooling
It's important to keep your garage cool during summer and the humidity level under control while working inside. Floor fans can help, but the best option is to invest in an air conditioning unit. Depending on the type of unit you choose, it may also help with garage ventilation by improving cool air circulation.
Insulation
Most garages don't have insulation. Without it, heat can easily escape through cracks and gaps around the garage door and windows. To ensure your garage stays warm and toasty during the colder months, you'll want to seal any cracks and install adequate insulation along the walls, door, and ceiling.
Security
After converting your garage into a home office, you will most likely have computers and other valuable electronics inside. So it's a good idea to enhance the security of your garage. This could be as simple as adding a keypad entry or installing motion-detecting lights outside the garage door to ward off intruders.
Step 3: Set Up the Right Lighting
Many general garages are dark with limited lighting. Installing windows will let in a lot of natural light, which is ideal for a home office. Shop lights and recessed lights are popular garage lighting options if your garage design doesn't allow for additional windows. You can also use table lamps for counters and desktops.
As for bulb types, LED light bulbs are ideal. These bulbs have long lifespans and are very energy-efficient, helping to save on your energy bill. Fluorescent lights are another energy-efficient option that are exceptionally bright, but may cause eyestrain.
Step 4: Choose Suitable Furniture
Assess the size of your garage to get an idea of what all can fit inside. Consider looking at a few different furniture layouts and floor plans of offices around the same size of your garage before choosing a desk and other furniture for your home office. This will help you avoid getting furniture that is too big for the space.
The type of furniture you get depends on your needs and the atmosphere you want to establish. Maybe you want to be able to take a break from working at your desk and sit in a comfortable lounge chair. It may be helpful to have separate tables or a bookshelf for other necessities like a printer.
If you don't want to use your home kitchen for lunch breaks, adding a mini-fridge may be a good idea. Add a snack table and pair it with a coffee machine to create the perfect kitchenette to retreat to during the work day.
Step 5: Add Your Personal Touch
Finally, draw inspiration from various garage designs to see what colors and visuals work best with your style and current furniture arrangement. You'll be surprised at just how much a few personal details can jazz up the atmosphere of your office.
Area rugs, curtains, and bookshelves are simple and easy items to add to your home office to make it your own. Hang a favorite photo or even mount a TV up on the wall. You can also place some colorful flowers or potted plants near a window or on your desk.
If within your budget, you may also want to replace the garage door with a more modern design. That way, the conversion will feel more like an office (not a parking spot for your car).
Frequently Asked Questions
Does converting a garage into an office add value?
Garage upgrades in general can add home value, depending on the type of conversion. For example, since working from a home office is cheaper than renting a studio or office space, homebuyers may see it as a valuable addition.
Do I need permission to convert my garage into an office?
You will most likely need to contact your local building authorities and HOA for approval of a garage conversion project. This is because authorities must ensure the structural changes are safe for residential use. Notify those officials before you start any work on the conversion project.
Can I perform a garage home office conversion on my own?
Simple upgrades such as painting and furnishing can be done by yourself. Unless you're a skilled contractor or experienced in home renovations, you may need to hire a professional contractor for electrical and plumbing work.
If it's a hassle to use your current attached garage, a detached garage is a great alternative. Durable and quick to install, you can customize any of our prefab metal garages into the home office of your desire.
Get an instant price for a detached garage.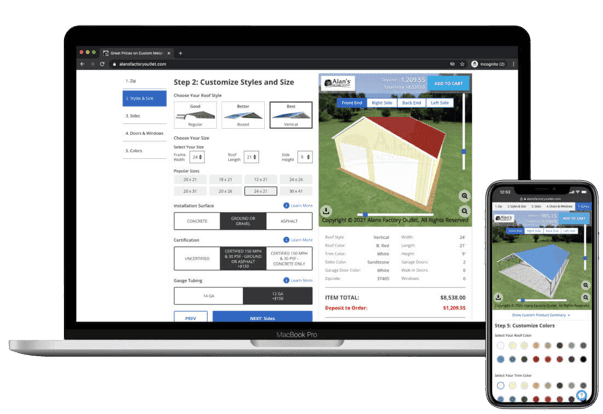 Price and Buy Online with Our 3D Builder Plus Free Shipping and Installation!
Select a size to meet your needs
Choose roof, side, and trim colors
Add garage doors, windows, and walk-in doors
Customize additional options
Customize Now