If you're not living in your RV year-round, it's most likely sitting unused for several months. Unfortunately, this can leave it exposed to damaging elements, such as harsh weather and strong sun rays. Your RV is a large investment, so you'll want to protect it when not in use.
A common problem, however, is the size, as your average RV won't fit in a standard garage. Also, some states have regulations that prevent you from parking it in a driveway. Thankfully, there are various shelter structures designed to cover and protect a wide range of RVs.
Keep reading to learn the seven best RV shelter ideas and how to choose the best option for your vehicle.
Metal RV Carports
Metal RV carports are one of the most durable shelters for storage and protection. These types of structures are sturdy and able to withstand harsh weather conditions.
A few benefits to using metal material are:
Fire- and insect-resistance
No rotting
Low maintenance
Many metal carports are prefabricated and customizable for a wide range of vehicle sizes. They're also a cheap garage alternative if you're on a budget. You can even add solar panels on metal carports as a backup electric source. From campers and travel trailers to full-size RVs, you can typically find one large enough to cover your entire vehicle.
Portable RV Covers
Next are RV covers, which also come with their own set of benefits. To start, they're portable, allowing you to take them wherever needed. These on-the-go covers are made of breathable fabric and also have UV protection.
Blue tarps—the typical alternative—may help to some extent but aren't as thick as RV-specific covers, nor protect RVs from sun damage. Tarps also don't often completely cover RVs, in which rain can seep underneath it and lead to mold and mildew.
With a portable RV cover, you can keep the RV exterior in good condition and easily pack up the cover once you hit the road again.
RV Cover Customizations
Here are few tips every RV owner should know when choosing an RV cover:
Use water-resistant fabrics, such as treated polyester and vinyl, as RV covers for the best protection.
RV covers made of breathable materials can help prevent mold and mildew growth.
Light-colored covers can help your RV stay cooler during hot months and long hours of direct sunlight.
UV-treated polyester fabric offers the most protection from sun damage than other fabrics.
Wooden Shelters
Wooden—or "timber"—shelters are another popular option, since wood is a natural material and blends well with outdoor scenery. Many wooden RV shelters are also available in kits as pre-cut parts to assemble. For this reason, wood is often the go-to material for building DIY carports.
Since wood is an insulating material, it can help keep your RV and other vehicles beneath it warm during the cold winter season. Additionally, people prefer them for multipurpose use, such as shade for outdoor leisure.
Considering the demand for lumber, however, you should note that wooden RV shelters are typically more expensive than other options.
Deck-Shelter Hybrids
If you're up for a home renovation project, consider adding or revamping your deck with an awning. Extending a long and thick awning extension from the home can cover both the deck and parking area of your RV. This creates a deck-shelter hybrid space and can completely transform the look and feel of your property.
Awnings are already multifunctional in use, as they can provide shade for outdoor entertainment or lounge areas as well as vehicles. Also, many awnings are retractable, so you can easily fold them up during a storm or when you're away.
Pergola-Style
Pergolas, as well as gazebos and pavilions, are a more upscale style of wooden shelters. These structures are large enough to cover RVs while also adding an elegant look to your property.
Pergolas are generally multipurpose, where many people use them to cover outdoor kitchens and patio spaces. Traditional pergolas are made of cedar wood, but more modern pergolas use sleek steel poles set into concrete foundation blocks.
Since this particular RV shelter has a slatted roof, there may be certain times of the day when there is no shade. To combat this, you can attach a mesh cover across the rooftop, creating shade and protecting your RV from the sun.
Lean-to (Barn) Carports
There are many perks to having a lean-to barn-style carport, especially if you need to cover extra-large vehicles like RVs and tractors. With lean-to designs, you can customize the middle section to be much taller, creating enough clearance for your largest vehicle. As for the exterior sides with lower roofs, you can reserve them for smaller vehicles and storage.
Lean-to carports are also referred to as "barn style" carports since they best serve as multi-purpose farm buildings. For example, you can use one section as a shelter for livestock, and another section can be used for storing hay, feed, and other equipment. You can also choose to enclose any of the sections to make it fully sheltered.
RV Canopies
Finally, as the most flexible and budget-friendly option, a canopy design is a favorable RV carport idea. RV canopies are generally much easier to construct than other designs while also being fully portable. For this reason, this type of RV shelter is ideal for lightweight travel trailers.
With canopy shelters, you can erect them on wooden walls, steel poles, asphalt blacktops, and even dirt. The canopy itself is made of durable vinyl fabric that can withstand weather and UV damage. They're also available as kits in which you receive a detailed assembly and installation manual.
How to Choose the Best RV Shelter
Before choosing an RV shelter, there are a few factors that can help you evaluate the best option.
Location
Is there enough area on your property to construct a large parking area? To properly install a foundation and RV shelter, you'll want a level space away from walls, underground pipes, fences, and plants. You may also need to inform the local government offices of the plans, in case you need a zoning and building permit.
Intended Use
Depending on how you intend to use the RV shelter, you may need one that's much longer and wider than your RV—such as using the shade for outdoor seating. Also, consider how often you'll be using your RV. If you live in it year-round or are on the road many months out of the year, it may be more convenient to have a portable cover.
Size
The length and width of your RV shelter will depend on the size of your RV and whether or not you plan to cover additional vehicles.
For the height there should be at least a two-foot clearance between the RV shelter roof and the top of your RV. The key is understanding what type of RV you have, since classifications vary by size.
Below is a helpful sizing chart to identify your RV and determine its shelter needs:
Budget
Last but certainly not least, make sure everything you choose, from materials to design elements, are all within your budget. There are plenty of RV shelter options, such as prefabricated metal carports and portable covers, that are cost-effective and still provide optimal protection.
Frequently Asked Questions
How tall does an RV carport need to be?
RV carports usually require at least 14 feet of clearance. They're generally at least 12 feet wide but will need at least an 18-foot width if your RV has any slide outs. Popular sizes for motorhome covers include 12×35 , 12×40, 18×35, and 18×40. We recommend measuring your RV before buying an RV carport.
Are RV carports worth it?
An RV carport is a significant investment if you want to keep your RV in good condition, especially if you plan to resell it later. When not in use, you'll need a secure place to store your RV. Paying for a parking spot in a storage facility can be costly, and it doesn't guarantee damage protection from other users.
Can I build an RV carport myself?
Choosing the DIY route can help you save money on labor, delivery, and installation of the carport. It can be worth the time if you have the skills and tools to do so. However, our carports cost less than most DIY kits, so you might actually spend more trying to build your own RV carport.
Customizable RV Shelters to Suit Your Needs
If you're not up for a DIY project and prefer professional builders, our metal RV shelters are an excellent option. We offer a wide range of customization options—from RV carports to RV garages—to suit all motorhomes and campers. Best of all, we offer free delivery and installation, and can anchor your metal carport to the ground, asphalt, or concrete.
Use our easy online design tool below to customize and order your RV shelter in a few simple clicks.
Get an instant price for your new carport or metal garage.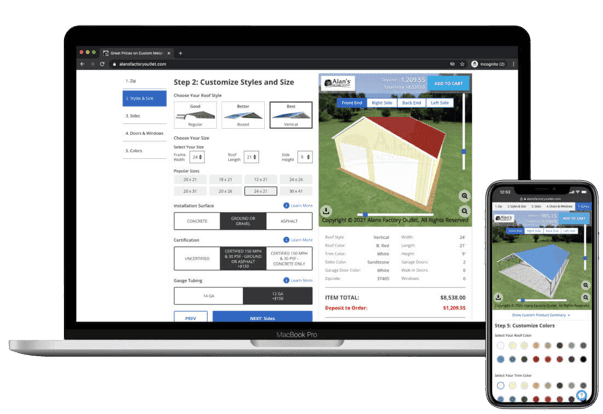 Price and Buy Online with Our 3D Builder Plus Free Shipping and Installation!
Select a size to meet your needs
Choose roof, side, and trim colors
Add garage doors, windows, and walk-in doors
Customize additional options
Customize Now