Does water ever seep into your garage when it rains, or at any other time? Water and moisture problems in the garage are not something to ignore. They can lead to dangerous mold growth, structural damage, and destruction of items inside, which can cost thousands of dollars in repair.
On the other hand, waterproofing a garage can help protect it from moisture and water damage, especially if you live in a region that experiences heavy rainfall, snow, and flooding.
In this guide, you'll learn how to effectively waterproof your garage, and discover important maintenance tips for keeping it dry and protecting your belongings in the long term.
What You'll Need
Below is a list of necessary tools and materials you will most likely need to waterproof your garage:
Considerations
Specific tools and materials may vary depending on the size of your garage and extent of waterproofing needed. The following factors will also play a role:
The local climate and weather
Type of garage conversion or usage
Your budget and timeline
Contact a professional if your garage has severe water or moisture issues and you're unsure of what you'll need to do.
Garage Waterproofing in 6 Steps
From preparation to application, here's a complete, step-by-step garage waterproofing process you can follow.
Step 1: Clear out the area
First, remove everything inside the garage, including mounted items on the garage walls, like bikes. Give the garage walls and floor a good cleaning to remove any debris (use a cleaning solution and pressure washer if needed). An empty and clean garage is easier to prepare for waterproofing and helps you prevent items from getting damaged in the process.
Step 2: Inspect your garage's current state
Next, perform a visual inspection of your garage. Make sure you put on your safety gloves, glasses, and mask to protect yourself from dust, dirt particles, and potential mold spores. Following are key areas inside and outside the garage where you can look for signs of water leakage or damage:
Exterior:
Missing or damaged roof shingles and/or metal flashing
Clogged drains
Damaged or clogged gutters/downspouts
Missing or damaged siding
Damaged windows or window frames
Pooling water in the driveway
Broken or misaligned garage door and/or entrance door
Interior:
Ceiling or wall water stains (including around light fixtures)
Peeling wallpaper/bubbling paint on garage walls or floor
Mold and mildew growth
Crevices in garage floor/foundation
Rust on metal surfaces
Noticeable moisture in air or wet objects
IMPORTANT NOTE: If you find any signs of mold growth, consider contacting a professional contractor who can help remedy this. Do not simply cover over mold or mildew if water issues are present, as they can indicate a much bigger problem.
Step 3: Seal all cracks and gaps
Use a caulking gun to seal cracks and gaps with water-proofing caulk or sealant. This includes cracks in the garage floor/foundation, ceiling, external and internal walls, wall-floor joints, and around the windows and doors.
Tip: Metal garages practically eliminate the need for these types of repairs and are surprisingly affordable.
For optimal foundation sealing, make sure to use a high-quality sealant to fill any cracks in the floor as this will help prevent water from seeping up from the ground.
Step 4: Weatherstrip doors and windows
Weatherproofing, including the installation of door sweeps and weatherstrips around windows, is crucial to ensuring your garage remains dry and protected from the elements.
First, clean the area to be weatherstripped and the surrounding area with soapy water and dry the area with a cloth. Also be sure to fill all crevices and holes beforehand. Then, cut the adhesive-backed weatherstripping tape (or your weatherstrip of choice) to the length needed for the section and press it firmly onto the area you want to cover.
Adding weatherstripping door sweeps and insulation to the garage doors are other effective ways to keep out water and block moisture and drafts.
Step 5: Apply waterproof paint to walls
Waterproof coatings and paint are among the best ways to ensure a strong water and moisture barrier in your garage. First, make sure the garage walls are smooth and all cracks are sealed before applying the coating or paint.
Use a roller brush or paint sprayer to apply your waterproof paint to the walls. If you need to apply two coats, wait for the first coat to dry thoroughly before applying the second coat.
Step 6: Cover the garage floor with protective coating
Even with a durable concrete slab foundation, groundwater can still seep in, causing common problems like cracks and splitting over time. As a solution, you can create a barrier using a protective coating, such as epoxy or another waterproofing sealant made for concrete, to protect your garage floor. Start with clean concrete, apply a first coat, and then a second coat if needed.
Water Prevention Tips
While the hard part of garage waterproofing is over, there are regular tasks and forms of maintenance you must do to keep your garage dry and safe from water intrusion year-round. Here are some tips to help you prevent dampness and water from re-entering your garage — and avoid the costly repairs that come with it.
Regular inspections
Conducting periodic inspections of your garage will ensure it remains in good, waterproof condition, especially after heavy rains or during the wet season. A thorough leak detection process will identify any hidden water leaks that could be causing unseen damage to your garage. Look for signs of water seepage or sources of problems, such as leaky pipes, and address them immediately.
Common causes of garage water problems include:
Flooding from heavy rains, melting snow, or hurricanes
Sewage problems (drain blockages, sewage leaks, etc.)
Water-pipe bursts (such as from freezing during winter months)
Along with this, you can ensure rust prevention by regularly checking metal surfaces in your garage for signs of rust and addressing them immediately.
Checking for new cracks and openings
Inspect your garage every few months for any new crevices or holes in the walls, ceiling, and foundation. Close these openings with the appropriate epoxy sealant or crack filler as needed.
Also, be sure to properly caulk windows and door frames, especially after new installations and garage renovations.
Gutter and drain maintenance
It's important to have an effective drainage system to channel water away from the garage and prevent water pooling and subsequent damage. Regularly check for any clogs or damage to your gutters and downspouts, ensuring they're clean, clear of debris, and functioning properly. This will help direct rainwater away from the garage foundation.
If your garage floor has drains, make sure to keep them clean and free from debris, too.
In some cases, you may need to install a different type of drain to improve drainage inside or outside the garage. For example, if your garage is on a slope, or if water pools in your driveway, a trench drain system may be ideal.
Replacing broken door seals
Cheap garage door seals are more likely to weaken and crack, and they'll need replacing within a few years. Consider investing in a good-quality weather seal to install at the bottom of your garage door, as it can last up to 20 years or more.
Frequently Asked Questions
Do I need to waterproof my garage?
Garage waterproofing is not mandatory, but it's highly recommended, especially if your area is prone to heavy rain, snow, or flooding. Since garages add value to a home, waterproofing them can help protect and maintain their structural integrity.
What is the best way to waterproof a garage?
Following the above tips — particularly, applying weatherstripping and using waterproof coatings on your garage floor and internal walls — is the most effective way to resist water and prevent expensive water damage repairs. However, waterproofing methods will vary depending on individual garage sealing requirements.
How do I stop water from coming through my garage wall?
Water leaking through your garage wall or floor can also be a sign of piping issues or structural damage. In this case, you may want a professional contractor to assess the situation.
Final Considerations
While a garage can't be fully waterproofed, applying waterproofing techniques is the proactive way to protect your garage and property inside. If you have an attached garage that needs consistent waterproofing, consider parking and storing items in a detached garage instead.
Detached metal garages are more durable and weather-resistant than traditional garages. You don't have to worry about decay and insect infestations as you do with wooden garages, as metal repels termites and many other bugs. With a rust-resistant coating, a metal garage can help keep your vehicles, storage items, and other valuables safe and dry.
Customize and order your next metal garage today using our design tool below.
Get an instant price for your new metal garage.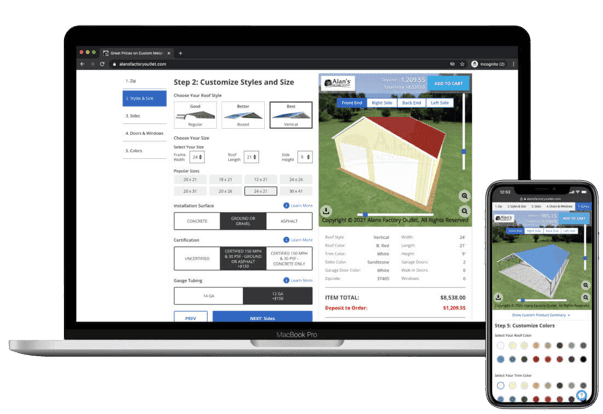 Price and Buy Online with Our 3D Builder Plus Free Shipping and Installation!
Select a size to meet your needs
Choose roof, side, and trim colors
Add garage doors, windows, and walk-in doors
Customize additional options
Customize Now