Find out why garage and garage door maintenance is important and how to keep your garage and garage door in top shape by yourself.
You probably conduct regular maintenance checks on your house, but how about your garage? Whether you have a workshop in the garage or simply park your car there, it's a good idea to do a simple maintenance check on a regular basis. Here are easy maintenance tips that will help keep your garage and garage door in top shape.
Check the Weather-Stripping on Your Doors and Windows
One of the most effective things you can do to get your garage ready for winter is to check the condition of the weather stripping around the doors and windows. If it's cracked or tearing away from the wall, then it's a good idea to replace it. Also check the weather-stripping at the base of your big garage door, which can become cracked and damaged. Replacing old weather stripping will help you to keep the cold winds out of your garage, making it a more comfortable place to be. Weather stripping can prevent moisture from gaining access to your garage. A buildup of moisture can lead to mold or even start to rot the wood of your garage. Weather stripping is relatively inexpensive and can be found at any hardware or home improvement store.
Check the Floor for Oil Stains
Chances are good that if your car leaks oil, you have some stains on your garage floor. It's best if you clean them before they start to spread over the floor. Fortunately, there are many easy ways to remove oil stains from a garage floor. If you have a cat, I suggest you go with the option that uses kitty litter to absorb the oil. It's nice to know that a big bag of kitty litter can serve more than one purpose!
Examine the Condition of the Exterior and Interior Walls
This is an especially important maintenance tip if you have a wooden garage. By examining the walls of your garage on a regular basis, you can spot signs of damage or mildew right away. If you're aware of the problem, you can take quick action to keep it from getting worse.
Clean the Exterior of Your Garage and Garage Door
Each spring, clean the exterior of your garage door with a gentle detergent and water. I recommend using a soft sponge to remove dirt and mud so you don't put any scratches on the surface of the door. Then, rinse your door with a garden hose. Cleaning the exterior can prevent staining and maintains the appeal of your door.
Look for Signs of an Insect Infestation
Small piles of sawdust, holes at the base of the garage walls, and insect droppings are all signs that you may have an infestation of insects in your wooden garage. Once again, it's best to catch this problem right away so you can contact an exterminator or take other action before boring insects start to degrade the condition of your garage walls. If you have a vinyl garage, check for traces of rodents and insect nests in the corners of your structure.
Look for Signs of Moisture in the Garage
Take a walk around the interior of your garage to inspect the base of the walls. Check the floor for any standing water or water stains. I recommend that you move boxes and containers away from the wall so you have a clear view of any leaks. If any water is present, try to locate the source of the leak. It may be a matter of applying some caulk or waterproof foam to fix the problem.
Clean the Inside of the Garage
Sweeping out dirt, removing used rags and taking trash away helps to discourage mice, moles and other rodents from creating a winter home in your garage. Try storing your garden gloves or work gloves in a covered plastic bin to keep them safe from mice. Also, if you store dry food for dogs or cats in your garage, be sure to put the bags into a metal garbage can with a secure lid. This keeps mice, rats, and other rodents from tearing into the bag and trailing food across the floor of your garage. A little forethought allows you to safely store items in your garage throughout the winter months.
Check for Branches and Other Debris around Your Garage
Take a walk around your garage to see if there are any weeds, branches or sticks piled up against the walls. Branches, leaves, and other wooden debris around the sides of a garage are an open invitation to boring insects and rodents. They can build homes in the debris and start to do damage to your structure. It's a good idea to check for this type of debris on a regular basis so you can move it to another area before it accumulates.
Put all the debris in a wheelbarrow and roll it a good distance away from your garage. In addition, look for hives and wasp nests attached to the outside of your garage. Be sure that the hive or nest is not active before knocking it down with a broom and removing it from the area. Never attempt to move a hive or wasp nest that is still occupied.
Check the Condition of Roof Shingles
Are the shingles in good condition or do they need a repair or two? The walls should be free of holes and loose nails. Making small repairs to your garage before the cold weather sets in can help you to avoid a larger issue after the winter months are over.
Tips for Garage Door Maintenance
Most people who park their car in a garage at home don't think much about their garage door. They simply expect the door to open and close whenever they need it to. But like most things, a garage door needs a certain amount of maintenance to ensure that it serves its purpose. This week, I'm sharing some maintenance tips and advice that can help you keep your garage door in good working order.
Observe the Operation of Your Garage Door
At the start of every spring and fall, take a minute or two to stand in your garage to watch your door in action. A garage door that is in excellent condition moves up and down in a smooth, even way. Also, the door should sit evenly on your garage floor. If you see daylight coming in beneath your garage door, it may mean that the bottom seal is worn or damaged. Replacing the bottom seal on your garage door can correct this problem. In addition, the seal helps to keep cold air, leaves, and snow from drifting in beneath your door. If your garage door is shaking or jerking as it operates, there may be a problem with its springs or pulleys. If you have a garage door with torsion springs, don't try to adjust them. These are high-tension springs that can cause serious injury. It's a good idea to call a professional if your door is moving in an erratic way.
Examine the Hardware on Your Door
Every six months, check the bolts on your garage door to see if they are tight. Also, look at the joints, hinges, and rollers on your door to determine if they are worn out. Each piece of hardware should be firmly in place with no signs of rust or other damage.
Lubricate Parts of Your Door
Lubricating various parts of your garage door is an important part of maintenance. Once a year, spray non-silicone lubricant on the door's springs, bearings, and hinges. Avoid getting any lubricant on the tracks of your garage door because this can make your door slip and work improperly. Instead, wipe the tracks with a rag to remove dust and dirt that may interfere with the operation of the rollers.
Check the Balance of Your Door
Once a year, check to see if your garage door is balanced. If you have an automatic door, close it and disconnect it from the opener by pulling the cord hanging from your garage door rail. Then, pull your door halfway up and slowly let go of the handle. If the door starts to go up or down on its own, it means it is unbalanced. It's best to contact a professional to balance your door if you find that it's needed.
Remember that a little bit of maintenance can keep your garage and garage door in top shape.
Get an instant price for your new carport or metal garage.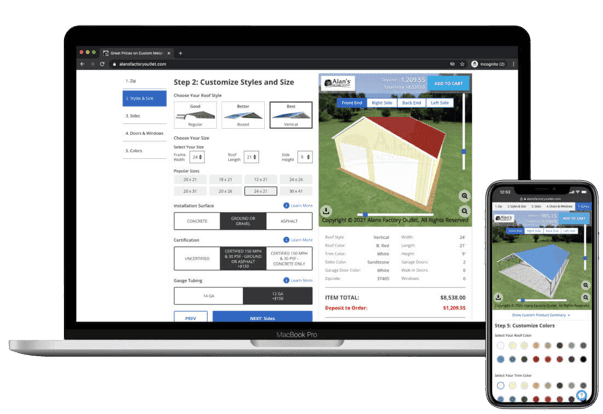 Price and Buy Online with Our 3D Builder Plus Free Shipping and Installation!
Select a size to meet your needs
Choose roof, side, and trim colors
Add garage doors, windows, and walk-in doors
Customize additional options
Customize Now