There are plenty of great reasons to remove a shed. You may want to upgrade your tool storage, better protect your firewood, or get rid of an eyesore on your property.
Shed removal costs can average $250–$2,500 depending on the shed1, how you plan to remove it, and permit requirements.2 Shed condition, materials, location, and required permits will affect final costs. Every structure is different and you need to note all these factors to estimate the cost to remove your shed.
Much like building a shed, the cost to remove one is always unique. Use this guide to break down shed removal costs and get a clear estimate for your project.
Price Factors
Many factors add to the cost of dismantling and removing a shed. Understand the potential costs for your project by considering each price factor below.
Material
Common building materials for sheds include wood, plastic, metal, and brick. Each material presents its unique challenges. Wood and plastic need simpler tools, while brick and concrete have higher demands. Shed demolition and debris removal have varying costs due to the labor involved.
Heavier materials like brick or metal can also increase final costs since dump sites usually charge by weight. To avoid a weighted cost, you can hire a junk removal company that charges a fixed price per load.
Size
The pricing considerations for shed sizes are simple. Small sheds typically cost less to remove than large sheds. Dismantling a small shed (48–120 square feet) takes less effort compared to that of a large shed (160–288+ square feet). Removing a small shed will result in less labor and debris, and there's a lower chance of requiring a permit.
You can guesstimate the price of debris removal using the square footage of your shed. Calculate square footage by multiplying the width by the length. For example, a small 8×8 shed that equals 64 square feet. At $25-$30 per cubic yard, the average debris removal costs for a 64-square-foot shed that is 7 feet tall ranges from $415–$498.3
Foundation
Shed foundations have a wide price range when it comes to removal. You can easily sell or have somebody pick up a gravel foundation or wooden skid. Heavy foundations made from concrete are more expensive to dismantle and remove. A concrete slab foundation measuring 64 square feet can cost between $720–$883 for removal, equipment, and disposal.4
Depending on the condition of your foundation, you can save money by reusing or reselling it. Assess the value of your shed's foundation before any demolition.
Age and Condition
New and old sheds have pros and cons when it comes to removal. Old sheds in poor condition are easy to knock down—but costs can increase if the worksite is structurally unsafe. New sheds in good condition should be safe, but they will take more time to demolish.
Consider selling your shed. You can save a lot of time and effort by selling to a buyer who is willing to remove it.
Location
Sheds that are more isolated on larger lots will be tougher to reach and require more effort. A less accessible shed requires more effort. Time related costs add up when it's a long walk from the truck to the shed.
Take a look at your shed's location. Is the area accessible by vehicle and/or foot? Will the dumpster need to be far away? Are there obstructions surrounding the shed? Factor this information into your estimate.
Items Inside
More stuff in your shed means more debris for removal and more cost. If you plan to remove an old shed with everything inside, you can expect to pay more for the extra weight of the debris and the amount of labor involved. You may have some hazardous items in your shed, so you must factor in safety.
If you want to save some money, clean out your shed ahead of time to reduce the debris. Local marketplaces can also be a lifesaver as they're a great place to sell stuff or have somebody pick it up for free.
Utility Connections
Sheds equipped with electricity or plumbing have a higher associated cost for removal because trained professionals are needed to disconnect the utilities before the shed can be removed.
Improper handling of utility connections can be costly or life-threatening. Speak to a professional before taking on any project involving electricity or plumbing.
Permit Requirements
Permit requirements for your shed removal project will depend on your state and city guidelines, and factors such as size and materials. There are generally fewer restrictions for single private residences than for commercial properties.
Visit your city's or county's official website and look for information on demolition permits. You can make the process easier by using a phone number or email to speak with a representative directly.
Labor Cost
Labor cost overlaps with most of the price factors above. Heavy materials, large sheds, dangerous working areas—all of these price factors will increase labor costs. You can minimize paid labor by doing it yourself (more on that below).
Speak to a few contractors and compare quotes to find the best solution for your shed removal needs. Better Business Bureau is a great resource for identifying businesses with good reputations. Things like utility connections should always be handled by a professional.
Shingle Layers
Shingles can be time-consuming to remove depending on the number of shingles and shingle layers for removal. The height of your shed's roof will also add to the shed demolition cost because contractors may need more time to safely complete the job.
You can reuse shingles for basic projects that don't need significant water protection. We don't recommend reusing shingles unless it's for simple projects like a dog house or bike storage.
Is Shed Removal Service Necessary?
All the associated costs with shed removal can be discouraging. Don't give up yet! We've listed four of the main reasons you should consider removing your shed.
Structural Damage
Structural damage is inconvenient at best and dangerous at worst. While you might be okay with some small leaks in the roof, they could cause larger water damage issues to the structure itself. This includes warped materials, damaged items, and mold.
Homeowners' insurance usually covers damage to detached structures from weather events but doesn't usually cover rot and water damage. Speak to your insurance provider for details on your policy to understand the damages it covers.
To Make Room
While we suggest cleaning up your shed to make room, sometimes you just need more space. Increasing your storage capacity is always a good reason to upgrade your shed. A well-organized shed will better preserve the items inside.
Is it a pain to access the tools you need for a job? Does your clutter lead to damaged items because everything is in a big pile? A properly sized shed is an important part of keeping your items organized and in good condition.
Asbestos Contamination
Asbestos contamination is no joke, and older sheds are the most likely culprits for hiding asbestos. Many contractors and construction companies used this fire-resistant material until they discovered that it caused serious health issues.
Asbestos removal is taken very seriously and it is important to know specific guidelines for your state. Most states require an asbestos survey before they permit any commercial demolition project. Your project might not require a permit, but you should still contact an asbestos professional for your health and safety.
Animal Infestation
Animals and pests can become an issue when they make your shed their home. A poorly built or sealed shed is an invitation for pesky rodents and bugs. Mice can chew their way into your shed through plastic, wood, and even thin metals.
Remove sheds that attract pests and rodents. Animal infestations can result in damage to your structure and your items inside. Prevent animal infestations with a shed built from metal.
Saving Money on Removal Costs
There are plenty of ways to save money on removal costs. Take time to lay out your plan for cost-saving efforts before committing to them. You don't want to make a mistake that ends up costing you more down the road.
Do It Yourself
When do-it-yourself (DIY) projects go well, they can be rewarding and cost-effective. DIY projects that don't go well can result in wasted time and money. For example, removing shingles may sound simple, but working on a roof poses serious risks to inexperienced workers. The same safety concerns apply to any wiring or plumbing.
Take your time to research the process of demolishing a shed and make note of what you can do, what you should do, and what you won't do. You can offset the costs associated with hiring someone to remove the roof by taking a DIY approach to the walls and flooring. Always put safety first and you will save money in the long run.
Research Local Services
Researching services in your area is important for finding the best deal. As we've said before, no two sheds are the same. Research local environmental organizations to find the best deal for removing old appliances.
Contractors are always happy to provide you with a quote. You can speak with a few shed removal service providers and consider a range of offers. The more information you can provide a contractor, the more accurate your quote will be. We suggest reviewing the above sections to make notes on your project before requesting a quote.
Sell Your Shed
One person's trash is another person's treasure. A shed that doesn't suit your needs might be perfect for somebody else. Just be clear about your shed's quality and fair about the price when making any listing.
You can post an item for sale on local marketplace websites or social media groups. Free classifieds websites like eBay and Facebook Marketplace are so popular that they provide guides for responsible buying and selling.
Ask About Discounts
If you don't ask, you won't receive. Always ask for discounts when speaking with a business owner or representative. You can find discounts when renting tools, hiring contractors, and more.
Contractors may have flexible pricing if you communicate project details well. Use this guide to gather all the relevant details and then call a few businesses. Compare their quotes before making the final decision.
Recycle Old Materials
With the right plan, recycling materials can lower your shed removal costs. Create a strategy for preserving and organizing recyclables before demolition and removal. You may donate old appliances or have local groups pick them up.
Consider the market value of building materials when preserving them during demolition. Things like volume, condition, and demand for material will impact its value.5 Reach out to local organizations for more information on recycling.
Replacing Your Old Shed
Figuring out your old shed removal cost isn't fun—but it's necessary. We hope this guide makes things a little easier. Avoid future shed removal costs with a new metal shed that's durable and easy to assemble. You can bookmark our guide for buying a shed so it's handy when you're ready to get started!
Get an instant price for your new carport or metal garage.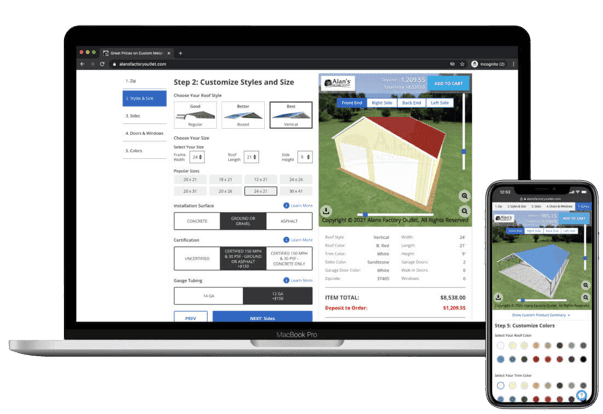 Price and Buy Online with Our 3D Builder Plus Free Shipping and Installation!
Select a size to meet your needs
Choose roof, side, and trim colors
Add garage doors, windows, and walk-in doors
Customize additional options
Customize Now
Sources: