If you have a backyard swimming pool, a storage shed will be handy for all of the floats and supplies. With that in mind, your shed doesn't have to be bland. There are plenty of fun pool shed ideas that can complement your yard.
The best thing about sheds is their versatile designs. With a bit of imagination and planning, you can buy or turn your shed into a pool house that will be the envy of the neighborhood. Find the ideal pool shed design for your yard and swimming pool with this inspiring list of ideas.
Modern Pool Shed Ideas
1. Cabana-Style
Shaded and breezy, cabanas are popular pool-side structures and are great for creating a lounge area. You can use a carport-shed hybrid to double as a cabana, adding curtains and comfy outdoor furniture beneath it.
2. Outdoor Kitchen
Similar to the cabana structure above, you can use the open space to build a DIY kitchen instead. It could be as simple as adding a grill, snack table, and cooler for drinks. Enjoy a nice poolside meal with family and guests during a summertime cookout.
3. Window Bar Seating
If your shed has a window, you can mount a bar or counter to its exterior and use it as an outdoor bar or breakfast nook. Simply pull up a few bar stools to the counter, and you'll have a go-to spot for snacks and refreshments after a nice swim.
4. Guest House
Need an extra room to host guests? Look no further than your shed. As a pool house, your guests can enjoy their living space with a great view of the pool.
5. Pergola-Combo
Another way to escape the sun is with a pergola. Attach the structure to your pool house shed to create a shaded area for relaxing.
6. Studio
Whether for work or leisure, sometimes it's better to have a separate quiet space to complete tasks. Convert your shed into a poolside studio space you can retreat to in the backyard.
7. Deck Combo
Build a deck as an attractive yet simplistic addition to the pool house. Add chairs and plants to the deck as decor to compliment your landscape.
8. Central Fire Pit
Want to enjoy an evening campfire with the family? Use the pool house shed as decorative storage for firewood and other camping supplies.
Creative Pool House Sheds
Pool house sheds aren't limited to one style. Check out these unique designs and additions for your pool shed to add personality.
9. Tiny House
Features like a porch, windows, and roof shingles can make your shed look like a tiny house. You can even hire a contractor to help turn your shed into a tiny house to enjoy as a second residence.
10. Barn-Style
A barn-style pool house is the perfect design if you live on a farm or rural setting. Paint it the classic red color and use it to store both pool and farm equipment as needed.
11. Living Wall
If you have a garden in the backyard, green or "living" walls are a great way to expand the growing space. Allow vines and other fast-growing vertical plants to grow along one wall of your pool house shed to create a cover of greenery.
12. Outdoor Shower
Add an outdoor shower as a convenient place to wash off after a swim or rinse off after working in the yard. It can be as simple as mounting a showerhead to a wall and adding a screen or wall enclosure for privacy.
13. Glass Garage Door
If your shed had a traditional garage door, replace it with a glass one to make it an instant pool house. The glass allows natural light and a good view of the pool scenery while closed.
14. Greenhouse
Pool house doesn't have to just be for the family but for plants too. With the right lighting and climate control, it can be a place for your plants to grow and flourish.
15. Rustic Retreat
Opposite of modern, consider an antique look with your pool shed. You can accomplish this with wooden furniture, stone siding, and other natural elements as decor.
16. Coastal Theme
Complement the pool with a beachy style for your pool shed. Easily create a coastal theme with tropical hues and pastels for your outdoor furniture—blue, white, yellow, and sandy brown—as well as beach and nautical decor elements like seashells, driftwood, and anchors.
17. Media Room
Who says pool houses are just for relaxing? With a large-sized shed, it can double as a media and party room to entertain family and friends. Add a mounted TV, pool table, snack bar, and plenty of games.
18. Cottage Style
Give your pool house shed a country cottage look with vintage details like potted plants and glassware. Next to the pool, this style can create a tranquil look in your backyard.
Pool Pump Shed Ideas
With the excitement of a pool, some homeowners forget about the pool pump and the equipment needed to care for it. Here are a few clever pool shed ideas to hide or disguise awkward pool pumps from the scene.
19. Picket Gate
Consider installing your pool house shed next to the pool pump. You can build a picket gate around the pool pump to conceal it, and the gate will look like an extension of the pool house design.
20. Privacy Screen
Portable and lightweight, you can place a free-standing privacy screen in front of the pool pump. Privacy screens are versatile in design and material, so you can choose one that best matches your pool house shed.
21. Hinged Lid
Take the gate a step further by installing a hinged lid on top. This design fully encloses the pool pump while allowing easy access from the top.
22. Stone Wall
For a natural look, you can build a stone wall around the pool pump. Add stones around the pool and yard as decor to match and blend with the landscape.
23. Greenery
Plants are an easy screening solution that adds more greenery to your pool area. Camouflage your pool pump shed with tall shrubs and other potted plants.
Pool Shed Must-Haves
When it comes to storage of any kind, organization is a must. These are highly-recommended items that will keep your pool house shed clutter-free and easy to navigate.
24. Multi-Purpose Hooks
Consider attaching several large hooks to a wall of your shed. Use them for storing your pool vacuum hoses, beach towels, floating inner tubes, and more. Look for hooks with a rubber coating, so they won't scratch any equipment you hang on them.
25. Storage Bins
Keep small items and tools organized and easy to find with storage bins. You can use bin labels to separate and identify bins for pool accessories, cleaning supplies, and more.
26. Outdoor Lighting
For safety, consider outdoor shed lighting to improve walkway visibility near the pool at night. You can mount lanterns to the pool house shed and even motion sensor ground lights for added security.
27. Windows
When revamping or buying a shed to use as a pool house, opt for windows. These will allow natural light inside and help circulate air for the storage items when doors are closed.
28. Shelving Units
With shelving, such as mounted racks, you can leverage vertical wall space. Use them to hold storage bins and display decorative items for the space.
29. Emergency Kits
Your pool house may primarily be for leisure and shade, but it's also convenient for storing emergency items. Keep a kit full of bandaids, gauze, and other necessities there for those playing in the pool or backyard to access when needed.
30. Outdoor Furniture
Without furniture, your pool house may only look like a storage shed. Comfy lounge chairs, tables, and outdoor rugs will make it look more appealing for relaxing by the pool.
31. Shoe Racks
Place a simple shoe rack near the door of your pool house shed door for sandals, flip-flops, and water shoes. This way, you will have quick access to them before and after swimming.
Custom Design the Perfect Pool Shed
Turning a shed into a pool house is one of the best ways to save money. If you need one for your backyard, our custom metal sheds are the perfect addition. From color options to window additions, the options are limitless.
Use our customizing tool below to design and order your next pool shed any way you desire. You'll also get free delivery and installation, saving you time and money on your perfect pool shed.
Get an instant price for your custom pool shed.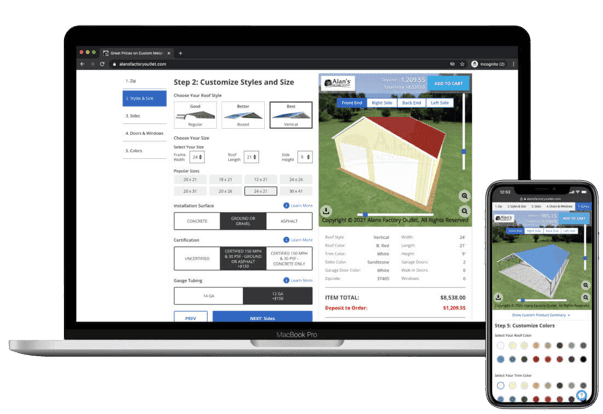 Price and Buy Online with Our 3D Builder Plus Free Shipping and Installation!
Select a size to meet your needs
Choose roof, side, and trim colors
Add garage doors, windows, and walk-in doors
Customize additional options
Customize Now