Is your motorcycle ready for storage this winter? If not, the time to prepare is now. You already make sure that your motorcycle's fuel system, exhaust pipes, and other essentials are in good working order, right? Well, having a motorcycle winter storage plan is equally important to keep your ride in great condition when not in use.
In this guide, you'll learn how to properly winterize your motorcycle, and discover the best winter storage options to protect your ride.
How to Winterize Your Motorcycle
Any time you park your motorcycle for an extended period, the risk of functionality problems increases. Freezing winter temperatures and moisture can also take a toll on your bike, so proper preparation before storage is key. Below are a few steps to keep your motorcycle ready to ride come spring season:
Step 1: Clean It
Thoroughly wash, dry, and wax the motorcycle to prevent rust and debris accumulation, which can damage the paint coat.
Step 2: Check Fluids and Fuel 
Change the engine oil, filter, and other fluids to help keep parts well-lubricated while sitting for a long period. Old, low fuel can go bad in the fuel tank and cause corrosion and damage to the carburetor.1 Prevent this by topping off your gas tank and adding a fuel stabilizer.
Step 3: Preserve the Battery
Disconnect or remove the battery so it doesn't discharge over time. You can also connect the battery to a smart charger to prolong its life.2
Step 4: Inflate the Tires
Inflate the tires to their recommended volume and prop them up off the ground, such as on a motorcycle stand. This ensures your tires don't develop flat spots while your bike is not in use, and lets you easily rotate the wheels as needed. Plus, if you opt for some winter riding, you're already set.
Step 5: Cover and Store It
Choosing the right motorcycle cover or storage space for winter will protect your motorcycle inlets from bug and rodent nesting and seal out moisture that causes corrosion.
While you're at it, consider scheduling inspections and maintenance in advance. That way, you have no surprises once you take your bike out for a ride come spring!
Motorcycle Winter Storage Solutions
Once you prep your motorcycle for its rest season, a shelter is ideal to minimize the risk of weather damage. There are different types of motorcycle storage options available, depending on your needs:
Metal Sheds
Durable and weather-resistant, metal sheds are the most defensive against snow and storms compared to other materials. They're also fireproof, fairly low-maintenance, and less prone to animal infestation.
Metal sheds for motorcycles come in various sizes, allowing storage of extra vehicles and items if needed. With added features like a garage door, insulation, and climate control units, your shed can function as a detached garage.
Pros
Weather-resistant
Low-maintenance
Customizable
Fireproof
Cons
Portable Tents
If you're looking for something easy to set up and take on the go, portable tents provide protection from the elements. Collapsible motorcycle shelters can range from instant pop-up tents to heavy-duty retractable sheds, many of which have strong wind resistance and can withstand snow. Portable tents come in handy for travelers who are transporting their motorcycles.
Pros
Cons
No insulation
Not suitable for extreme weather
Fabric Covers
Motorcycle covers are another convenient option to protect your ride. They're lightweight and made of synthetic fabric material that is water- and tear-resistant. Fabric covers come in various sizes and are usually drawstring adjustable for a secure fit. Use them to cover your motorcycle year-round or with other shelter options for extra protection.
Pros
Cons
No theft protection
Not suitable for extreme weather
Garages
Garages already shelter cars during the winter season. Take advantage of the space by adding your motorcycle. Popular customization features on garages, such as keypad locks and insulation, help prevent theft and control indoor temperature.
A detached garage is a great alternative if there's not enough room in the garage for your motorcycle. Use it as extra parking and storage space for motorcycles, riding mowers, and other vehicles during winter.
Pros
Customizable
Most weather-resistant
Spacious
More protection from theft
Cons
Less space if there are other vehicles
Requires upkeep
Rental Storage Units
Self-storage units are a more expensive investment, but worth it if you don't have the space in your garage or another area on your property. Rental storage facilities are almost always climate-controlled and have additional security features such as cameras and on-site staff.
Pros
Cons
Costly
Distant or off-property
Winter Storage Considerations
Now that you have an idea of motorcycle storage options, which one is right for your bike? Here are a few things to consider when choosing the best winter shelter.
Climate Control 
There are benefits of climate control features with indoor storage, such as HVAC systems and insulation for garages and sheds. These features help maintain indoor temperatures and low humidity, preventing corrosion on your motorcycle.
Space
The size of your motorcycle plays a role in choosing an adequate storage space. Even if it's covered, you'll still need to park it with enough room to move it around as needed. If you're storing other vehicles, such as ATVs and riding mowers, it may be better to store them in a larger structure.
Budget
Motorcycle covers and shelters fit most budgets. While the desire to save money is normal, it's wise to invest in a high-quality option for motorcycle winter storage. That way, you'll know your motorcycle is protected and ready to ride come spring season. The more protection, the better.
Protect Your Motorcycle with a Custom Metal Shed
If you're looking for a durable, protective shelter for your motorcycle, look no further than our metal storage sheds. We have a wide range of sheds and garages, all customizable to fit your needs.
Try our design tool below to browse, customize, and order your next motorcycle storage unit today.
Get an instant price for your new metal garage or shed.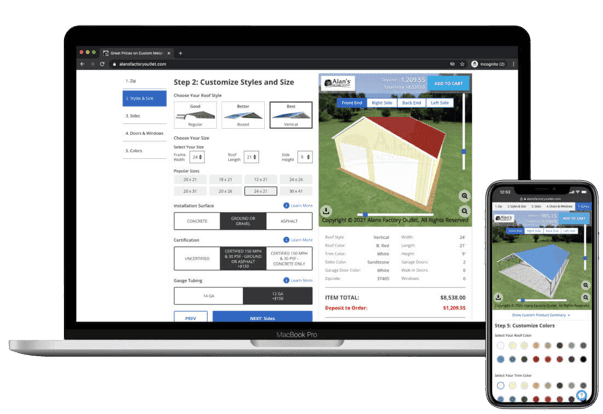 Price and Buy Online with Our 3D Builder Plus Free Shipping and Installation!
Select a size to meet your needs
Choose roof, side, and trim colors
Add garage doors, windows, and walk-in doors
Customize additional options
Customize Now
Sources
Insurance, Harley Davidson. "Motorcycle Winter Storage Tips and Best Practices." Harley-Davidson® Insurance, n.d. https://www.insurance.harley-davidson.com/the-open-road/tips/winterizing-your-ride.
Industry Today. "Motorcycle Battery Maintenance: The Dos and Don'ts," February 15, 2022. Accessed September 28, 2023. https://industrytoday.com/motorcycle-battery-maintenance-the-dos-and-donts/.